Today's front-pages from Marca, AS and Mundo Deportivo.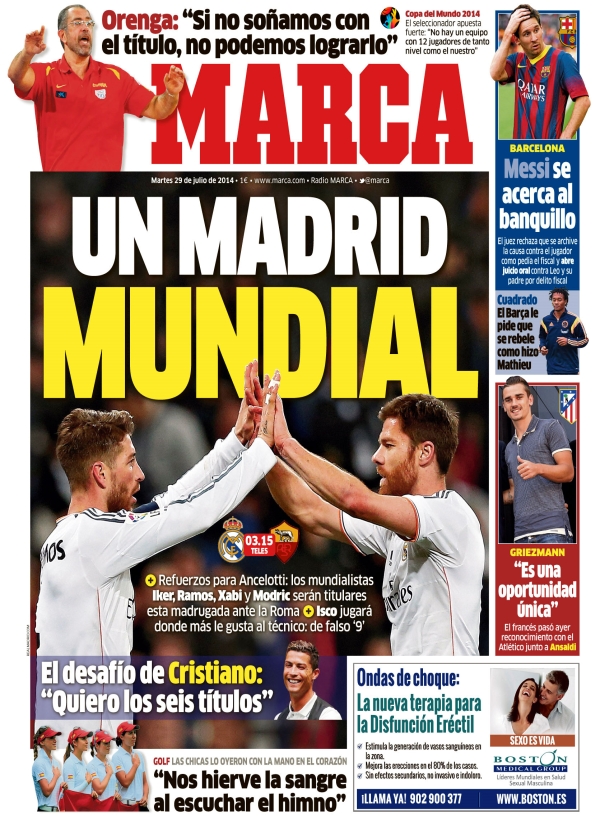 A World Cup Madrid.
Reinforcements for Ancelotti: The World Cup players Iker, Ramos, Xabi and Modric will start tonight
against Roma. Isco will play where the manager likes him as a false 9.
Cristiano's challenge: 'I want six titles'
Messi nears the bench. The judge rejects that the case against the player is filed as asked by the
public prosecutor and opens trial against Leo and his father for tax offences.
Cuadrado. Barca asks him to rebel like Mathieu did.
Griezmann: 'It's a unique opportunity'. The Frenchman passed his medical yesterday with Atletico
alongside Ansaldi.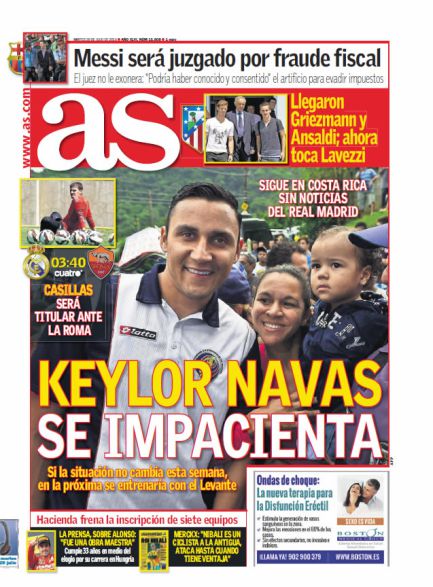 Keylor Navas gets impatient.
If the situation does not change this week, next week he will train with Levante.
He goes on in Costa Rica without news from Real Madrid.
Casillas will start against Roma.
Messi will be judged for tax fraud. The judge does not exonerate him. 'He could have known and
consented' to the trick to evade taxes.
Griezmann and Ansaldi arrive; now for Lavezzi
The tax office stop the registration of seven teams.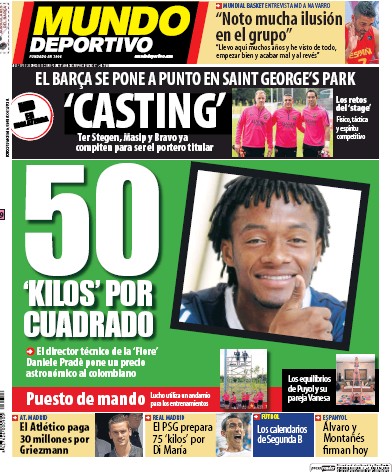 50 million for Cuadrado.
The technical director of 'Fiore' Daniele Prade puts an astronomic price on the Colombian.
Casting. Barca tune up at Saint George's Park. Ter Stegen, Masip and Bravo already compete to be
the number 1.
The challenges of the stay. Physical, tactical and competitive spirit.
A command tower. Lucho uses a platform for training.
The balancing of Puyol and his partner Vanesa.
Atletico pay 30 million for Griezmann.
PSG prepare 75 million for Di Maria.
The calendars for Segunda B.
Alvaro and Montanes sign today.