Today's front-page headlines from Marca, AS and Mundo Deportivo.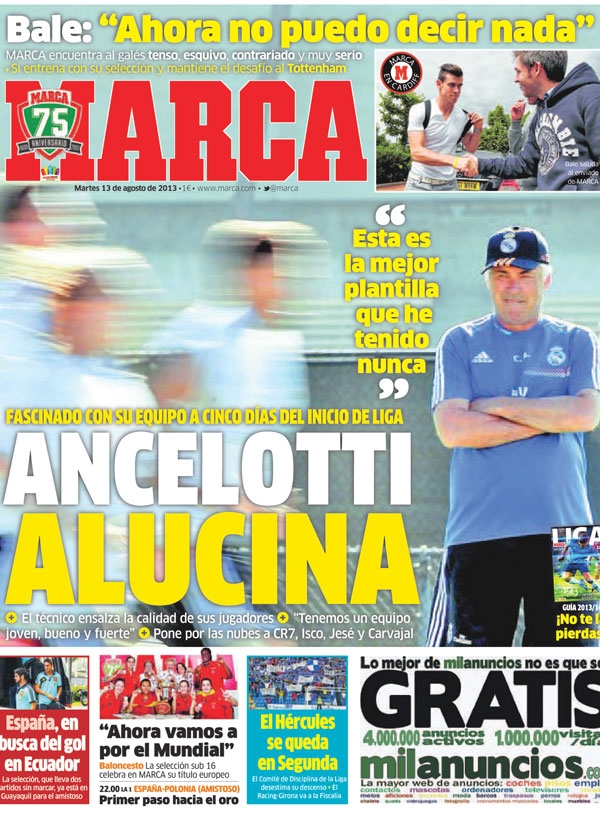 Ancelotti amazed
He is fascinated with his team five days out from the start of La Liga
"This is the best team I have ever had"
The coach praises the quality of his team
"We have a team that is young, good and strong"
He is over the moon about CR7, Isco, Jese and Carvajal
Bale: "I cannot say nothing now"
Marca finds the Welshman tense, aloof, annoyed and very seriours
He trains with his national team but maintains his rebellion against Tottenham
Spain, in search of a goal against Ecuador
Spain have gone two games without scoring as they land in Guayaquil in Ecuador
"Now we go for the world title"
Basketball: The Spain Under 16 team celebrates its European title with Marca
Hercules remain in Segunda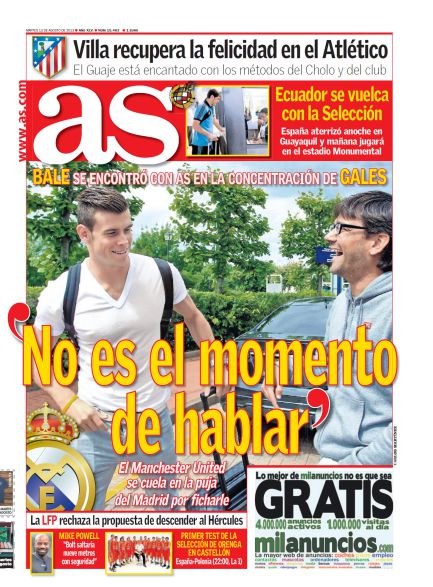 "Now is not the time to speak," Bale
Manchester United enter the bidding for Bale
Aranzubia signs for Atletico
After an agreement was reached between the two clubs, today he will have his medial
Ecuador welcome la Seleccion
Spain land last night in Guayaquil and
tomorrow
they will play at the Stadium Monumental
LFP reject the proposal to send Hercules down
Mike Powell: "Bolt would jump more than nine metres I am sure"
The first test for La Seleccion in Castellon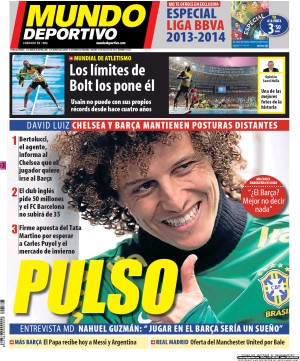 Still on
David Luiz: Chelsea and Barca maintain strong positions
Bertolucci, the agent who has told that the player wants to move to Barca
The English club ask for €50 million but Barca do not want to pay more than €35 million
Tata meanwhile has faith in Carles Puyol and could wait until the winter transfer market
"Barca? It is better to say nothing" Luiz
Interview with Nahuel Guzman: "To play with Barca would be a dream"
The Pope will receive Messi today and Argentina
Real Madrid: Offer for Bale from Manchester United