A look at the headlines from Spanish football on Sunday morning, with one story dominating the day. Real Betis are Copa del Rey champions.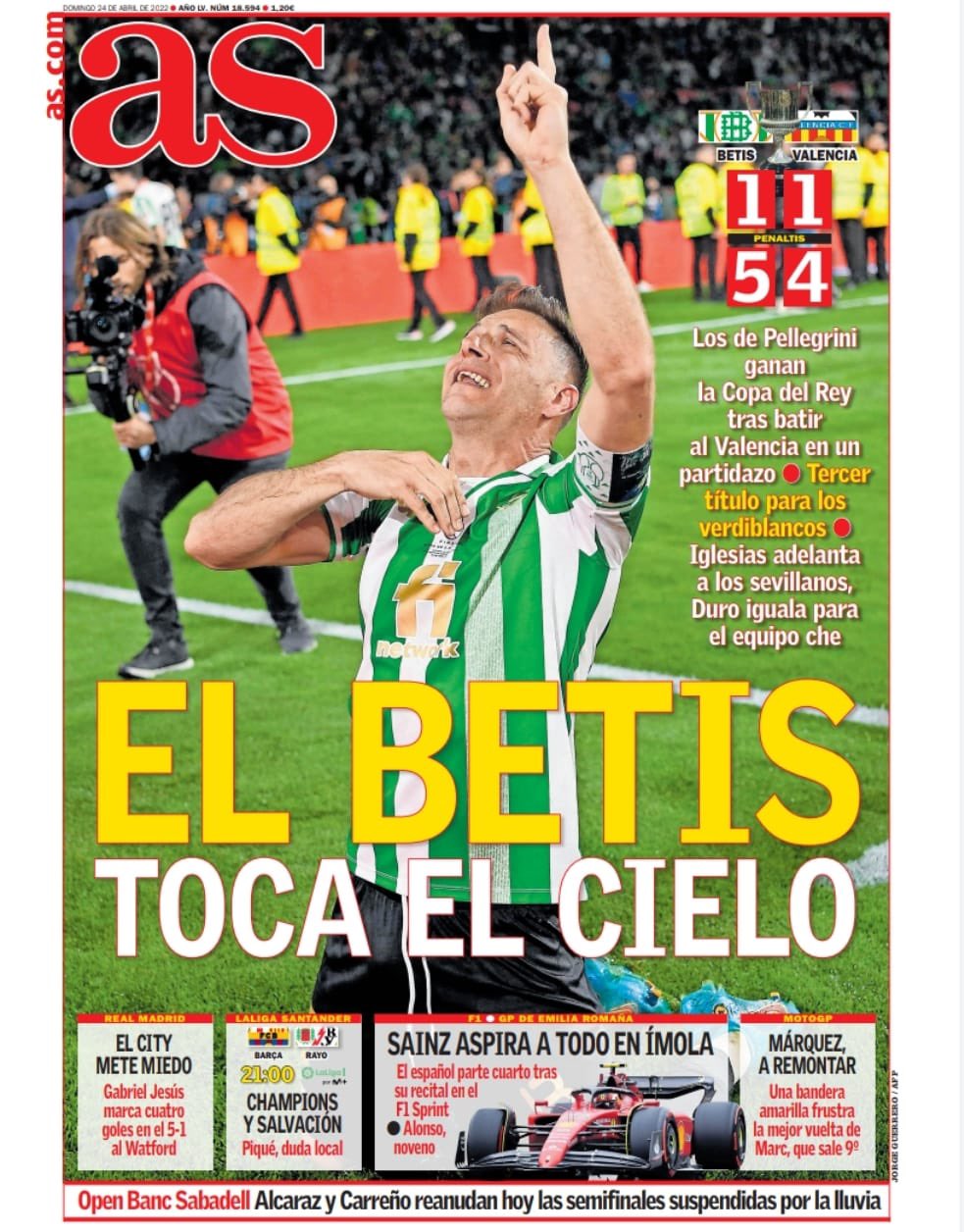 'Betis touch the sky'
Pellegrini's team win the Copa del Rey on penalties after beating Valencia in a great game.
A third title for the Veridblancos.
Iglesias put the Sevillanos ahead, Duro equalised for the Che team.
City frighten: Gabriel Jesus scores four goals in a 4-1 over Watford.
Champions League and salvation: Pique, a doubt for the hosts.
Sainz goes for everything in Imola: The Spaniard will start fourth after a recital in the F1 Sprint. Alonso, ninth.
Marquez to come back: A yellow flag frustrates the the best lap from Marc, who starts ninth.
Alcaraz and Carreno restart the semi-finals today after they were suspended for rain.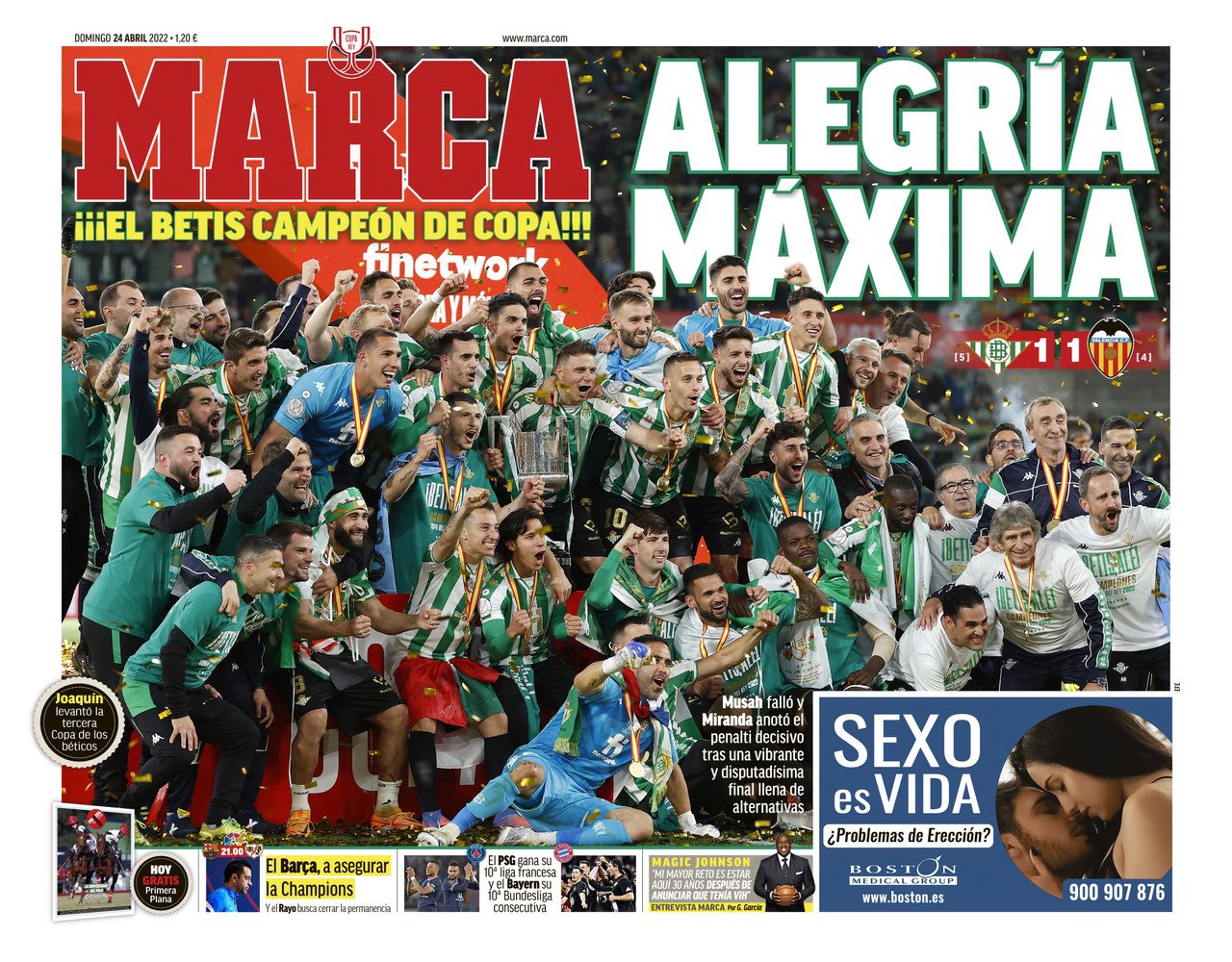 'Maximum happiness'
Betis are champions of the Copa!!!
Musah missed and Miranda scored the decisive penalty after a vibrant and hotly disputed final full of alternatives.
Barca, to make sure of the Champions League. And Rayo look to seal safety.
PSG win their 10th French league and Bayern their tenth consecutive Bundesliga.
Magic Johnson: "My biggest challenge is being here 30 years after announcing that I had HIV."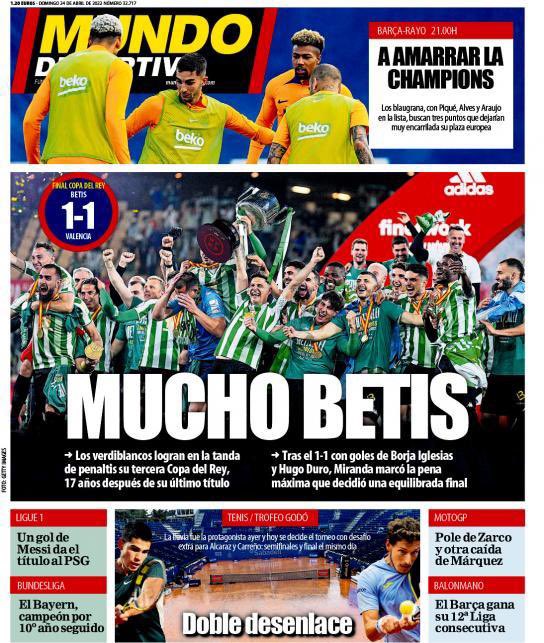 'Very Betis'
The Verdiblancos achieve their third Copa del Rey in a penalty shoot-out, 17 years after their last title.
After the 1-1 with goals from Borja Iglesias and Hugo Duro, Miranda scored the decisive penalty that decided an equal final.
To tie up the Champions League: The Blaugrana, with Pique, Araujo and Alves in the squad, look for three points that would leave them well on their way to a European place.
Ligue 1: A goal from Messi seals the title for PSG.
Bundesliga: Bayern, champions for the tenth year in a row.
Double conclusion: The rain was the protagonist yesterday and today the tournament will be decided with an extra challenge for Alcaraz and Carreno. Semi-finals and final the same day.
Moto GP: Pole for Zarco and another fall for Marquez.
Handball: Barca win their 12th consecutive league.