Today's front-page headlines from Marca, AS and Mundo Deportivo.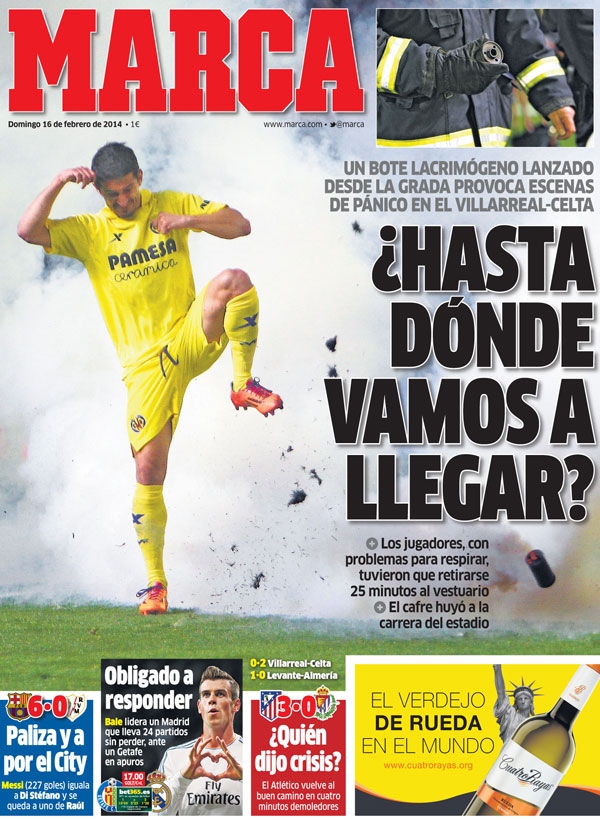 Where will it all end?
A tear-gas was thrown from the terraces in scenes of panic during Villarreal and Celta
The player had problems breathing and had to return to the dressing room for 25 minutes
The guilty person hid running to the highway
A thrashing of Rayo and now for City
Messi equals Di Stefano's record and is one behind Raul
Obliged to respond
Bale leads a Madrid side undefeated in 24 games against an out-of-form Getafe
Who is in crisis?
Atletico return to winning ways in four demolishing minutes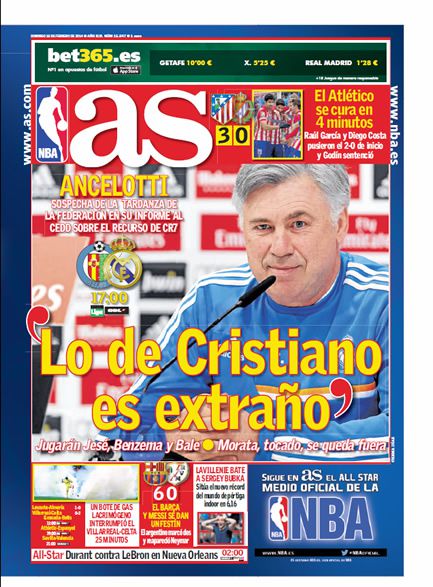 "What has happened with Cristiano is strange"
Ancelotti suspects something wrong with the Federation's decision to delay their meeting over CR7's suspension
Bale, Benzema and Jese to play
Morata is out with a knock
A tear-gas bomb interrupts Villarreal and Celta for 25 minutes
Barca and Messi put on a show
Atletico find a cure for their crisis in four minute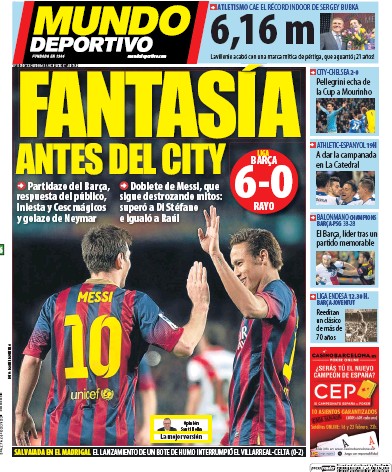 A fantasy performance ahead of City
Barca respond with a great game
Iniesta and Cesc were magical and Neymar scored a golazo
A double from Mesisi, who keep destroying records of football's mystics
He overcomes Di Stefano's record and equals Raul's
Pellegrini kicks Mourinho out of the Cup
Pressure on Real Madrid who have an awkward trip to Getafe
Handball: Barca lead after a memorable game