Today's front-page headlines from Marca, AS and Mundo Deportivo.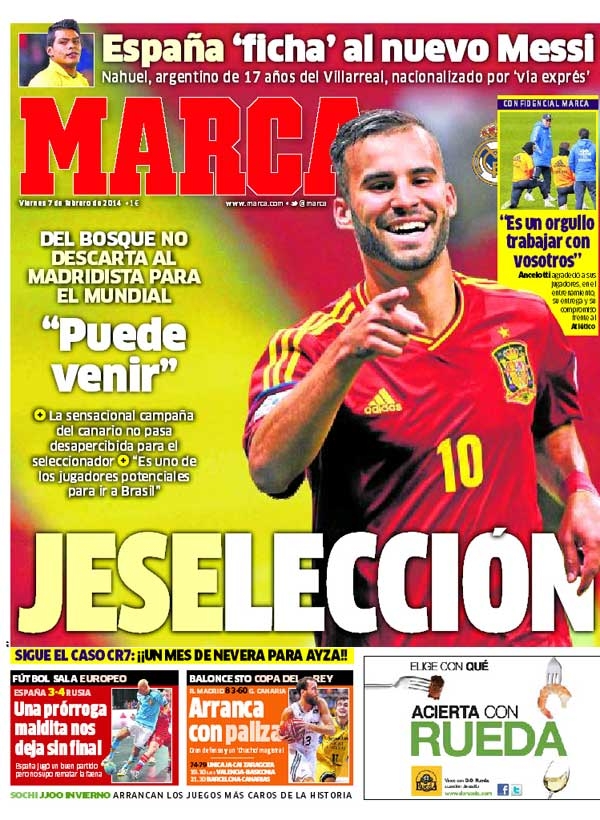 JeseSeleccion
Del Bosque does not discard taking the Madridista to the world cup
"He could come," Del Bosque
The sensational campaign the Canarian is having has not gone unnoticed by the national team coach
"He is one of the players that could go to Brazil"
"It gives me pride to work with you guys"
Ancelotti praises his side
Spain sign the 'new Messi'
Nahuel, a 17-year-old Argentine has become a naturalised Spaniard
Injury time leaves out without a final in Futsal
Madrid kick off with a convincing win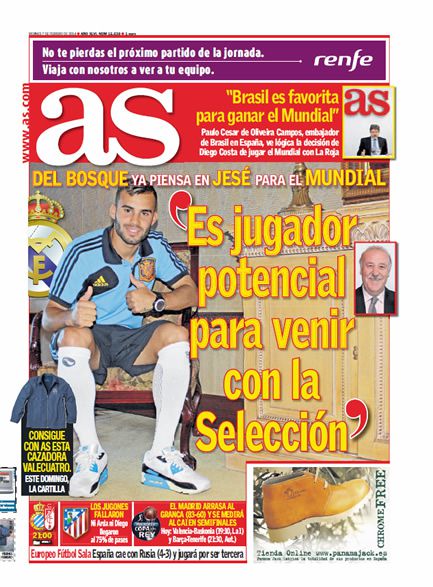 "He is a player that could make the team," Del Bosque on Jese
Del Bosque already is thinking of taking Jese to the world cup
"Brazil is the favourite to win the world,"" Paulo Cesar de Oliveira Campos, ambassador to Brazil, sees logic in the decision to have Diego Costa play for Spain
The playmakers are failing
Arda nor Diego completed more than 75 per cent of their passes
Madrid take off with a great win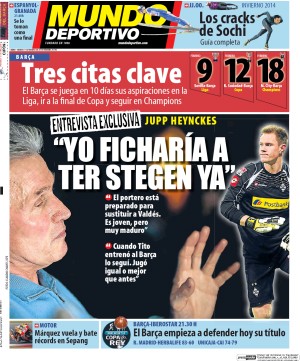 "I would sign Ter Stegen," Jupp Heynckes
"The goalkeeper is ready to take over from Valdes, he is young but he is mature"
"When Tito trained at Barca, I followed him. They played equal to or better than before"
Three key dates, 9 12 18
Barca play three key games in ten days in La Liga, Copa del Rey and the Champions League
Motor: Marquez flies and beats more records in Sepang
Barca start their title defence