Today's front-page headlines from Marca, AS and Mundo Deportivo.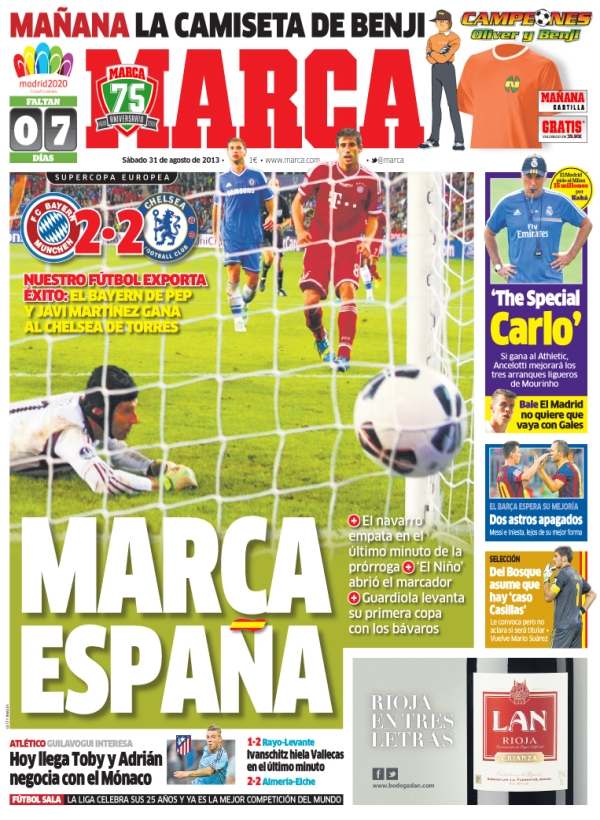 Spain scores
Our exported brand of football is exported and proves successful
Pep's Bayern and Javi Martinez win against Chelsea and Fernando Torres
The Navarrian drew the game in the last minute of extra time
'El Nino' opened the scoring
Guardiola gets his first title with the Bavarians
'The Special Carlo'
If Madrid beat Athletic, Carlo will have improved on the last three starts to the season
Bale, Madrid does not want him to travel with Wales
Barca wait on improvement of two stars' condition
Spain national team
Del Bosque admits there is a 'Casillas case'
Atletico arrive while Toby and Adrian negotiate with Monaco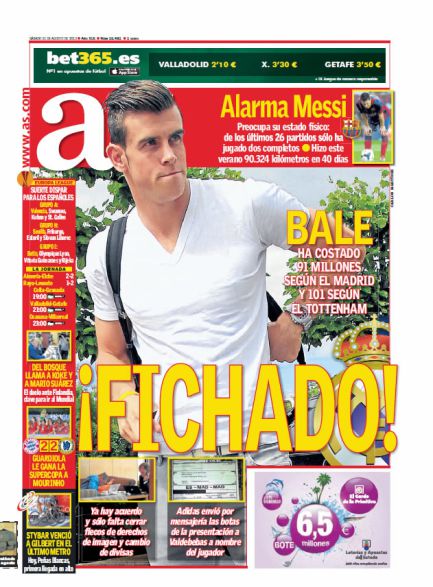 Signed!
There is an agreement and all that remains is for the lawyers to close out the details over image rights
Adidas sends a pair of shoes that Bale will wear in his presentation in Valdebebas
Bale has cost 91€ million according to Madrid and 101€ million according to Tottenham
Messi alarm: His physical condition is worrying
In the last 26 games he has only completed two
He ran 90,324 kms in summer in 40 days
Luck for Spanish sides in Europa League
Valencia, Swansea, Kuban and St. Gallen
Sevilla, Freiburg, Estoril and Slovan Liberec
Betis, Lyong, Vitoria Guimares and Rijek
Del Bosque calls up Koke and Mario Suarez
The duel in Finland is key to world cup qualification
Guardiola wins Super Cup beating Mourinho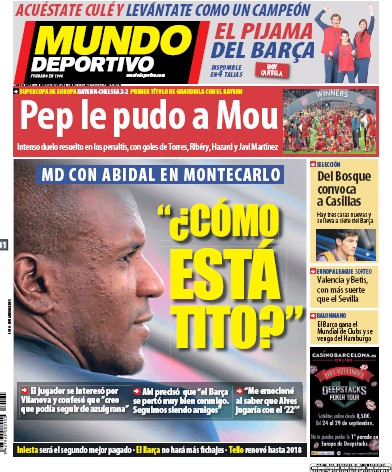 Pep gets on over Mou
Intense duel was decided on penalties with goals from Torres, Ribery, Hazard and Javi Martinez
Guardiola wins his first title with Bayern
Interview with Abidal: "How is Tito?"
The player is interested in knowing how is his former boss while saying, "I believe I could have continued with the Azulgranas"
Abidal says "Barca behaved well with me, we continue being friends"
"It gives me great emotion to know Alves wears my number 22"
Iniesta will be the second highest paid player
Barca will not make any more signings
Tello renews until 2018
Del Bosque counting on Casillas
Today there are three new faces in the Spain national team and seven Barca players are picked
Europa League draw: Valencia and Betis get more lucky than Sevilla
Handball: Barca win the World Club Cup