Today's front-page headlines from Marca, AS and Mundo Deportivo.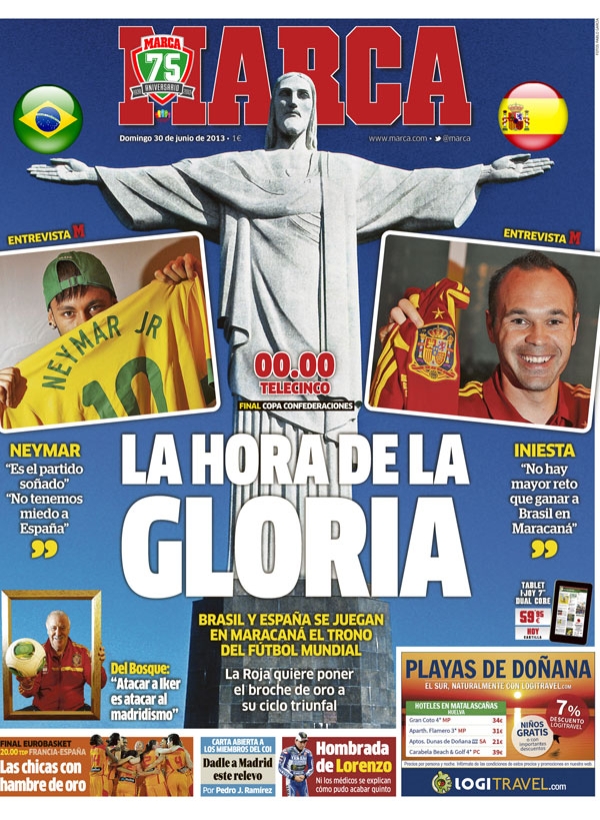 The hour of Glory
Brazil and Spain play in the Marcana, the throne of world football
La Roja want to put the crowning jewel on their triumphal cycle
Neymar: "This game is a dream. We do not fear Spain"
Iniesta: "There is no greater challenge than beating Brazil in the Maracana"
Del Bosque: "To attack Iker is to attack Madridismo"
Ladies European Basketball final: The girls are hungry for gold
'Give Madrid this relief', an open letter to the members of the Olympic Committee from Pedro. J Ramirez
What bravery from Lorenzo
Not even the medics could explain how he could finish fifth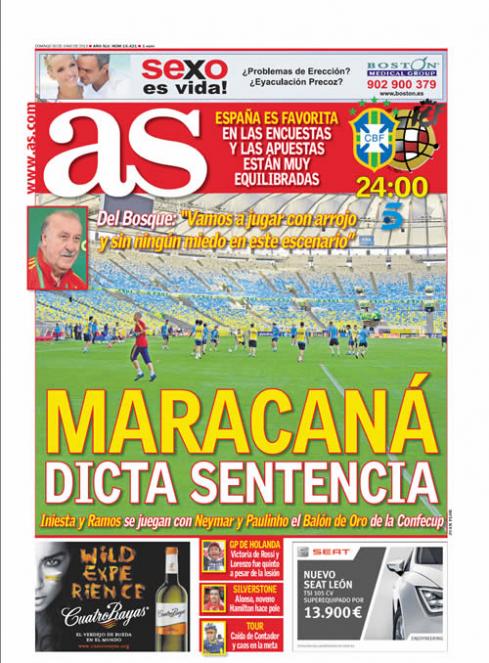 The Marcana the final judgement
Iniesta and Ramos against Neymar and Paulinho for the Confederations Cup golden ball
Del Bosque: "We will play with courage and without one bit of fear"
Spain is the favourite judging from the surveys but the bookies have them toe-to-toe
GP Holland: Victory for Rossi and Lorenzo finishes fifth despite being injured
Silverstone: Alonso, nine places behind pole Hamilton
Tour: Contador falls and chaos at the finish line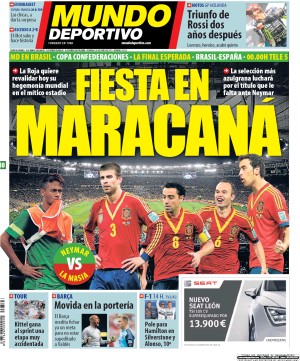 Fiesta at the Marcana
La Roja want to confirm their world dominance at the mythical stadium
La Seleccion with more azulgranas playing will fight for the one title they lack against Neymar
Ladies European Basketball: The girls, desperate to surprise the big favourite
Moto GP: Rossi triumphs after two years
Lorenzo, heroically, finishes fifth
Tour: Kittel wins the sprint in a most eventful stage
Barca: Keeper conundrum
Barca tempting to sign a keeper regardless of Valdes' position
Formula 1: Pole for Hamilton at Silverstone while Alonso starts at tenth