Today's front-page headlines from Marca, AS and Mundo Deportivo.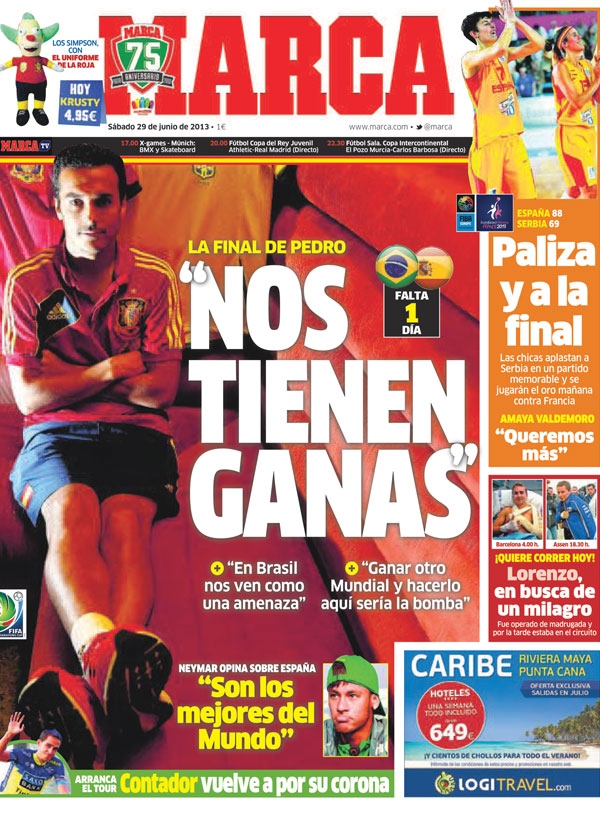 "We are in the mood." Pedro
The final of Pedro
"In Brazil they are a threat to us"
"To win another world cup and to do it here would be the best"
Neymar talks about Spain
"They are the best in the world"
Taking the tour: Contador returns for his crown
Women's basketball: A beating and now the final
The ladeis rip apart Serbia in a memorable game and they will play for gold
tomorrow
against France
Amaya Valdemoro: "We want more"
I want to return today
Lorenzo searches for a miracle
He had the operation very early and in the afternoon he was on the circuit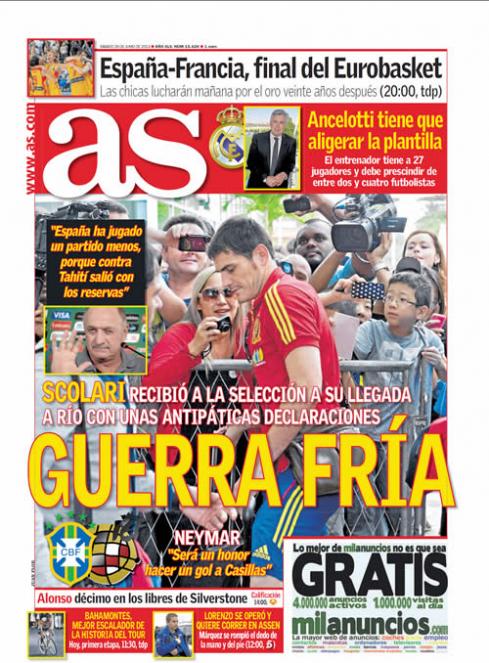 Scolari receives Spain in Rio with some unkind words
"Spain have played one game less because against Tahiti they played their reserves"
Neymar: "It will be an honour to score against Casillas"
Ancelotti has to lighten his squad
The coach has 27 players and must reduce it by 2 or 4 players
Spain and France in the final of Eurobasket
The ladies team will fight
tomorrow
for gold after 20 years
Alonso tenth in the draw of Silverstone
Bahamontes, the best climber in the history of the Tour
Today the first stage begins
Lorenzo has operation and wants to race in Assen
Marquez breaks his finger and hand and his foot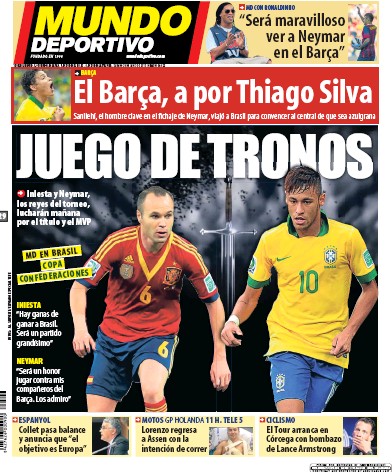 Game of thrones
Iniesta and Neymar, the kings of the championship, will fight
tomorrow
for the title and for player of the match
Iniesta: "We a looking forward to beating Brazil. It will be a great game"
Neymar: "It will be an honour to play against my new teammates at Barcelona. I admire them"
Barca, going for Thiago Silva
Sanllehi, the man key to the signing of Neymar, travelled to Brazil to convince the defender to become an Azulgrana
Ronaldinho: "It will be marvelous to see Neymar at Barca"
Moto GP: Lorenza returns to Assen with the intention of racing
Cycling: The Tour starts in Corcega under the bombshell of Lance Armstrong
Basketball, Xavi Pasual: "Spanoulis is different"