Today's front-page headlines from Marca, AS and Mundo Deportivo.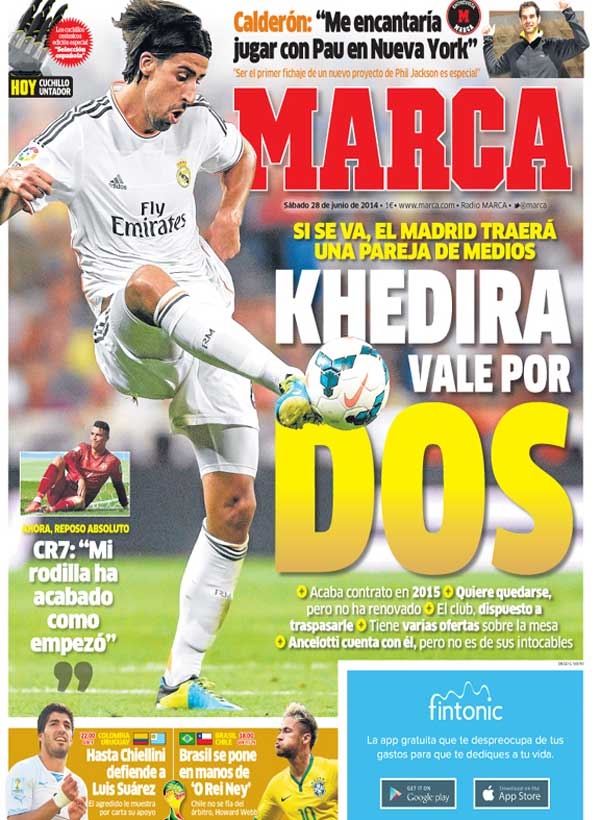 Khedira is worth two. If he goes Madrid will bring in a pair of midfielders.
His contract ends in 2015. He wants to stay but has not renewed. The club are ready to sell him. He
has various offers on the table. Ancelotti has him in his plans but is not one of the untouchables
CR7: My knee has finished how it started
Even Chiellini defends Luis Suarez. The victim shows his support in a letter.
Brazil in the hands of King Ney. Chile do not trust the referee Howard Webb.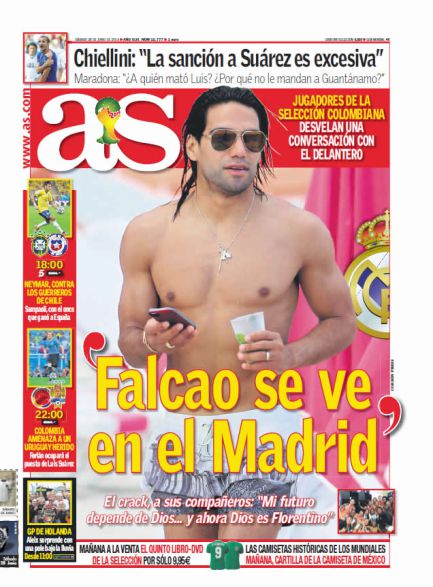 Falcao sees himself at Madrid.
The star tells his friends: My future depends on God, and now God is Florentino
Players in the Colombia squad reveal a conversation with the striker.
Neymar against the warriors of Chile. Sampaoli to stick with the same eleven that beat Spain.
Colombia threat to a wounded Uruguay. Forlan will take the place of Luis Suarez.
Chiellini: The Suarez ban is excessive.
Maradona: Who has Luis killed? Why have they not sent him to Guantanamo?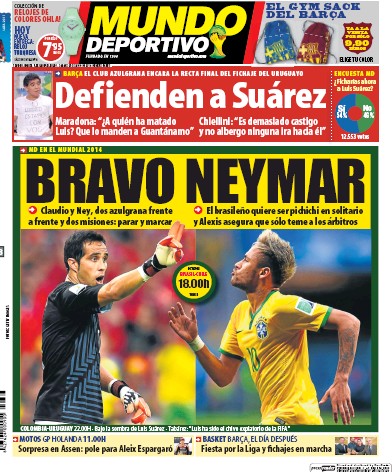 Bravo Neymar
Claudio and Ney, two azulgranas head to head with two missions: to save and to score
The Brazilian wants to be top scorer on his own and Alexis assures that he only fears the referees.
Barca face the final stage of the signing of the Uruguayan.
They defend Suarez. Maradona 'Who has Luis killed? They should send him to Guantanamo'
Chiellini: It's too harsh and I harbour no anger towards him.
Would you sign Luis Suarez? 54% Yes 46% No
Under the shade of Luis Suarez, Tabarez: Luis has been the scapegoat for FIFA.