Today's front-page headlines from Marca, AS and Mundo Deportivo.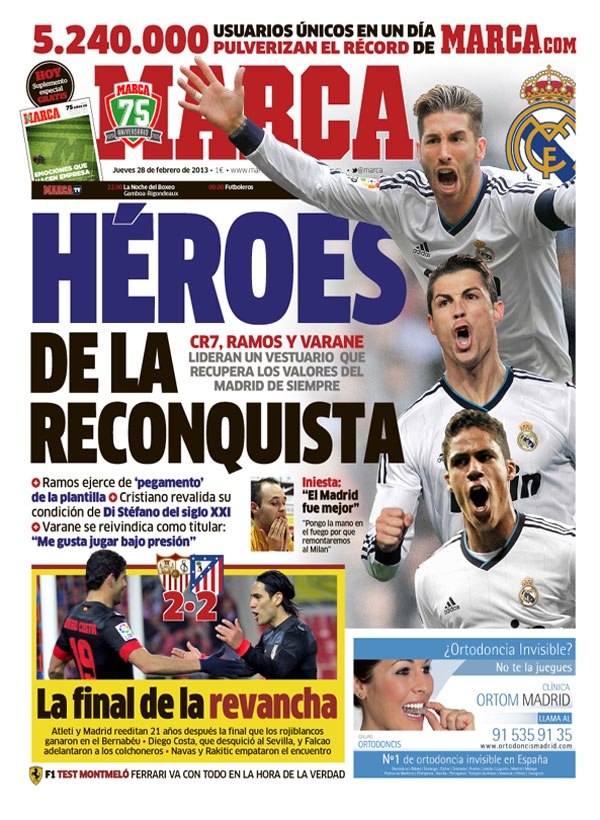 Heroes of the reconquest
CR7, Ramos and Varane
They lead the team to recover the values of Madrid
Ramos acts as the glue that holds the team together
Cristiano confirms himself as the Di Stefano of the 21 century
Varane vindicates his inclusion in the team: "I like to play under pressure"
Iniesta: "Madrid were better", "I put my hand in the fire that we will come back against Milan"
The final of revenge
Atleti and Madrid will meet in the final after 21 years when the Rojiblancos won at the Bernabeu
Diego Costa and Falcao lead the colchoneros in Sevilla
Navas and Rakitic draw the tie
Formula 1: Ferrari go with everything in the hour of truth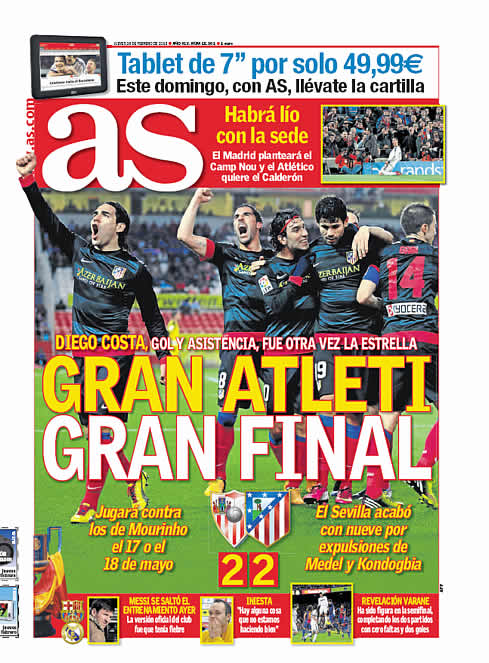 Gran Atleti
Gran final
Diego Costa, with a goal and an assist, was again the star
Atleti will play against Mourinho on the 17 or 18 of May
Sevilla finish with nine men after expulsions to Medel and Kondogbia
Messi leaves training yesterday
The official version from the club was that he had a fever
Iniesta: "They is one thing we are not doing well"
Revelation of Varane: He has been a key figure in the semifinal, completing both games with minimum mistakes and two goals
There will be a confrontation
Madrid plan to play at the Camp Nou, Atletico want the Calderon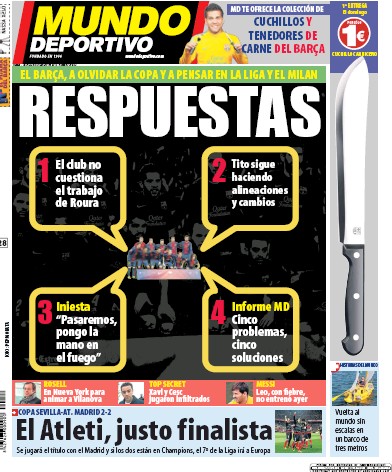 Response
1. The club questions the work of Roura
2. Tito continues making the changes and selection
3. Iniesta, "We will progress, I put my hand in the fire we will"
4. Five problems, five solutions
Barca, to forget the Copa and think of La Liga and Milan
Rosell: In New York to encourage Tito
Messi has a fever and did not train yesterday
Atleti in the final
They will play against Madrid and if they become the champions the seventh placed team in La Liga will go to Europe