Today's front-page headlines from Marca, AS and Mundo Deportivo.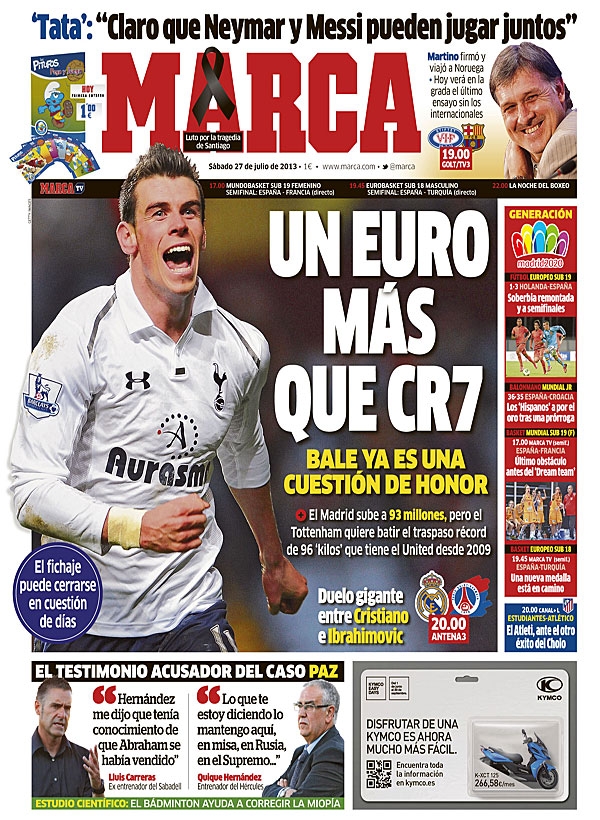 A euro more than CR7
Bale is a question of honor
Madrid increase their offer to €93 million but Tottenham want to better the world record of €96 million set when Ronaldo was signed from United in 2009
A giants duel between Cristiano and Ibrahimovic tonight at 20.00
Bale signing could be done within a matter of days
Tata: "Of course Neymar and Messi can play together"
Martino signs and travels to Norway
Today he will see him make his debut as coach without the Spanish internationals
The testimony of the accused in the case of Paz
"Hernandez told me that he had knowledge that Abrahim had sold out," Lluis Carreras, ex-coach of Sabadell
"What I am saying I maintain here in front of everybody, in Russia and the Supreme court," Quique Hernandez, ex-coach of Hercules
Research finds that Badminton helps corrrect myopia
European Under 19 Championship, Holland 1-3 Spain
Superb comeback and now the semifinals
Handball Junior World Cup, Spain 36-35 Croatia
The Spanish going for gold after injury time win
Basketball Under 19 World Cup, Spain v France
The last obstacle before facing 'the Dream Team'
A new medal on the way
Estudiantes v Atletico: Atleti up against another of El Cholo's previous successes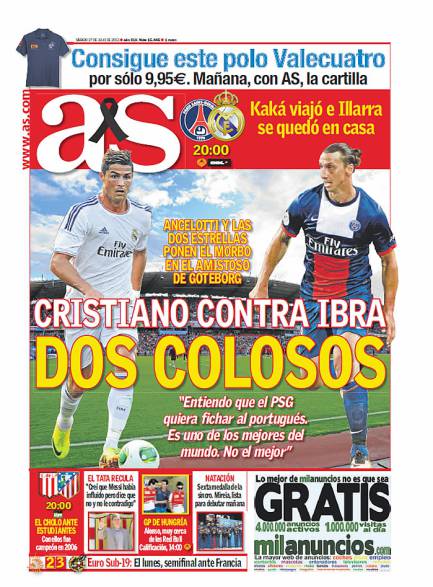 Cristiano against Ibra
Two colossuses
Ancelotti and these two stars bring colour to the friendly in Goteburg
"I understand that PSG want to sign the Portuguese. He is one of the best in the world, no the best," Ancelotti
Kaka travels and Illarra is left at home
El Cholo against Estudiantes, the side he led to be champions in 2006
Tata tracks back: "I believe Messi had influence but he says no and do not want to contradict him"
Hungary GP: Alonso very close to Red Bull in qualifying
Swimming: A sixth medal in the synchronising. Mireia, ready for her debut
tomorrow
European Under 19 Championship, Holland 2-3 Spain:
Monday
is the semifinal against France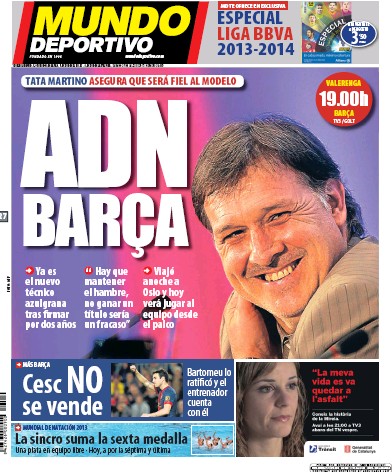 Barca DNA
Tata Martino assures that he will suit the club's model
The new boss has signed a three-year contract
"We must maintain our hunger, to not win a title would be a disaster"
He travelled to Oslo last night and today will watch his side from the stands
Cesc will NOT be sold
Bartomeu clarifies it and the coach is counting on him
Real Madrid v PSG: Karim Benzema to play for his future against Goteburg
Swimming world championships: Synchronising team gets its sixth medal and it is silver
Today, they will go for their seventh and last medal
Basketball: Gustavo Ayon, every day closer to signing for Barca