Today's front-page headlines from Marca, AS and Mundo Deportivo.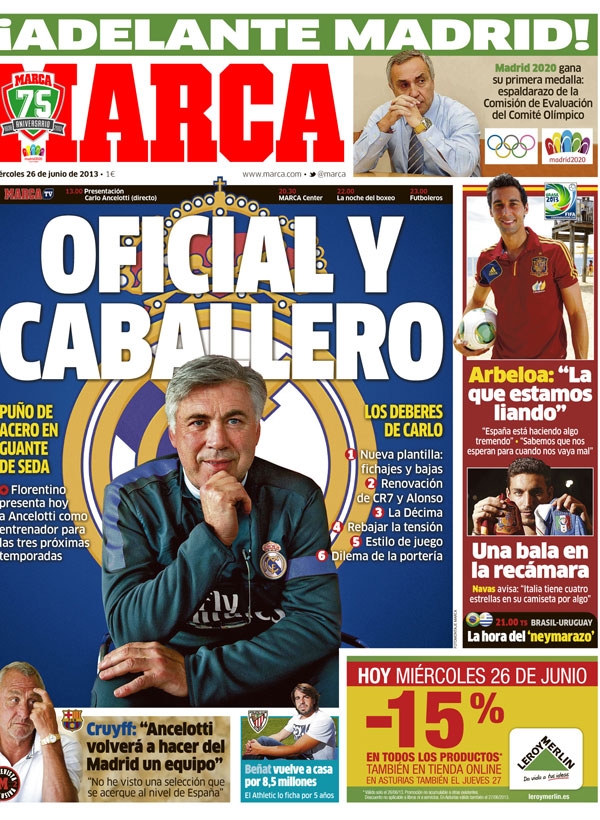 Official and a gentleman
An iron fist with a soft touch
Florentino presents today Ancelotti as the new coach for the next three seasons
Carlo's homework
1. A new team: signings and departures
2. Renewal of CR7's contract and Alonso
3. La Decima
4. Rid the tension in the team
5. Play stylish
6. Fix goalkeeping dilemma
Arbeloa: "We are rolling up our sleeves"
"Spain are doing something tremendous"
"We know that they are waiting for when it starts to go bad for us"
A word of caution
Navas warns: "Italy have four stars on their shirt for a reason"
Lets go Madrid: Madrid 2020 wins his first medal with the backing of the Olympic committee
The hour of 'Neymarazo'
Cruyff: "Ancelotti will again make Madrid a team"
"I have not seen a national team close to Spain's level"
Benat returns for 8.5€ million
Athletic sign him for 5 years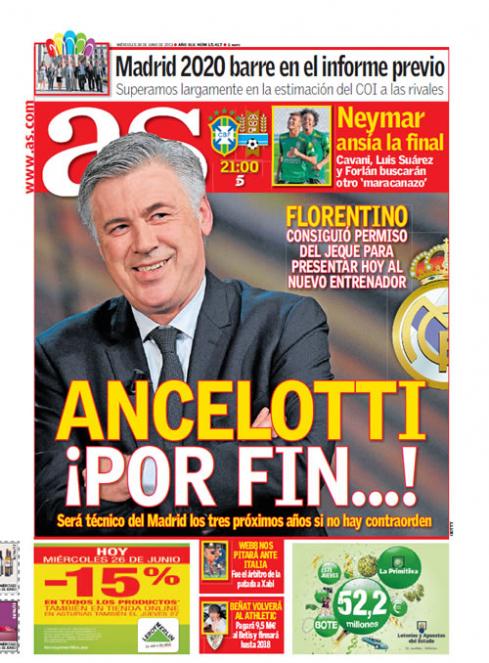 Ancelotti...finally
Florentino gets permission from PSG boss to present his new coach today
He will be the coach for the next three years for Madrid if it all goes good
Neymar anxious about the semifinal
Cavani, Luis Suarez and Forlan will look to make it another 'marcanazo"
Webb will referee our game with Italy
He was the referee in the world cup final
Benat returns to Athletic
They will pay 9.5€ million to Betis and will sign him until 2018
Madrid 2020 gets a great review
We are ahead of other candidates in the eyes of the Olympic committee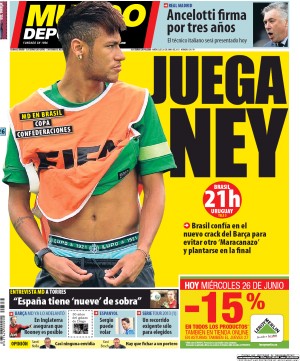 Neymar plays
Brazil confident that the new Barca star will avoid another 'Marcanazo' and progress to the final
Neymar is showing his best with great goals and displays
Torres interview: "Spain have a luxury number 'nine'"
Barca going for Rooney
In England they believe it is possible
Tour 2013: A demanding tour only for a selected few
"Barca have to sign a goalkeeper" - Xavi Bosch
"Almost no one envies" - Santi Nolla
Real Madrid: Ancelotti signs for three years
The Italian tactician will be presented today