Today's front-page headlines from Marca, AS and Mundo Deportivo.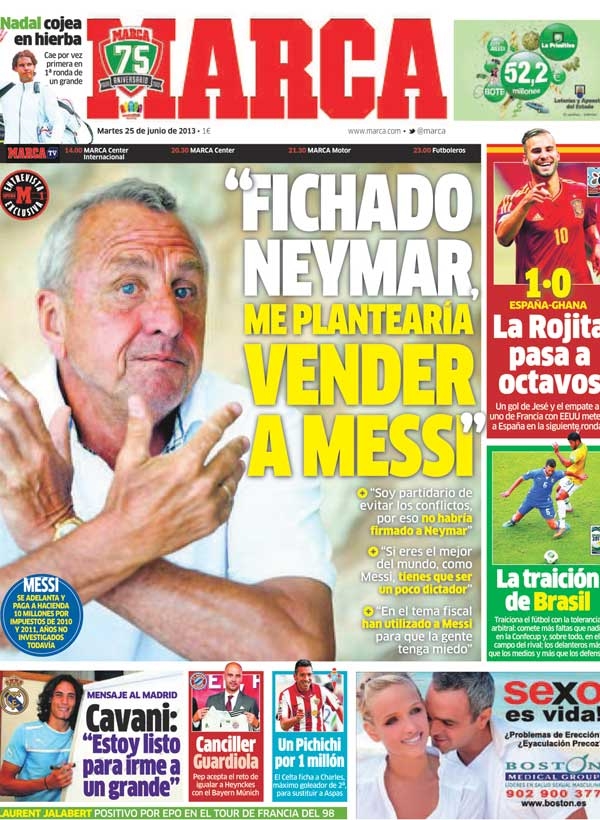 "Neymar signing suggests to me Messi is to be sold," Cruyff
"I am in favour of avoiding conflict and for this reason I would not have signed Neymar"
"If you are the best in the world, like Messi, you have to be like a dictator"
"On the subject of his fiscal problems, they have used Messi to send a message of fear to people"
Spain 1-0 Ghana: La Rojita progress to the next round
A goal from Jese and a draw between France and the USA puts Spain in the next round
The treachery in Brazil
The refereeing has been full of errors, with forwards being targeted and been pulled up for more fouls than midfielders and defenders
Message for Madrid, Cavani: "I am ready for a move to a great club"
Chancellor Guardiola: Pep accepts the challenge to equal Heynckes achievements at Bayern Munich
A Pichichi for 1€ million
Celta sign Charles, the top scorer in La Segunda, to replace Aspas
Laurent Jalabert: Tested positive for EPO in the Tour de France of 1998
Nadal falls on grass: He loses in the first round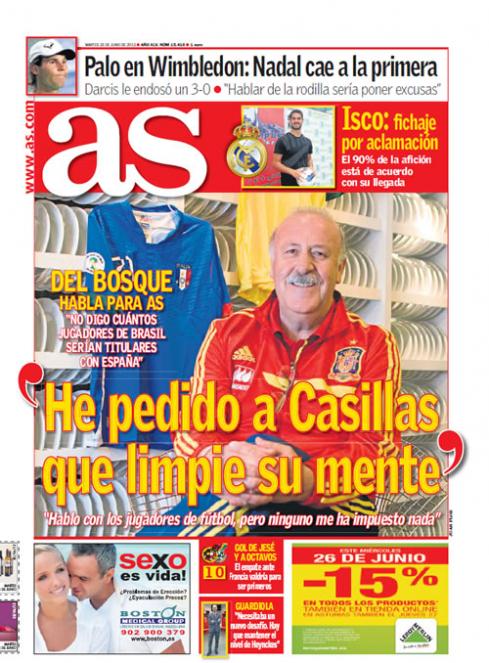 "I have asked Casillas to clear his mind" Del Bosque
"I speak with my players and not one of them try to impose their will on me"
Del Bosque speaks with AS
"Many Brazilian players would be starters in my side"
Isco: His signing gets the seal approval from fans
90% of fans agree with his arrival
A poor showing at Wimbledon: Nadal falls in the first round
Dacris goes 3-0 up, "To speak of my knee would be to make excuses"
Jese goal sends Spain to the next round
Guardiola: "I needed a new challenge. I am here to maintain the level set by Heynckes"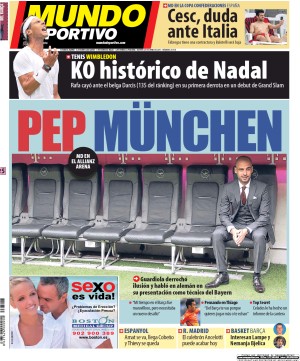 Pep Munchen
Guardiola speaks of his aims and does so in German in his presentation as Bayern coach
"My time at Barca was marvellous, but I needed a new challenge" Pep
Thinking of Thiago: "You leave Barca if you want to play more or they kick you out"
Top secret: "Celades talks of the cantera"
Betis: Joan Verdu signs for four seasons
Real Madrid: Ancelotti soap opera could finish today
Basketball, Barca: Interest in Lampe and Nemanja Bjelica
Wimbledon: Historic defeat for Nadal
Rafa falls against Belga Darcis (135 ranked) in his first ever opening round loss at a Grand Slam
Cesc, a doubt for Italy
Fabregas has a contraction and Balotelli is ruled out