Today's front-page headlines from Marca, AS and Mundo Deportivo.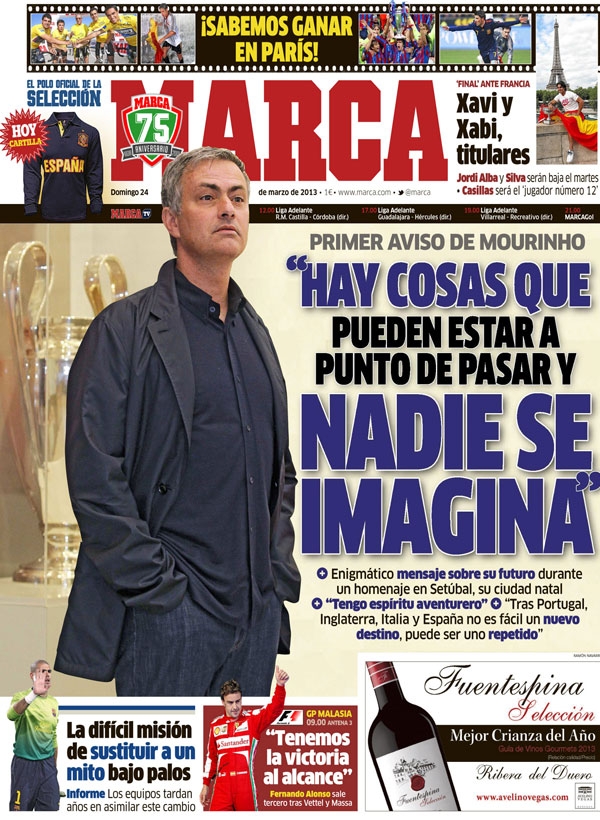 The advice of Mourinho
"There are things that may be about to happen that no one can imagine," Mou
The enigmatic Mou sends a sober message over his future during a homage in his city of Setubal
"I have the spirit of an adventurer", "After Portugal, England, Italy and Spain, there is no destination that will be easy and I could also be willing to repeat somewhere"
The final in France
Xabi and Xavi wil start
Jordi Alba and Silva are out of Tuesday's matchup
Casillas will be the number 12
We know how to win in Paris
The difficult mission of substituting a myth figure between the posts
GP Malaysia: "We have victory in our reach"
Fernando Alonso third behind Vettel and Massa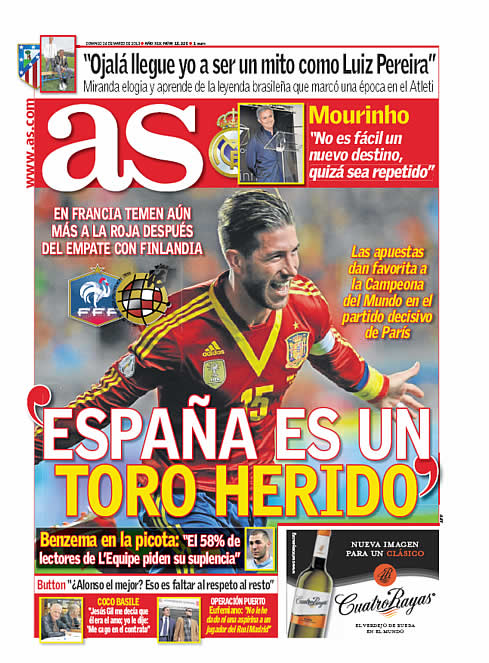 France feat even more La Roja after the draw in Finland
The betting houses out Spain as favourites in the decisive game in Paris
"Spain is a wounded bull", Ramos
Benzema in the pillory: "The 58 per cent of readers of L'Equipe want someone to replace him"
Mourinho: "It is not easy to go to a new destination, maybe I will repeat somewhere"
"God willing that I end up being like Luiz Pereira", Miranda eulogises and learns of the legendary Brazilian that scores during another great period for Atleti
Coco Basile: "Jesus Gil said to me that he was the boss, he said, "Stuff your contact"
Operation Puerto, Eufemiano: "I have not given them no one aspirin to a player for Real Madrid"
Button: "Alonso the best? This is disrespectful to the rest"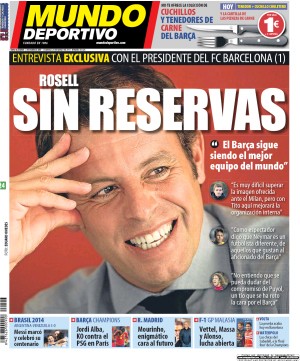 Rosell, without doubts
"Barca continue being the best team in the world"
"It is difficult to forget what happened against MIlan, but, Tito here will improve the internal organization"
"As a spectator you can see Neymar is different, Barca fans like him alot"
"I do not understand how people can doubt Puyol, he has broken his back for Barca"
Brazil 2014
Argentina 3-0 Venezuela, Messi scores and celebrates his centenary
Barca, Jordi Alba ruled out of game with PSG in Paris
Real Madrid, Mourinho enigmatic about his future
GP Malaysia, Vettel, Massa and Alonso open the fight