Today's front-page headlines from Marca, AS and Mundo Deportivo.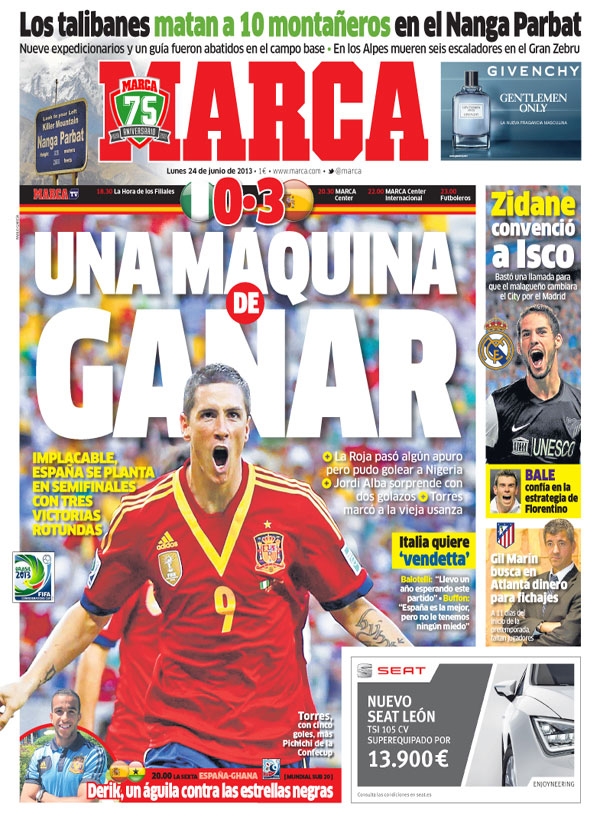 A winning machine
Nigeria 0-3 Spain
Implacable Spain progress to the semi-finals after three emphatic wins
La Roja suffered for a bit but could have scored more
Jordi Alba scored a surprising double
Torres scores the old-fashioned way
Italy want revenge
Balotelli: "I have been waiting one year for Spain"
Buffon: "Spain is the best, but, we do not fear them"
Zidane convinces Isco
One call was enough to change the Malagueno's mind from going to City and coming to Madrid
Bale confident with Florentino's vision
Gil Marin searches in Atlanta money for signings
Under 20 World Cup, Spain v Ghana
Derik, an eagle against the black stars
The Taliban kills 10 mountaineers in Nanga Parbat
Nine people on expedition killed at a base camp
Six climbers die in Gran Zebru in the Alps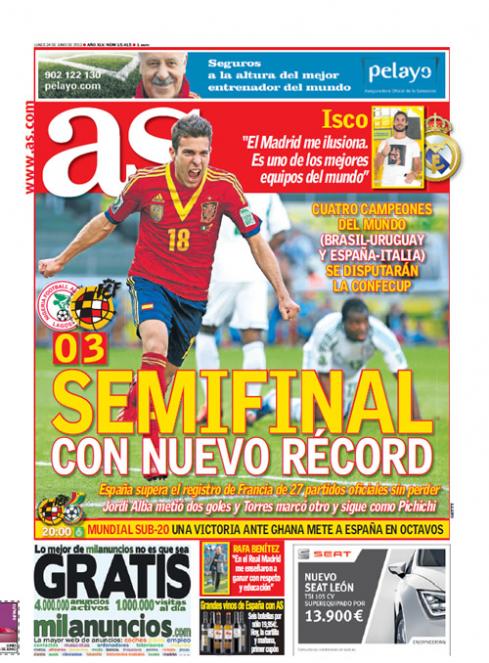 To the semi-final with a new record
Nigeria 0-3 Spain
Spain break France's record of 27 games unbeaten
Jordi Alba scores two goals and Torres gets another and keeps his spot at the competition's top scorer
Four champions of the world in the semi-final, Brazil, Uruguay, Spain and Italy, to dispute the title
World Cup Under 20: A victory against Ghana and Spain will be in the next round
Isco: "Madrid is my dream. It is one of the best teams in the world"
Rafa Benitez: "At Real Madrid I learned how to win with respect and education"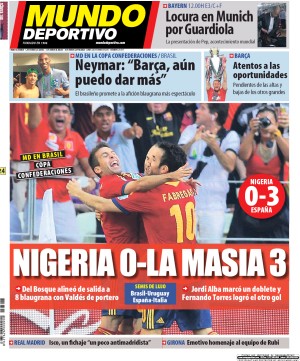 Nigeria 0-3 La Masia
Del Bosque lines with 8 Blaugrana players with Valdes as the goalkeeper
Jordi Alba scores a double and Fernando Torres gets the other
Blockbuster semi-finals: Brazil v Uruguay, Spain v Italy
Real Madrid: Isco, a splendid signing by Florentino, confirms that "I was a bit of an anti-Madridista"
Bayern Munich: Craziness in Munich over Guardiola's arrival
The presentation of Pep a worldwide event
Confederations Cup, Neymar: "At Barca I can give more"
The Brazilian promises the Blaugrana fans a great spectacle
Barcelona: Considering options
Thinking of going for some of the best players from other clubs