Today's front-page headlines from Marca, AS and Mundo Deportivo.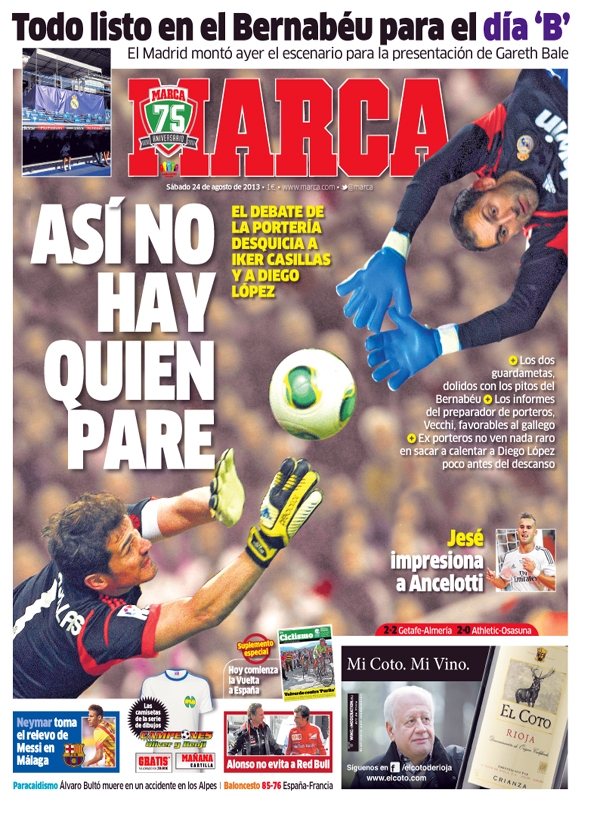 As if there is no one who can stop
The debate over the goalkeeper drives Casillas and Lopez mad
The two stoppers are hurt by the jeers fro the Bernabeu
Information from the keeper coach Vecchi, says that he prefers the Gallego
Former goalkeepers do not think it is strange that to take and warm up Diego Lopez before the break
Jese impresses Ancelotti
Everything is ready at the Bernabe for the 'B' day
Madrid set up yesterday the presentation ceremony of Gareth Bale
Neymar to cover for Messi in Malaga
Alonso doesnt avoid Red Bull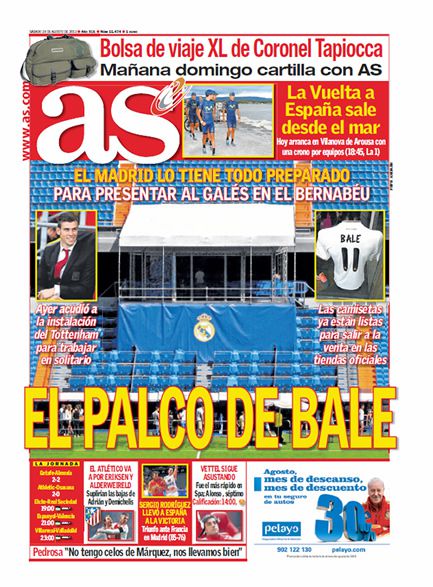 Madrid has everything ready for the presentation of Bale
The Bale stage
Yesterday he went to the Tottenham facilities to work by himself
Bale shirts are already up to be sold in official shops
Atletico go for Eriksen and Alderweireld
Sergio Rodriguez takes Spain to victory
They win against France 85-76
Vettel continues to scare
He was the fastest in Spa, Alonso was seventh
Pedrosa: "I do not envy Marquez, we get on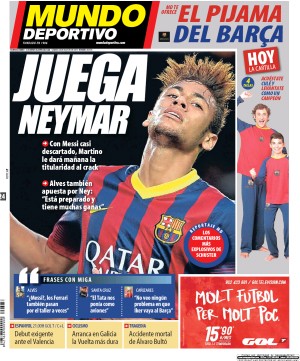 Neymar plays
With Messi out, Martina will give the Brazilian a starting birth
Alves thinks its time: "He is ready and is very enthusiastic"
Alves: "Messi? Ferrari's also need to spend time in the garage"
Santa Cruz: "Tata made us feel like we could fly"
Canizares: "I do not see a problem with Iker going to Barca"
Real Madrid and Casillas: Madridismo with on foot in a war
Cycling: Starting in Galicia, a very hard La Vuelta
Tragedy: Alvaro Bulto dies in an accident