Today's front-page headlines from Marca, AS and Mundo Deportivo.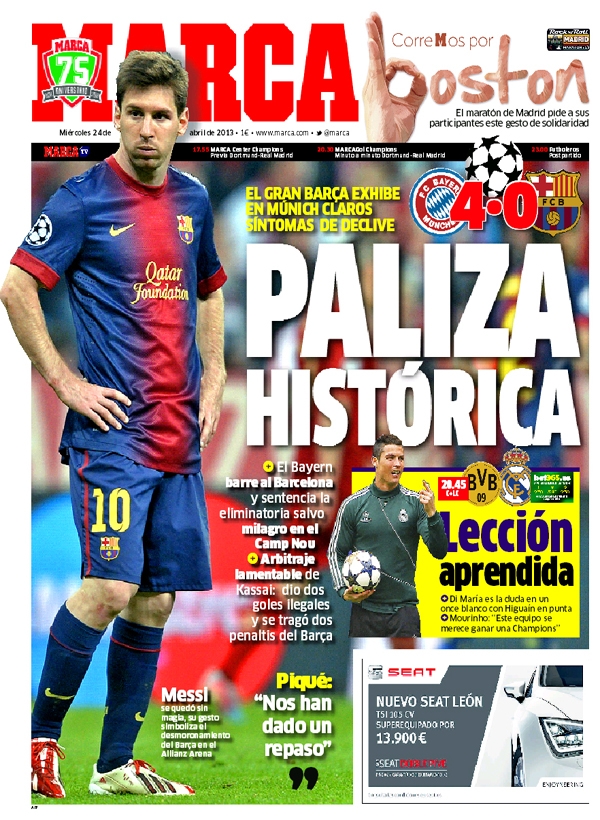 An historic beating
The great Barca shows clearly in Munich symptoms of decline
Bayern cover Barcelona in mud and eliminate them barring a miracle at the Camp Nou
A lamentable referee in Kassai: He allowed two goals and did not see two penalties conceded by Barca
Pique: "They really tested us in all senses"
Messi, without magic, his gestures symbolised the crippling moral of Barca at the Allianz Arena
Lesson learnt
Di Maria is a doubt for the starting eleven with Higuain as the target man
Mourinho: "This team is worthy of winning the Champions"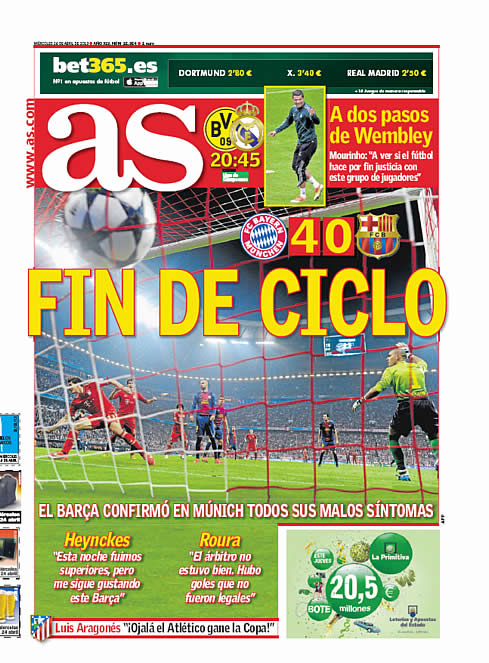 End of a cycle
Barca confirm all the bad symptoms of late
Heynckes: "This night we were superior but I continue to like this Barca"
Roura: "The referee was not good. He allowed two goals that were not legal"
Two steps from Wembley
Mourinho: "We'll see if football finally gives justice to this group of players"
Luis Aragones: "God willing, Atletico will win the Copa"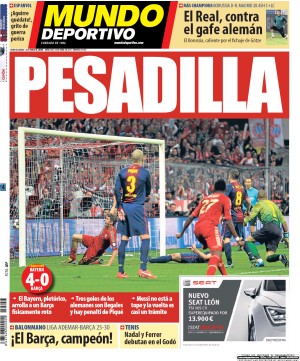 Nightmare
Bayern, plethoric, run over a physically broken Barca
Three goals from the Germans were not legal and there was a penalty on Pique
Messi is not at his best and in the return leg is almost a formality
Real Madrid, against their German jinx
Borussia suffering with Bayern´s announcement of Gotze signing
Handball: Barca, champions
Tennis: Nadal and Ferrer debut in Godo