Today's front-page headlines from Marca, AS and Mundo Deportivo.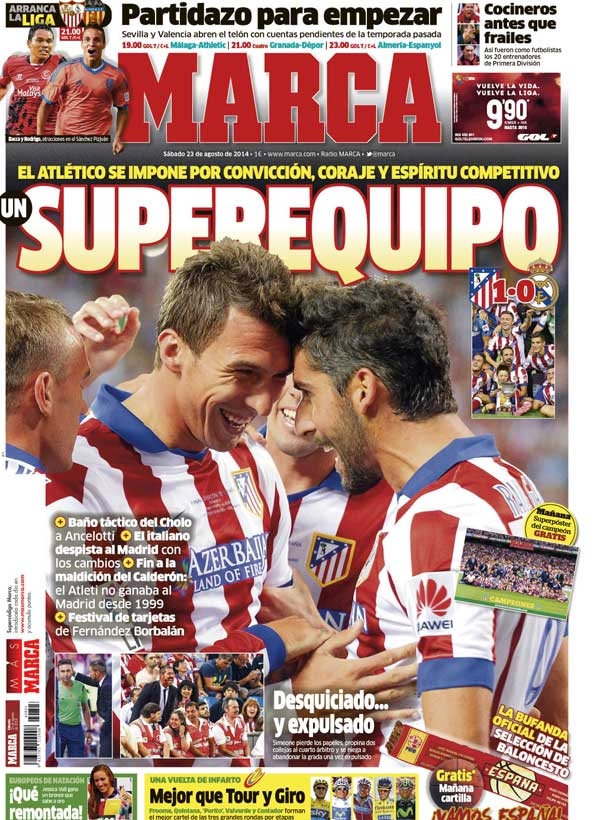 Supergame to get started
Sevilla and Valencia start with things to solve from the last season.
Atletico imposes because of conviction, courage and competitive spirit.
A SUPER TEAM
-Tactical shower from Cholo to Anchelotti
-The italian makes Madrid confused with the changes
-End of Calderon's damn: Atletico hasnt beatten Madrid since 1999
-Cards' festival from Fernandez Borbolon..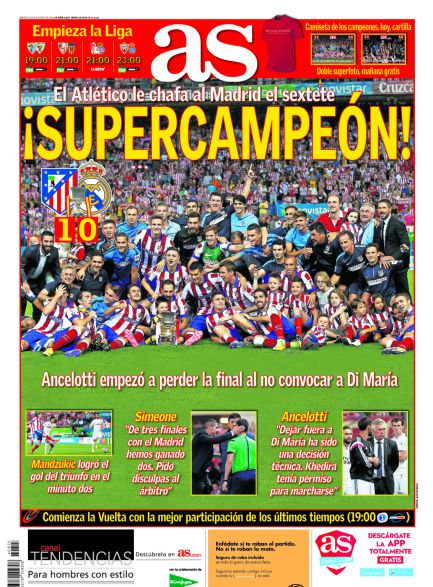 La liga starts
Atletico ruins Real Madrid sextet
Champions!
Ancelotti: started to lose the final when he didn't have Di Maria.
Mandzukic: got the triumphal goal in the second minute.
Simeone: from three finals with Madrid we have beaten them twice. I apologise to the referee.
Ancelotti: leaving Di Maria outside has been a technical decission. Khedira is allowed to leave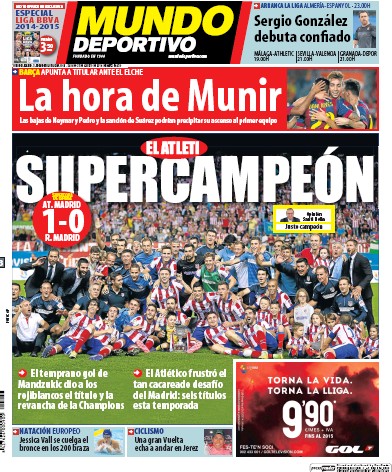 Starting la liga
Sergio Gonzalez debutes with confidence.
The hour of Munir
Pedro and Moymar's leave and Suarez's sanction could have accelerated his ascension to the first team.
El Atleti super champion
At Madrid 1 -Real Madrid 0
Mandzukk's early goal gave to the red and white team the title's revenge of the champions.
Atletico frustrated the challenge said by everybody of Real Madrid: 6 titles in this season