Today's front-page headlines from Marca, AS and Mundo Deportivo.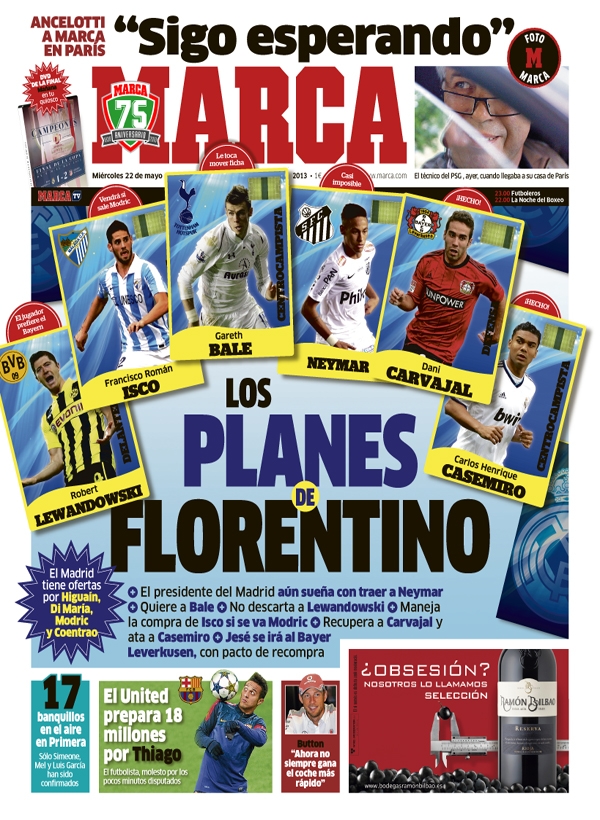 Lewandowski, the player Bayern prefer
Isco, will come if Modric leaves
Bale, the move to sign him
Neymar, almost impossible
Carvajal, done
Casemiro, done
Florentino's plans
The president of Madrid even dreams of bringing Neymar
He wants Bale, does not discard Lewandowski idea, will tempt Isco if Modric leaves, wants to bring back Carvajal and wants to tie up Casemiro
Jese will go to Bayer Leverkusen with the option to buy him back
Ancelotti to Marca in Paris; "I continue waiting"
Madrid have offers for Higuain, Di Maria, Modric and Coentrao
17 benches up in the air in the Primera
Only Simeone, Mel and Luis Garcia have been confirmed
United prepare 18 million for Thiago
The footballer is frustrated by the lack of playing time
Button: "Now whoever has the fastest car wins"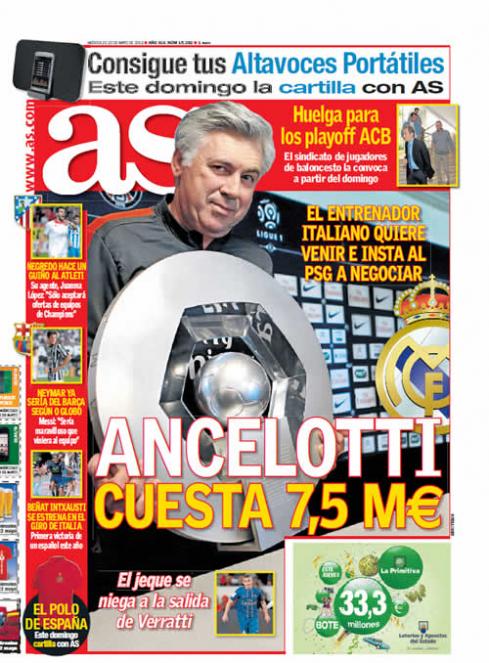 Ancelotti to cost 7.5€ million
The Italian boss wants to come and urges PSG to negotiate
The sheikh denies that Verrati will leave
Negredo to say yes to Atleti
His agent, Juanma Lopez, "He will only accept offers from Champions League teams"
Neymar already at Barca according to Globo
Messi: "It would be wonderful if he came"
Benat Intxausti stars at the Giro Italia
The first victory for a Spaniard this year
Huelga for the ACB playoff
The syndicate of basketballers to call to one this Sunday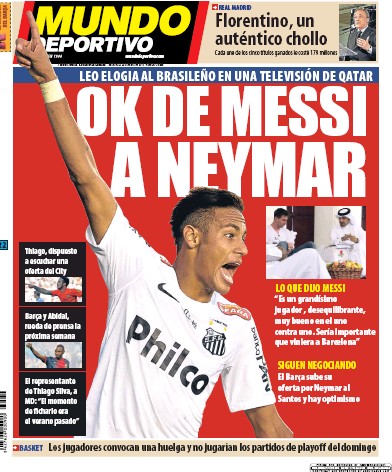 Messi 'ok''s' Neymar plans
What Messi says, "He is a great player, unrivalled, very good when one on one. It would be important if he came to Barcelona"
Talks continue: Barca up their offer for Neymar to Santos and are optimistic
Thiago, to listen to City's offer
Barca and Abidal, a press conference next week
Thiago Silva's representative to MD: "The moment to sign him was last summer"
Basketball: "The players will call a striker and would not play the playoffs this Sunday"
Real Madrid: Florentino, an authentic miser
Every one of the five titles has cost him 179€ million