Today's front-page headlines from Marca, AS and Mundo Deportivo.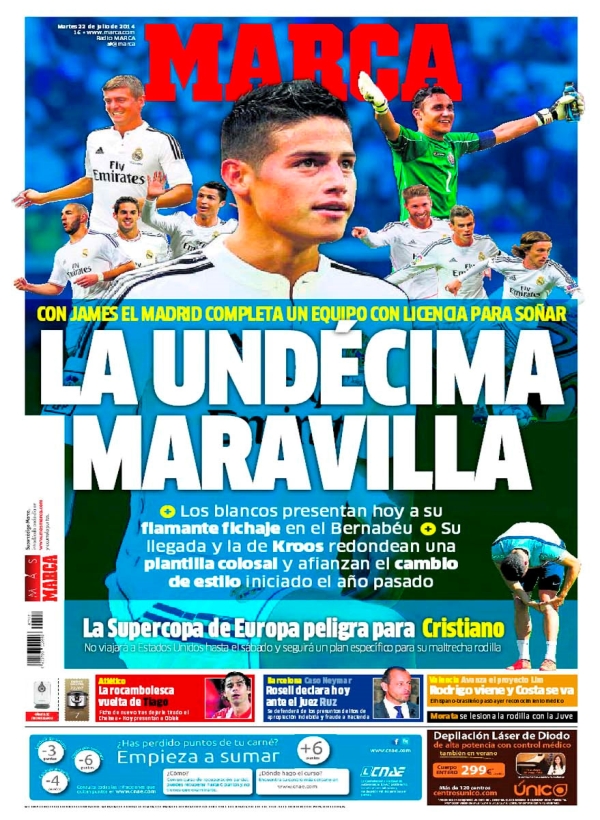 The eleventh wonder.
With James, Madrid complete a team with a licence to dream.
Los Blancos will present their brand new signing today at the Bernabeu. His arrival and Kroos round
up a colossal squad and consolidate the change of style started last year.
The European Super Cup in danger for Cristiano. He will not travel to the USA until Saturday and will
follow a specific plan for his battered knee.
The bizarre return of Thiago.
Neymar Case. Rossel will testify today before Judge Ruz
Morata injures himself with Juve.
Rodrigo arrives and Costa goes.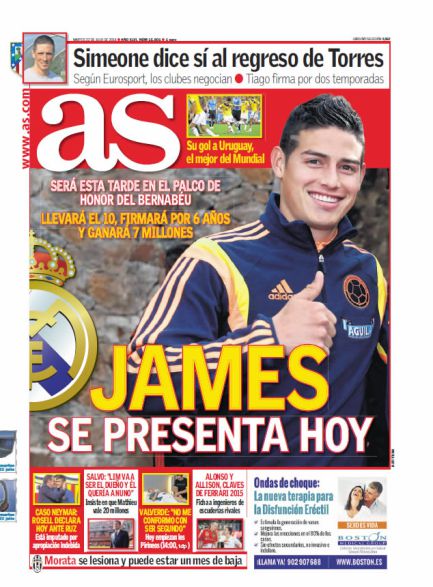 James presented today.
It will be this afternoon in the Royal Box of the Bernabeu. He will wear the number 10 and signs for 6
seasons earning 7 million.
His goal against Uruguay, the best at the World Cup.
Simeone says yes to the return of Torres. According to Eurosport, the clubs are negotiating. Tiago
sings for two seasons.
Neymar Case: Rosell will testify today in front of Ruz.
Salvo: 'Lim is going to be the owner and he wanted Nuno'. He insists that Mathieu is worth 20
million.
Morata injures himself and could face a month out.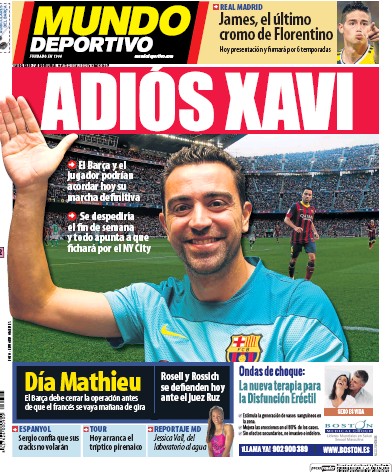 Goodbye Xavi.
Barca and the player could agree his exit today. He would say goodbye at the weekend and
everything points towards a move to NY City.
Mathieu Day. Barca must seal the deal before the Frenchman goes on tour tomorrow.
James, the latest transfer by Florentino. Today is the presentation and he will sign for six seasons.
Rosell and Rossich defend themselves today before the judge Ruz.
Monchi signs Aspas, Barbosa and Krychowiak.