Today's front-page headlines from Marca, AS and Mundo Deportivo.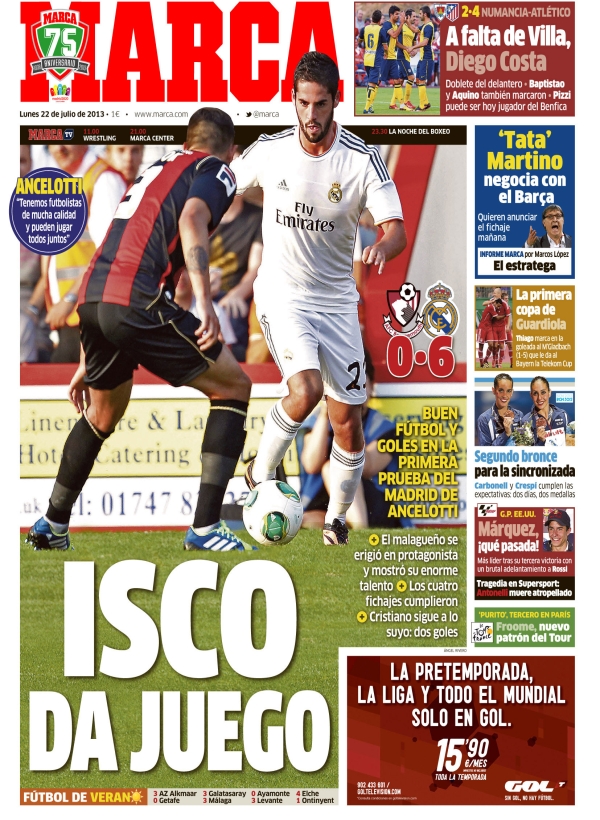 Isco plays a role
Bournemouth 0-6 Real Madrid
Good football and goals in Ancelotti's first outing with Madrid
The Malagueno (Isco) was a protagonist and showed his enormous talent
The four signings all played
Cristiano continues as always, scoring two goals
Numancia 2-4 Atletico Madrid
Minus Villa but with Diego Costa
A two-main strike partnership of Baptistao and Aquino who also scored
Pizzi could join the team today from Benfica
'Tata' Martino negotiating with Barca
They want to announce the signing
tomorrow
The first cup for Guardiola
Thiago scores against M'Gladbach to help Bayern win the TElekom Cup
Second bronze for synchronising team
Carbonell and Crespi fulfilling expectations after two days with two medals
US GP: Marquez, whats going on!
The leader after his third victory after a great overtaking of Rossi
Tour: 'Purito', third in Paris
Froome, the new leader in the Tour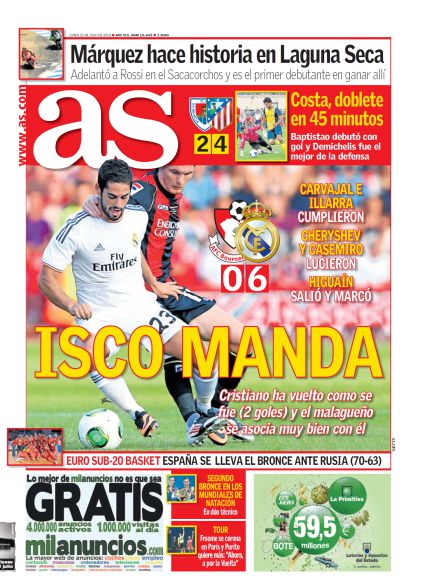 Isco in control
Carvajal and Illarra finish the game
Cheryshev and Casemiro sparkle
Higuain comes on and scores
Cristiano returns and is his old self scoring two goals while Isco soes he can play with him
Costa, a double in 45 minute
Baptistao debuts with a goal and Demichelis was the best defense
Marquez makes history at Laguna Seca
Takes over Rossi in the Sacacorchos and is the first debutant to win there
Euro Sub-20 Basketball: Spain get the bronze after beating Russia
Second bronze at the World Swimming Championships
Tour: Froome is crowned leader in Paris and Purito wants more: "Now, Im aiming for the return"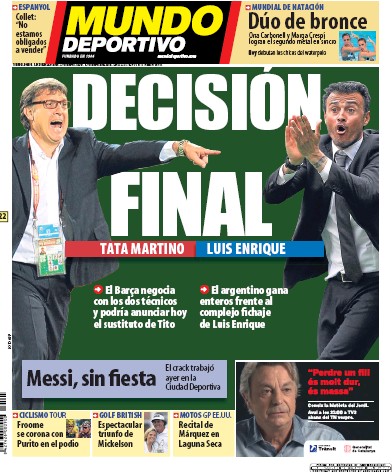 Final decision
Tata Martino or Luis Enrique
Barca negotiating with the two coaches and could announce today the replacement for Tito
The Argentine easier on the whole to sign than the complicated signing of Luis Enrique
Messi, no party
The 'Crack' works yesterday at Ciudad Deportivo
Real Madrid: Ancelotti debuts with a goal-feast (0-6)
World Swimming Championships: Bronze for the duo
Ona Carbonell and Marga Crespi win a second medal in synchronising
Cycling, the Tour: Froome crowned in Paris and Purito ends on the podium
British Open: A spectacular victory for Mickelson
Moto GP USA: A great showing from Marquez at Laguna Seca