Today's front-page headlines from Marca, AS and Mundo Deportivo.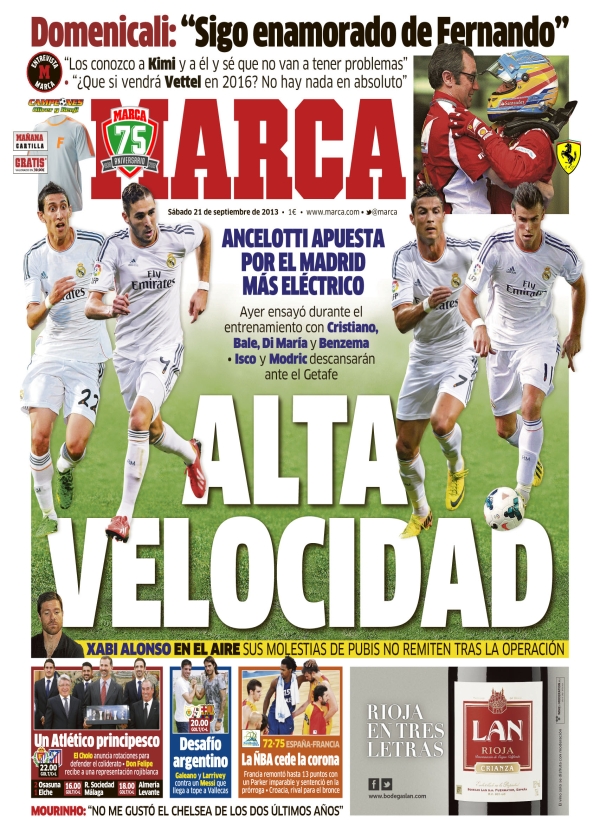 High Velocity
Ancelotti putting his faith in a a more 'electric' Madrid
Yesterday during training he tried out Cristiano, Bale, Di Maria and Benzema
Isco and Modric will be rested against Getafe
Xabi Alonso: His injury problems have not returned following his operation
Atletico with the Prince
Don Felipe receives the clubs officials
Argentine challenge
Spain concede their crown in basketball
Mourinho: "I do not like the way Chelsea have played in recent years"
Domenicali: "I continue to love Fernando"
"I know they, Kimi and him, will not have problems together"
"What if Vettel is sold in 2016? Nothing is certain"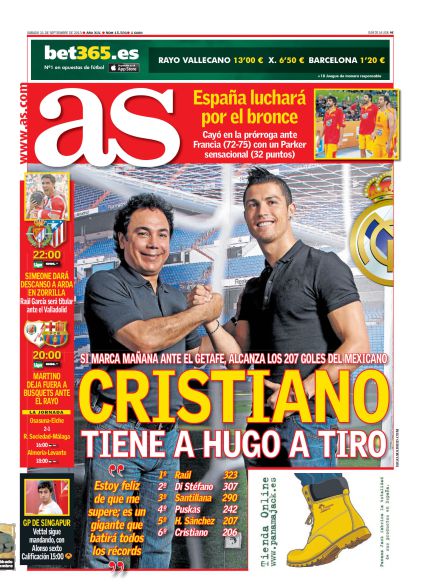 Cristiano meets with Hugo
If he scores
tomorrow
against Getafe, he will overcome the Mexican's record
of 207 goals
"I am happy that he will beat my record, he is incredible and will beat all the records"
Simeone to give Arda a rest
Raul Garcia will be in the starting eleven against Valladolid
Martino leaves out Busquets for Rayo clash
GP Singapore: Vettel continues to lead, Alonso in sixth
Spain will fight for bronze
They fall against Spain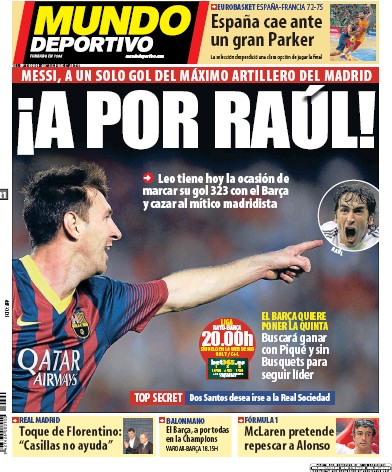 Targeting Raul's record
Leo has today the chance to score his 323rd goal for Barcelona and is hunting down Madridista's legend
Only needs one goal to beat Raul
Barca wants to make it five in row
They will look with Pique for a win but will be without Busquets
Top Secret: Dos Santos wishes to leave for Real Sociedad
Real Madrid, Florentino reveals: "Casillas does not help"
Basketball: A great Parker kicks Spain out
Formula 1: McLaren tries a second time for Alonso