Today's front-page headlines from Marca, AS and Mundo Deportivo.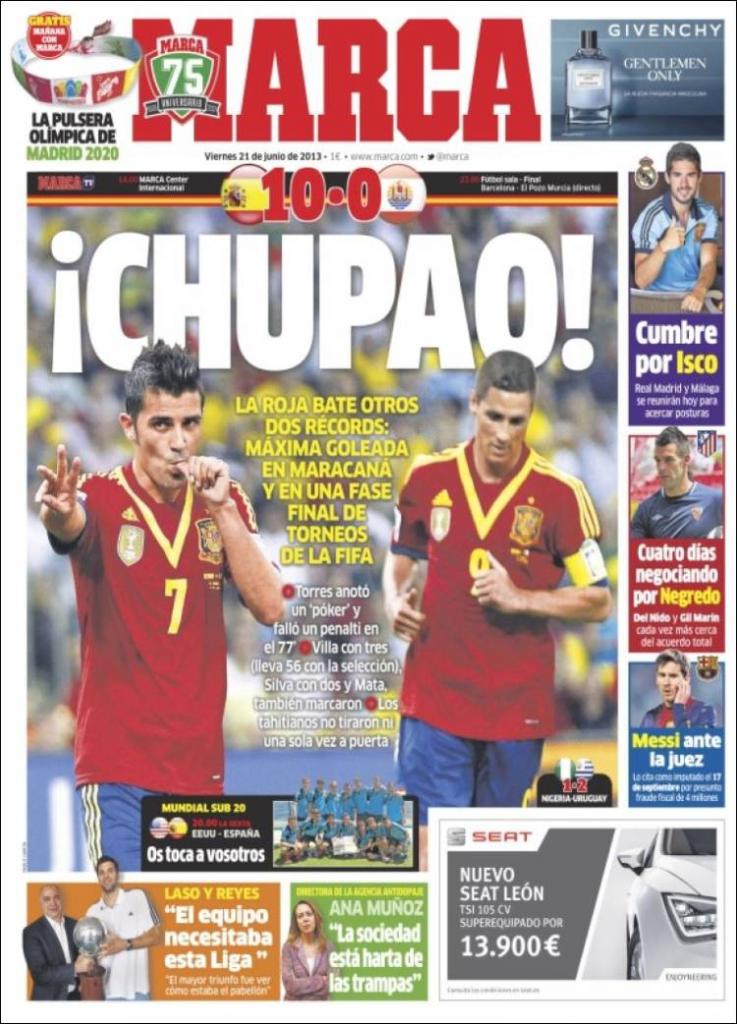 Dead easy
La Roja beat another two records: the most goals ever scored at the Maracana and the most goals scored in a final phase of a FIFA tournament
Torres scores but misses a penalty on 77 minutes
Villa with three goals (he now has 56 goals with the national team), Silva got two and Mata also scored
The Tahitians did not even have one shot on goal
Summit for Isco: Real Madrid and Malaga to meet today to discuss his future
Four days of negotiating for Negredo
Del Nido and Gil Martin closer to an agreement every day
Messi to go before the judge: the day he is set for September 17 where he will defend his alleged 4€ million tax fraud
Laso and Reyes: "The team needed La Liga"
"The major triumph was for the club's flag"
Director of the antidoping agency, Ana Munoz: "Society has had enough of cheats"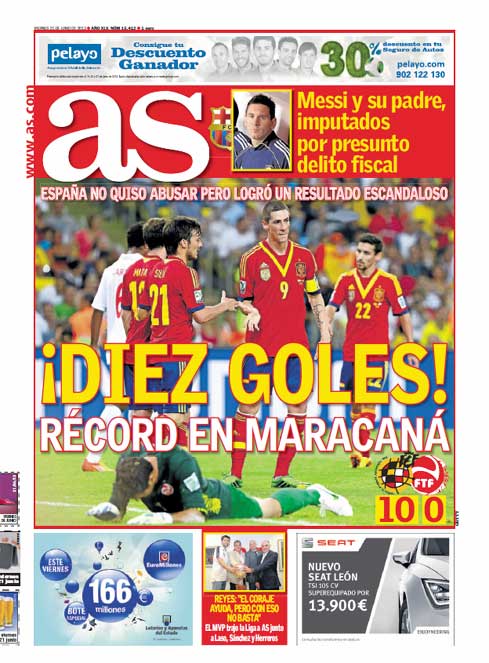 Ten goals! Maracana record
Spain did not want to too much advantage of Tahiti but the result was still scandalous
Reyes: "Courage helps, but, that is not enough only"
The man-of-the-match brings La Liga to AS together with Laso, Sanchez and Herreros
Messi and his father to go ahead of the judge for their alleged fiscal misdeeds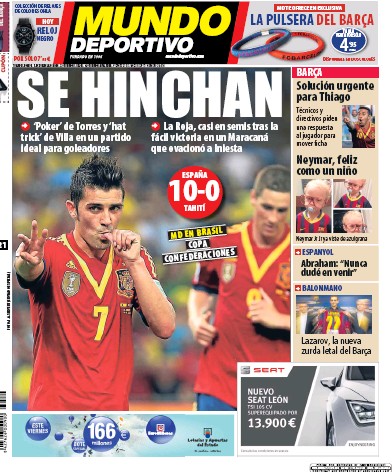 Goals galore
'Poker' goal from Torres and a hat-trick from Villa in an ideal game for goal-scorers
La Roja are almost in the semi-finals after the easy victory in the Maracana that gave an ovation to Iniesta
Thiago solution: Coaches and directors ask for an answer from the player regarding his intentions
Neymar, happy as a baby
Neymar Jr already wearing azulgrana colours
Real Madrid, without a coach, without signings, but with nerves
Handball: Lazarov, the new lethal left for Barca