Today's front-page headlines from Marca, AS and Mundo Deportivo.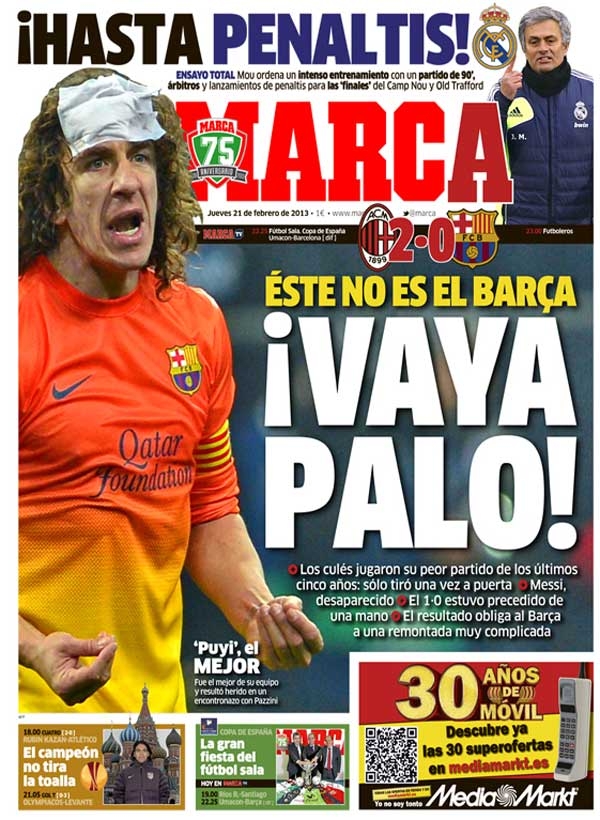 The blows
This is not the real Barca
Los Cules played their worst game in five years: only one shot on goal
Messi disappeared
The first goal was preceded by a handball
The result means Barca need to comeback a lot
Puyi, the best.
Puyol was the best player in his team and suffered a wound
Until penalties: Mou orders an intense training session with a game of 90 minutes, referees and penalties for the 'finals' against Barca and United
Atletico: The champions is not throwing in the towel
Copa de Espana: A great festival of Futbol sala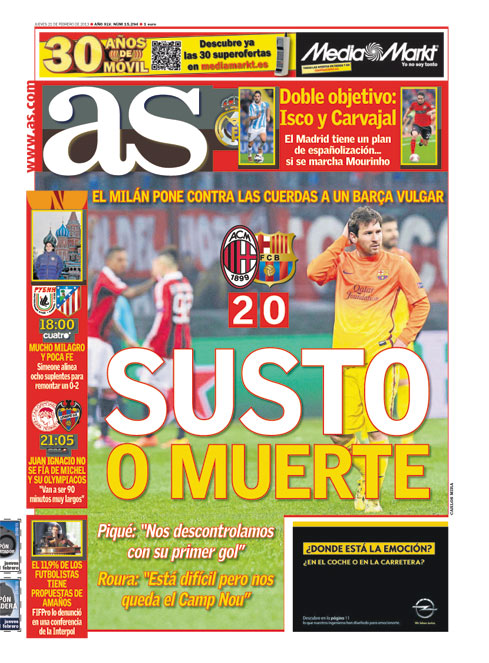 Fear or death
Milan have Barca hanging by a rope
Pique: "We lost control with the first goal"
Roura: "This is difficult but we still have hope at Camp Nou"
Double ojective, Isco and Caravajal
Madrid have a plan of Spanishisation...if Mourinho leaves
Little as Atletico need a miracle
Simeone makes eight changes to the team that lost 0-2
Levante: Juan Ignacio does not have faith in Michel and Olympiakos: "They will be 90 long minutes
11.9% of footballers exhibit behaviour bordering on gamesmanship
FIFPro have denounced it in a conference in Interpol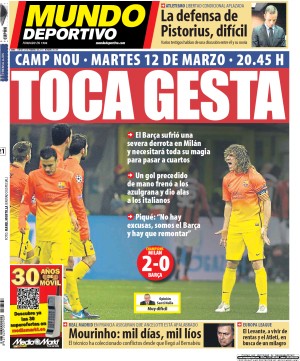 Time for an epic
Barca suffer a severe loss to Milan and will need all their magic to pass to the quarter finals
A goal preceded by a handball broke the Azulgrana and gave the Italians wings
Pique: "There are no excuses, we are Barca and we have to fight back:
Real Madrid, in France they assure that Ancelotti has been promised
Mourinho: a thousand days, a big mess
The trainer has start quarrels since arriving at the Bernabeu
Europa League: Levante living on as Atleti search for a miracle
Athletics: A difficult defence of Pistorius
Various testimonies say it was a discussion between him and his girlfriend