Today's front-page headines from Marca, AS and Mundo Deportivo.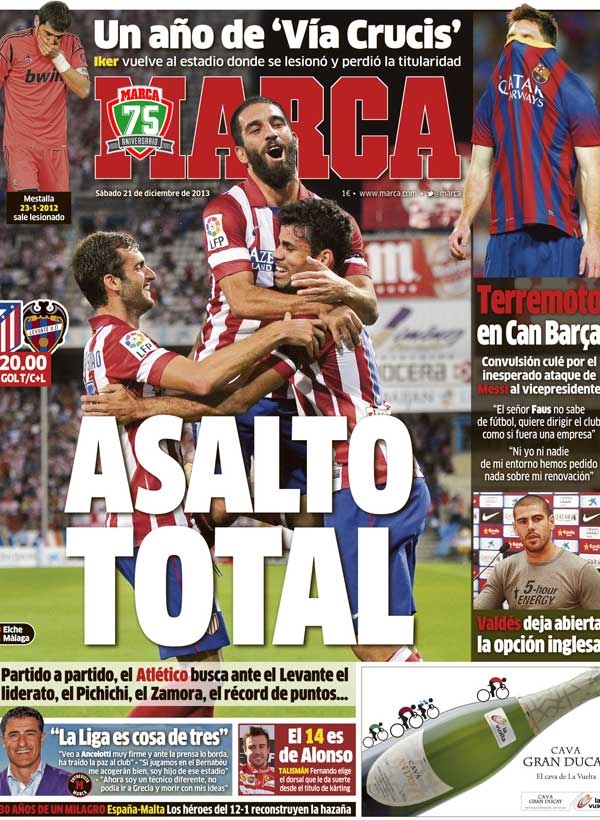 Jumping above everyone
Game by game, against Levante Atletico are looking to become leaders not only in the league but also in the race for the Pichichi, the Zamora while they could claim a record number of points
A terrible deal has it been this year
Iker returns to the stadium where he was injured and lost his starting place
Earthquake in Barcelona
Cule convulsions as Lionel Messi surprisingly the club's vice-president
"Faus does not know football, he wants to run the club as if it were a company"
"Nor I nor anybody around me has asked for a new contract"
Valdes considers England
"La Liga is a three-horse race," Michel
"I see Ancelotti as someone very firm in front of the media, he has brought peace to the club"
"If we play at the Bernabeu, I will be made to feel comfortable, I am one of their sons"
"Now I am a different coach, I could not come to Greece and die by my ideals"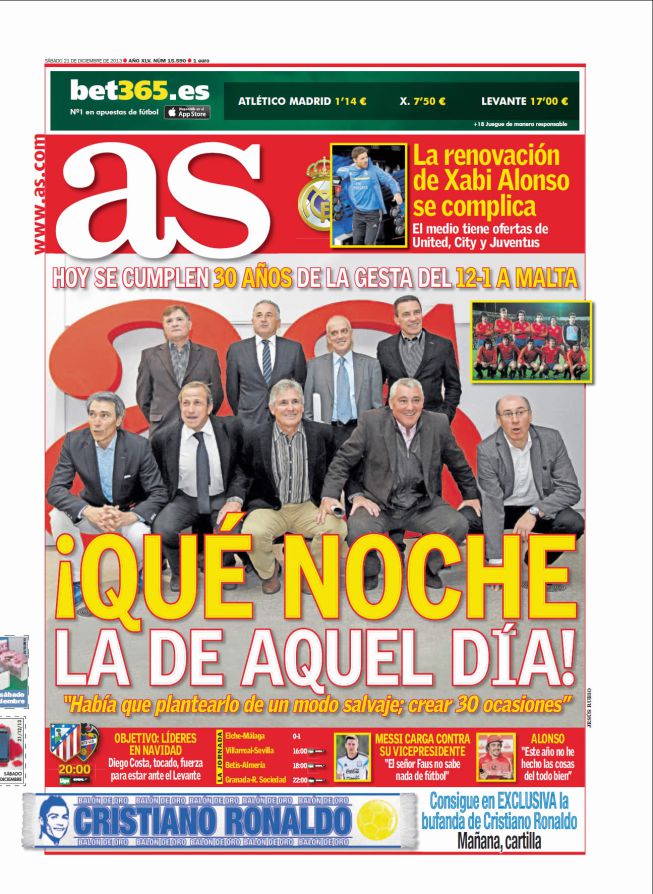 What a night, what a day that was!
Today is the celebration of the team that 30 years ago beat Malta 12-1
Xabi's renewal is complicated
He apparently has offers from City, United and Juventus
Objective: To be Christmas leaders
Diego Costa, who has a knock, is trying to be fit for Levante
Messi blasts his vice-president
"Faus does not know nothing about football"
Alonso: "This year I have not done everything well"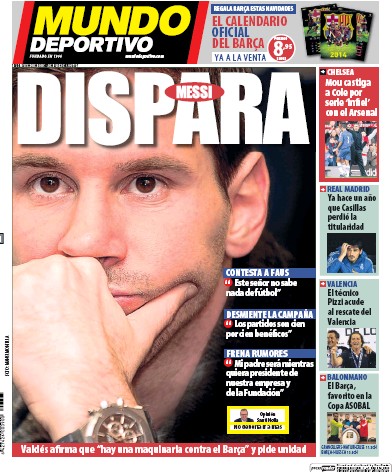 Messi shoots
His response to Faus: "He does not know nothing about football"
Denies recent allegations: "The games are 100 per cent for charity"
Confronts rumours: "My father wanted to be president of our company and the foundation"
Valdes confirms that "there is a campaign against Barca", and he asks for unity
Mou punishes Cole after being "unfaithful" with Arsenal
Real Madrid: Already a year since Casillas lost his starting place
Valencia: Coach Pizzi comes to the rescue