Today's front-page headlines from Marca, AS and Mundo Deportivo.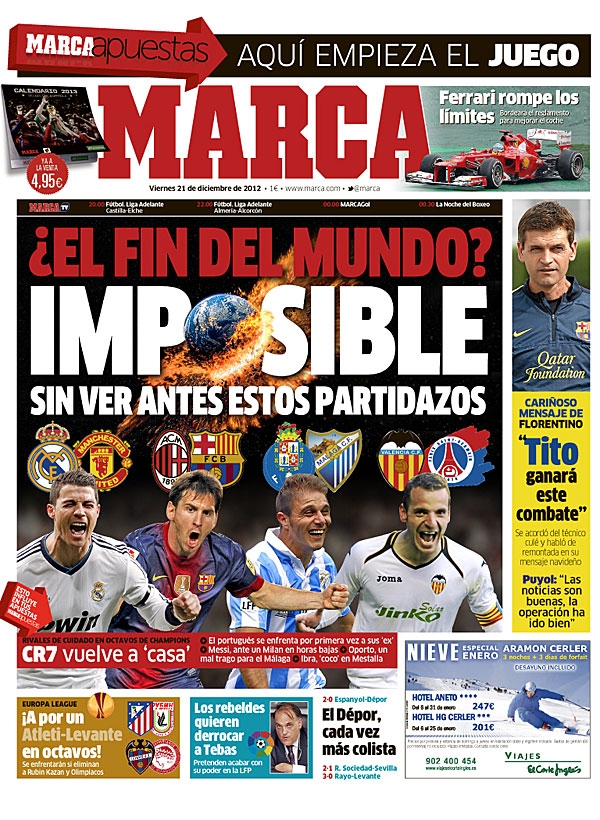 The end of the world?
It is impossible without seeing these great matches; Real Madrid v Man United, Milan v Barcelona, Porto v Malaga and Valencia v Paris Saint German
CR7 to return home
The Portuguese to face his old team for the first time since his exit
Messi, against Milan who are not like they once were
Porto, a tough opposition for Malaga
Crazy Ibra at the Mestalla
Europa League: Atleti and Levante could play in the quarter finals
They will only meet if they both eliminate Rubin Kazan and Olimpicakos
The rebels want to overthrow Tebas: They attempt to end his role within the LFP
Espanyol 2-0 Depor: Depor every time sink lower and lower
Affectionate message from Florentino: Tito will beat this
Perez remembers the coach of the Blaugrana and is hopeful of his return in a Christmas message
Puyol: The news is good, the operation went well
Ferrari breaks the limits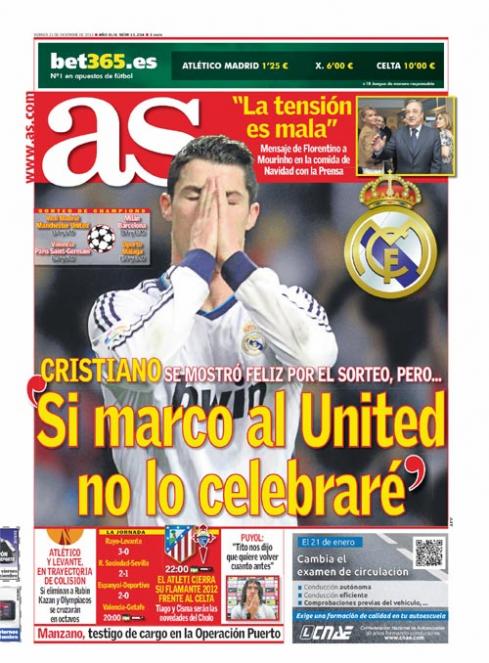 Cristiano shows his happiness about the draw, but….
"If I score against United I will not celebrate"
Atletico and Levante heading for a collision
If they eliminate Rubin Kazan and Olympiakos they will meet in the quarter finals
Puyol: Tito has told us that he wants to return soon
Manzano, a witness in the operation Puerto
Atleti close out a great year with a game against Celta
Perez: The tension is bad
Message from Florentino and Mourinho in the comedy of Christmas with the press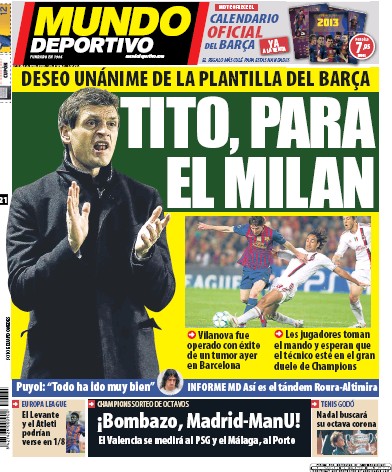 Tito, stop at Milan
Vilanova was operated and had his tumour removed yesterday
The players are taking control and hoping that the coach will be back for the Champions League duel
Puyol: All has gone well
Roura and Altimira are working together in Tito's absence
Europa League: Levante and Atleti could meet in the quarter finals
Champions League Draw: Epic tie, Manchester United versus Real Madrid
Valencia draw PSG, Malaga and Porto
Tennis: Nadal looking for his eighth title