Today's front-page headlines from Marca, AS and Mundo Deportivo.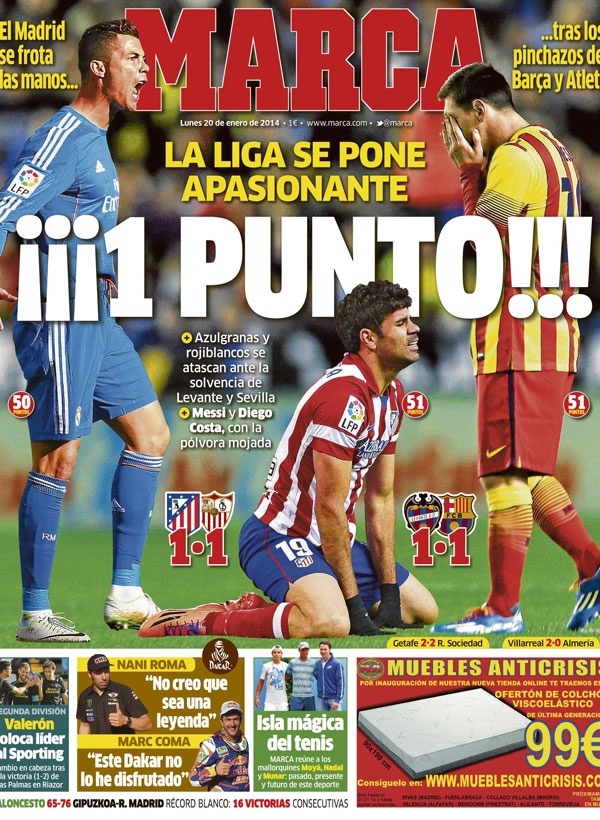 1 Point!
Madrid are rubbing their hands..
after Atleti and Barca are halted
La Liga becomes exciting
The Azulgranas and the Rojiblancos bottle it up against Levante and Sevilla
Messi and Diego Costa's goal-scoring prowess subdued
Valeron takes his side to victor
Nani Roma: "I do not believe I am a legend"
Marc Coma: "I have not enjoyed this Dakar"
Magical Island of Tennis: Marca meets with Moya, Nadal and Munar, the past, present and future of the sport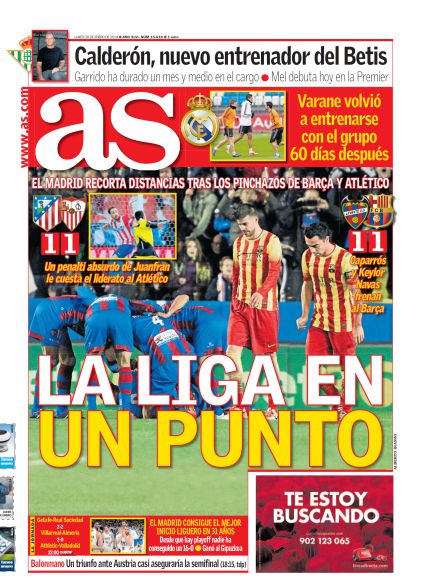 La Liga in on one point!
An absurd penalty conceded by Juan Fran costs Atletico the lead
Caparros and Keylor Navas frustrate Barca
Madrid cut the distance after Atletico and Barca are halted
Varane returns to training 60 days later
Calderon, the new coach of Betis
Garrido last only a month and a half in charge
Mel debuts today in the Premier League
Madrid make the best start to the new league in 31 years
No team has had a record of 16-0 heading into the playoffs
Madrid beat Gipuzkoa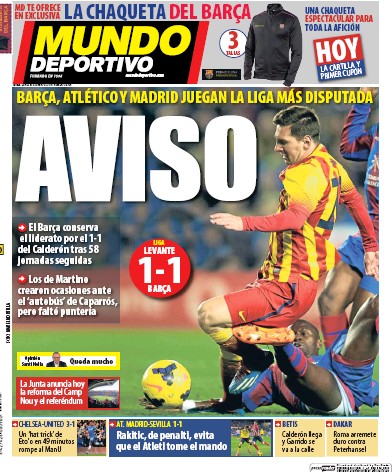 Warning
Barca, Atletico and Madrid all playing for a highly disputed La Liga
Barca maintain the lead in the league after a 1-1 draw at the Calderon
Martino's side created chances against the 'bus' parked by Caparros but failed to make them count
The board to announce the reform of Camp Nou
Chelsea 3-1 United: A hat-trick for Eto'o in 49 minutes killed off Man Utd
Atletico 1-1 Sevilla: A penalty from Rakitic stopped Atletico from taking the upper hand
Betis: Calderon arrves and Garrido is sent packing