Today's front-page headlines from Marca, AS and Mundo Deportivo.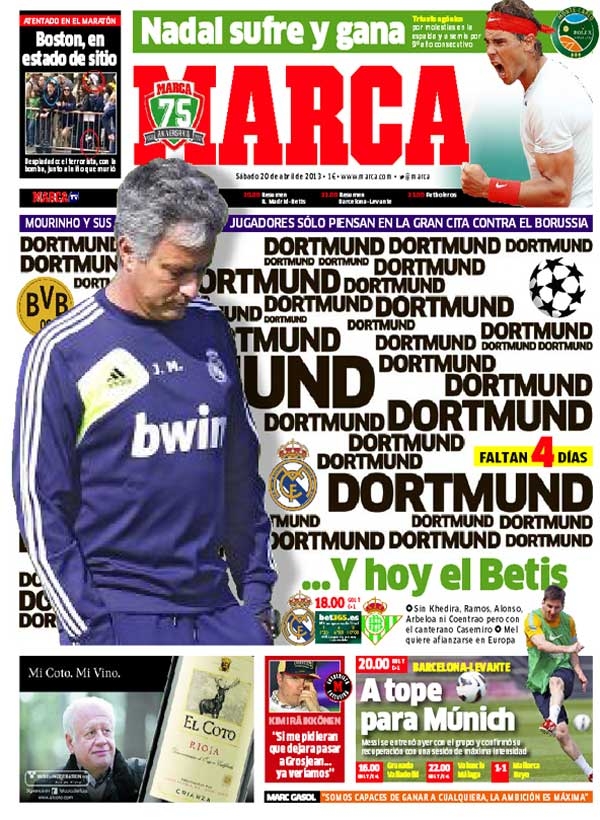 Dortmund, Dortmund, Dortmund.....just four days
and today Betis
Mourinho and his players are only thinking about their date with Dortmund
Without Khedira, Ramos, Alonso, Arbeloa and Coentrao but with Canterano Casemiro
Mel wants to secure European football
Barcelona v Levante: On top for Munich
Messi trained yesterday with the team and has confirmed his fitness with an intense training session
Marc Gasol: "we have the capacity to win against whoever, we have great ambition"
Nadal suffers and win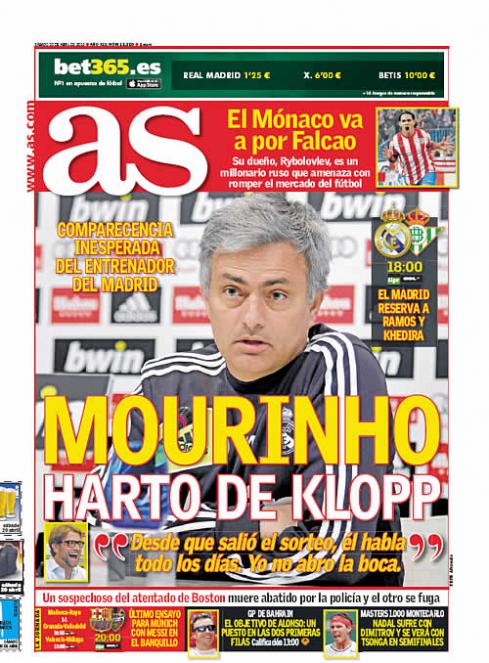 Mourinho fed up with Klopp
An unexpected comparison from the Madrid trainer
Madrid rest Ramos and Khedira
"Since the draw was made, Klopp has talked every day. I do not open my mouth," Mourinho
One suspect of the Boston bomb attack captured by the police in another attempted escape
Monaco going for Falcao
The chief, Rybolovlev, is a billionaire Russian threatening to disrupt the football market
Masters Montecarlo: Nadal suffers with Dimitrov and will meet Tsonga in the semifinals
GP Bahrain: Alonso's objective, a place in the two lines
The last assignment before Munich with Messi on the bench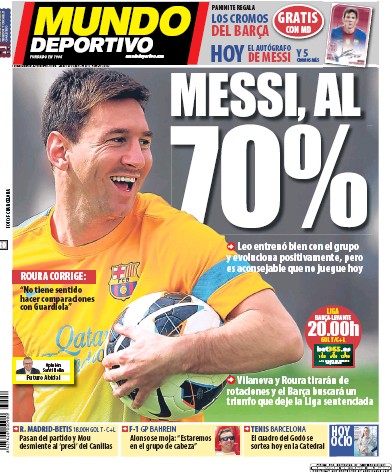 Messi at 70 per cent
Leo trains well with the team, but, is advised not to play today
Roura corrects: "It does not make sense to make comparisons with Guardiola"
Vilanova and Roua will rotate and Barca will search for a triumph that secures La Liga
Real Madrid v Betis: They don't have their minds on the game and Mourinho refutes the words of Canillas president
Formula 1: Alonso ready, "We will be a united group"
Tennis, Montecarmelo: "Nadal will play Tsonga for a place in the final"