Today's front-page headlines from Marca, AS and Mundo Deportivo.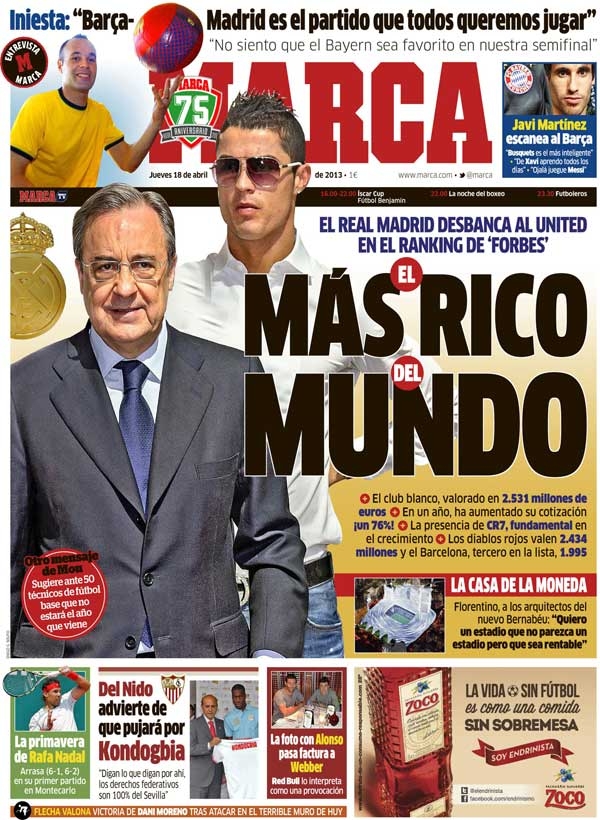 The richest in the world
Real Madrid ousts United at the richest club in the world
Madrid is valued at 2.531 billion
In one year, it has increased by 76 per cent
The presence of CR7, has been fundamental
The Red Devils are valued at 2.434 billion and Barcelona are third on the list at 1.995 billion
The home of money
Florentino, and the architects of a new Bernabeu
"I want the stadium to not appear only as a stadium, but, to be profitbale"
.The spring of Rafael Nadal
He destroys his opponent in his first outing in Montecarlo
Del Nido sends a warning to potential suitors about Kondogbia
"They say what they will say, but, he is completely owned by Sevilla"
The photo of Alonso with Webber
Red Bull interprets it as a provocation
Javi Martinez about Barcelona: "Busquests is the most intelligent"
"From Xavi I have learned from alot", "God willing Messi will play"
Barca v Madrid is the game everyone wants in the final." Iniesta
"I do not feel that Bayern are favourites," Iniesta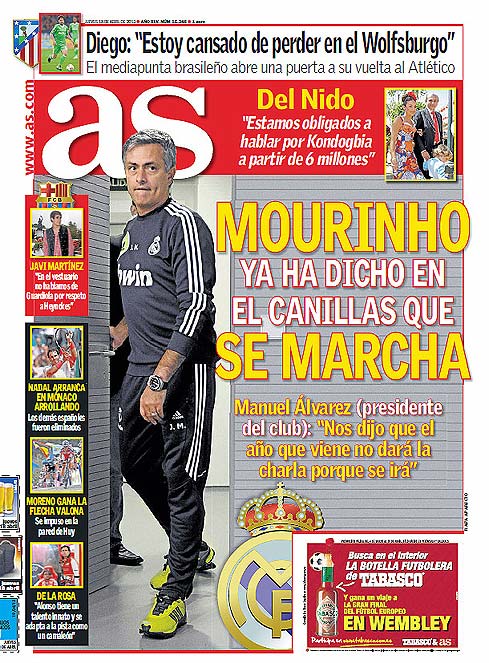 Mourinho has already said to Canillas that he will leave
Manuel Alvarez (President of the club): "He told us that he will not be in the year to come here to have a chat because he will go"
Del Nido: "We are obliged to talk about Kondogbia for about 6 million"
Diego: "I am tired of losing with Wolfsburg"
The Brazilian midfielder opens the door to an Atleti return
Javi Martinez: "In the dressing room we do not speak about Guardiola out of respect to Heynkes"
Nadal with a big win in Monaco
Other Spanish players are eliminated
Moreno wins Flecha Valona
De La Rosa: "Alonso has the talent and can adapt to any track like a chameleon"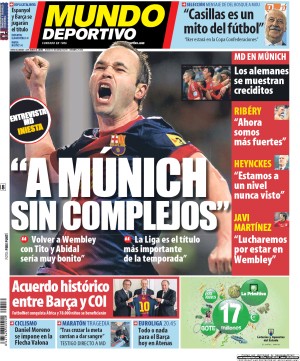 "To Munich without complications," Iniesta
"To return to Wembley with Tito and Abidal would be special," Iniesta
"La Liga is the title most important this season," Iniesta
The Germans speaking
Ribery, "Now we are stronger"
Heynckes, "We are at a level never seen"
Javi Martinez, "We will fight to be at Wembley"
National team, Del Bosque sends a message to Mourinho
"Casillas is a myth in football," Del Bosque
"Iker will be at the Confederations Cup," Del Bosque
An historic agreement between Barca and COI
FutbolNet goes to Africa and 78000 kids will benefit
Cycling: Daniel Moreno impresses at Flecha Valona
Marathon tragedy: "After the finish line they ran to give blood"
Euroliga: All or nothing for Barca today in Athens