Today's front-page headlines from Marca, AS and Mundo Deportivo.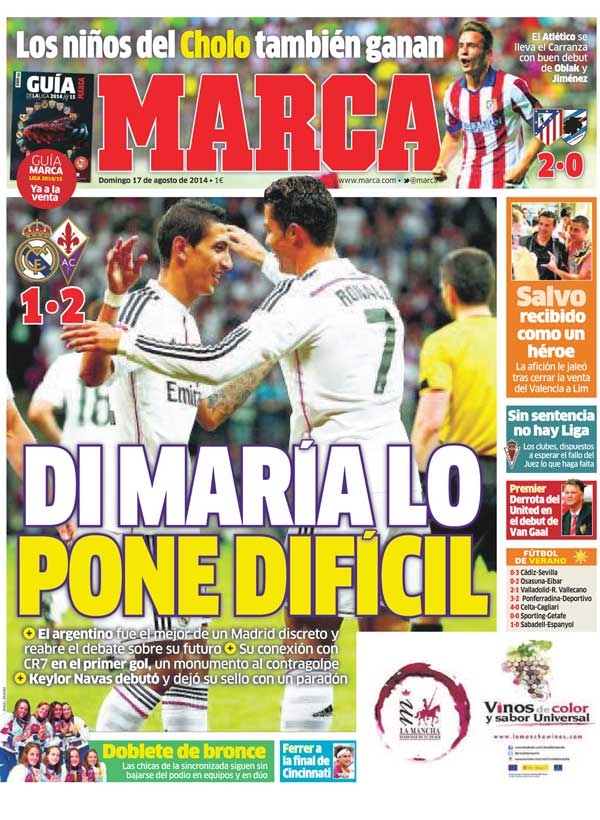 Di Maria makes it difficult.
The Argentinean was the best in an average Madrid and reopens the debate over his future. His
connection with CR7 for the first foal, a monumental counter attack. Keylor Navas made his debut
and left his mark with a great save.
Cholo's kids also win. Atletico lift the Carranza with good debuts for Oblak and Jiminez.
Salvo received as hero. The fans make a fuss of him after sealing the sale of Valencia to Lim.
With no verdict, there is no league. Clubs ready to wait on the decision of the judge that is still
missing.
First defeat for United on Van Gaal's debut.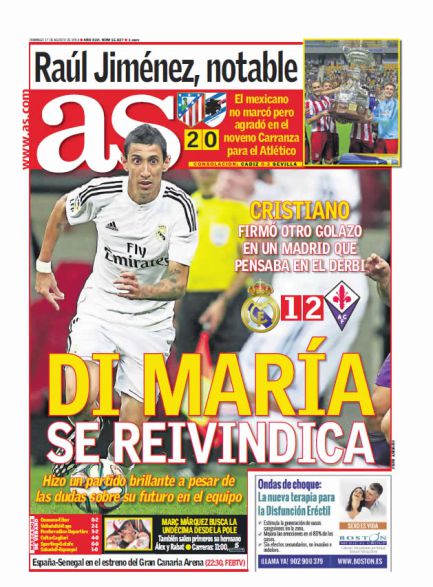 Di Maria makes a claim.
He has a great game despite the doubts over his future at the club.
Cristiano scored another great goal in a Madrid side thinking about the Derby.
Raul Jiminez, impressive. The Mexican didn't score but made a mark in the ninth Carranza for
Atletico.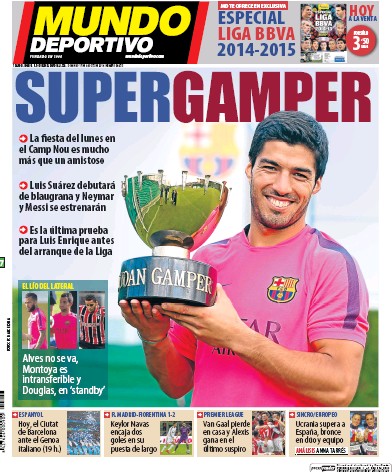 Super Gamper.
The game on Monday at the Camp Nou is much more than a friendly.
Luis Suarez will debut in the Blaugrana and Neymar and Messi will star.
It's the last test for Luis Enrique before the league starts.
Alves won't go, Montoya is in transferrable and Douglas on standby.
Keylor Navas lets two goals on his debut.
Van Gaal loses at home and Alexis wins in the last minute.