Today's front-page headlines from Marca, AS and Mundo Deportivo.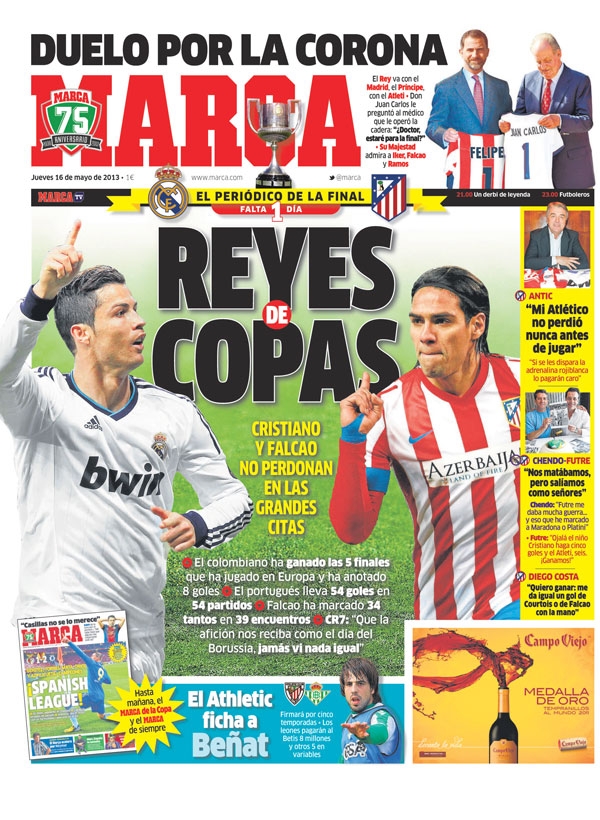 One day to go
Kings of the Cup
Cristiano and Falcao always ready for the big occasions
The Columbian has won five finals and has played in the Europa League scoring 8 goals
The Portuguese has scored 54 goals in 54 games
Falcao has scored 34 in 39 meetings
CR7: "The way the fans were against Borussia I have never seen anything like it before"
Duel for the Cup
The King goes for Madrid, the Prince goes for Atleti
Don Juan Carlos asked the about his hip operation, "Doctor, will I be at the final?"
Our majesty admires Iker, Ramos and Falcao
Antic: "My Atletico never lost before playing"
Chendo-Futre: "We killed but we left like gentlemen"
Chendo: "Futre gave me much trouble....and I scored against Maradona and Platini
Futre: "God willing Cristaino scores 5 goals and Atleti six and we win"
Diego Costa: "I want to win; it is all the same if it comes from a goal from Courtois or the hand of Falcao"
Athletic sign Benat
They will sign him for five seasons
Los Leones will pay Betis 11 million and another 5 in possible bonuses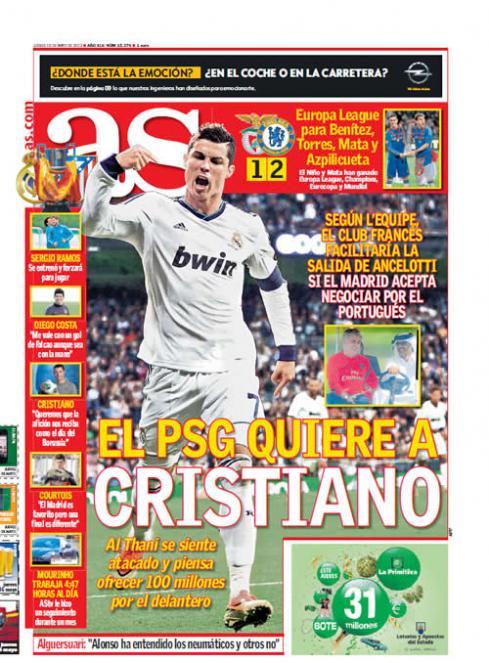 PSG want Cristiano
Al Thani is interested and is thinking of offering 100 million for the striker
According to L'Equipe the French club allow Ancelotti to depart if Madrid are willing to negotiate for the Portuguese
Europa League for Benitez, Torres, Mata and Azipilicueta
El Nino and Mata have won Europa League, the Champions League, the European Cup and the world cup
Sergio Ramos trains and will be forced to play tomorrow
Diego Costa: "I do not care if Falcao scores with his hand"
Cristiano: "We want the fans to be like they were against Borussia"
Mourinho works 4 hours and 47 minutes every day
AStv follows the coach for a month
Alguersuari: "Alonso has understood the neumatic and others have not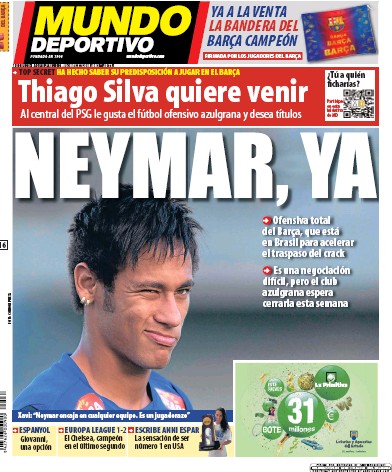 Neymar now
Barca all out for the Brazilian as they accelerate his transfer
It is a difficult negotiation but the club hope to close the deal this week
Top secret: Thiago Silva has made known his desire to play for Barca
Thiago Silva wants to come
The PSG defender likes the offensive football of the Azulgrana and wants titles
Xavi: "Neymar would fit in any team. He is a great player"
Real Madrid: Crisitano being fought over
Europa League: Chelsea become champions in the last second
Write Anni Espar
The sensation is number one in the USA