Today's front-page headlines from Marca, AS and Mundo Deportivo.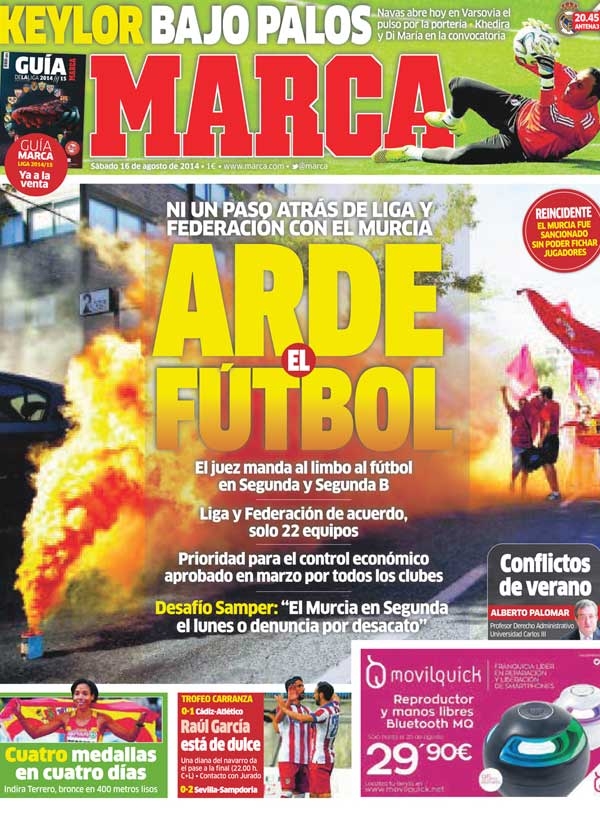 Burning football.
No stepping back from the league and federation with Murcia.
The judge sends football in Segunda and Segunda B into limbo. The league and federation in
agreement, only 22 teams. Priority of economic control passed in March for all clubs. Samper's
challenge 'Murcia in Segunda by Monday or make a complaint for contempt.'
Persistent offender. Murcia were sanctioned without being able to sign players.
Summer of conflicts.
Keylor between the sticks. Navas starts the battle for the number 1 shirt today in Varsovia. Khedira
and Di Maria in the squad.
Raul Garcia is fresh. A strike from the Navarran paves way for the final. Contact with Jurado.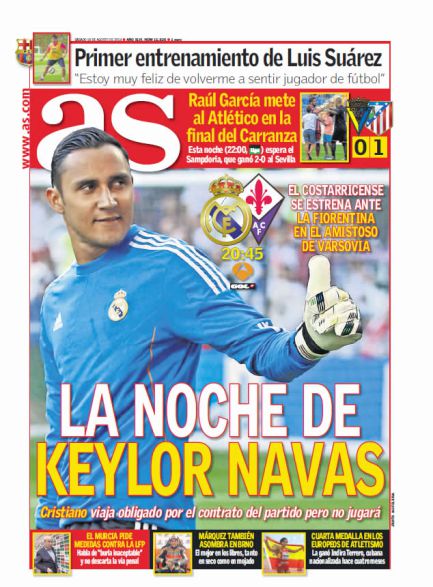 Keylor Navas debuts in Varsovia.
The Costa Rican premiers in tonight's friendly against Fiorentina.
Cristiano is obliged to travel as part of the contract for the match but will not play.
First training session for Luis Suarez. 'I am very happy to return to feeling like a football player'.
Raul Garcia puts Atletico in the final of the Carranza. Tonight they face Sampdoria, who beat Sevilla
2-0.
Murcia call for action against the LFP. They speak of the unacceptable derision and do not discard
criminal proceedings.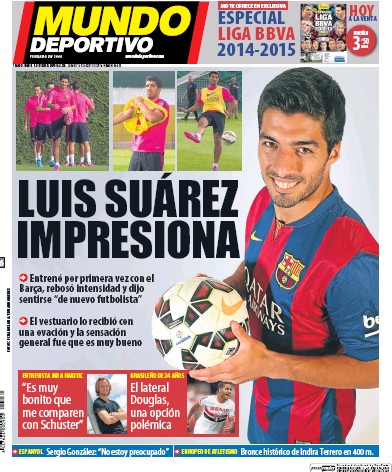 Luis Suarez impresses.
He trained yesterday for the first time with Barca brimming with intensity and said he feels a
footballer again.
The dressing room welcomed him with an ovation and the general feeling is that he is very well.
Rakitic 'Its very nice to be compared to Schuster'
The full back Douglas, a controversial option. 24 year old Brazilian.
The Premier League starts with Van Gaal and Alexis.