Today's front-page headlines from Marca, AS and Mundo Deportivo.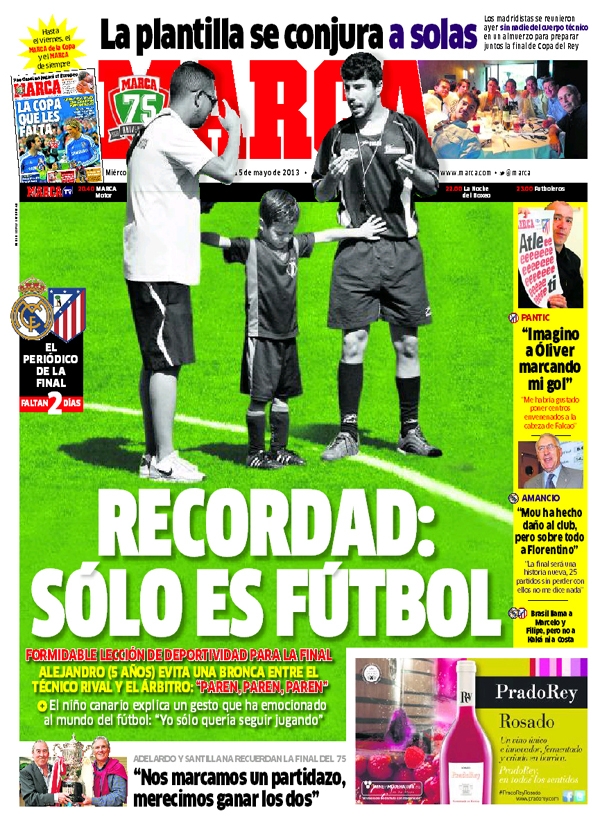 Remember; it is only football
An important lesson in sport for the final
Alejandro (5 years old) try to avoid a dispute between a rival coach and a referee saying, "Stop, stop, stop"
The Canarian boy explains his actions that have touched the football world: "I only wanted to continue playing"
Adelardo and Santillana remember the final from 1975
"We scored in that great game and we merited winning two"
The team get together by themselves
Madrid players meet for a lunch yesterday without Mourinho as they prepare for the final of the Copa del Rey
Pantic: "I imagine Oliver scoring my goal"
"I would have liked to put in crosses for Falcao's head"
Amancio: "Mou has damaged the club and overall to Florentino"
"The final will be a historical. 25 games without losing to those"
Brazil call up Marcelo and Filipe but no Costa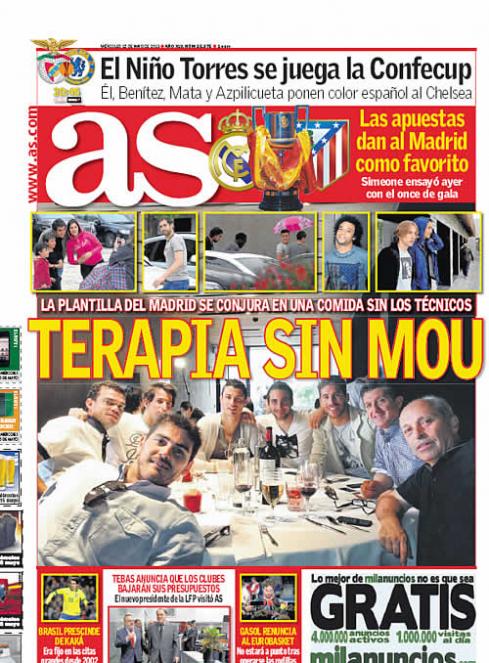 Therapy without Mou
Madrid players organise a lunch without their coach
Chelsea: El Nino Torres to play in the Confederations Cup
Benitez, Mata and Azipilicueta give Chelsea a Spanish flavour for teh Europea League final
The betting houses put Madrid as favourites for the Copa final
Simeone prepares his first eleven yesterday
Brazil without Kaka: He has been a feature in every important occasion since 2002
Tebas announces that the clubs will decrease their taxes
The new president of the LFP talks to AS
Gasol out of Euro: He will not be ready after an operation on his knees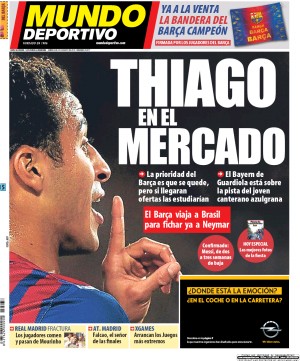 Thiago on the market
The priority for Barca is that he stays, but, if they receive an offer hey will consider it
Bayern's Guardiola is looking at the young Canterano
Confirmed: Messi, two or three weeks out
Real Madrid fractured
The players eat without Mourinho
Atletico Madrid: Falcao, the man for finals