Today's front-page headlines from Marca, AS and Mundo Deportivo.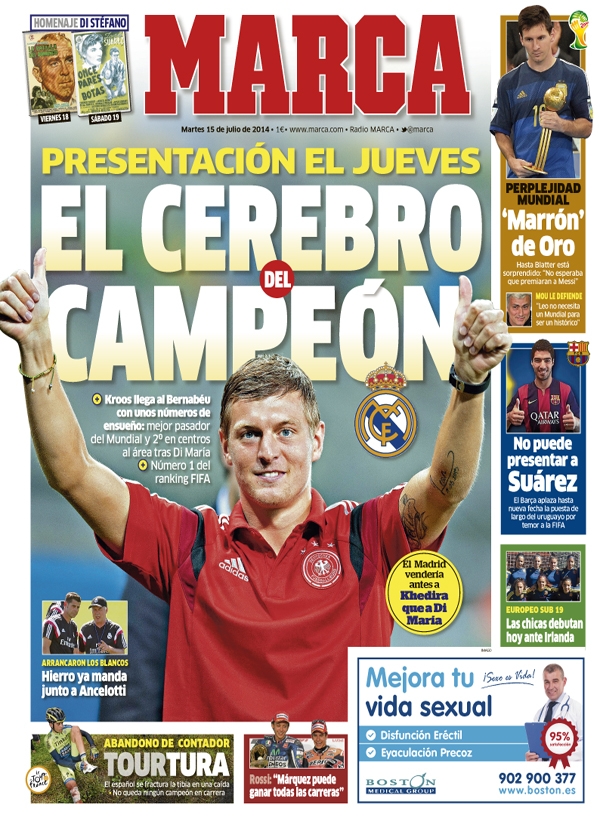 The brain of the champions. Presentation on Thursday.
Kroos arrives at the Bernabeu with some dream stats: best passer at the World Cup and second for
crosses in the box after Di Maria. Number 1 in FIFA's ranking.
Los Blancos start. Hierro already calling the shots alongside Ancelotti.
Madrid would sell Khedira before Di Maria.
World Perplexity. Golden farce. Even Blatter is surprised:' I didn't expect them to award it to Messi'
Mou defends him. 'Leo does not need a World Cup to be historic'
Barca can't present Suarez. They postpone the new date set for the Uruguayan for fear of FIFA.
European under 19's. The girls start today against Ireland.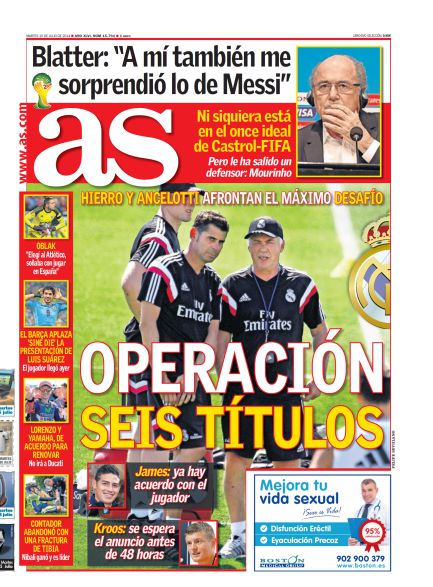 Operation Six Titles.
Hierro and Ancelotti face the maximum challenge
James: There is already an agreement with the player.
Kroos awaits the announcement within 48 hours
Blatter: I was also surprised about Messi. He was not even in the best XI of Castrol-FIFA. However,
someone has come out to defend him: Mourinho.
Oblak: I chose Atletico, I dreamt of playing in Spain.
Barca postpone 'Sine Die' the presentation of Luis Suarez. The player arrived yesterday.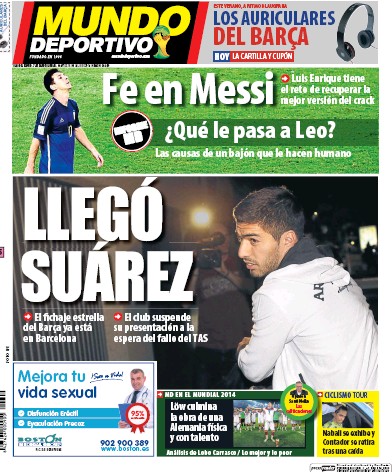 Suarez arrives.
The star signing is already in Barcelona.
The club postpone his presentation after the pending failure of TAS.
Faith in Messi. Luis Enrique has the task of getting back the best version of the star.
What has happened to Leo? The causes of the slump that make you human.
Low completes the work of a physical Germany and with talent.
Argentina welcome back La Albiceleste like heroes.