Tody's front-page headlines from Marca, AS and Mundo Deportivo.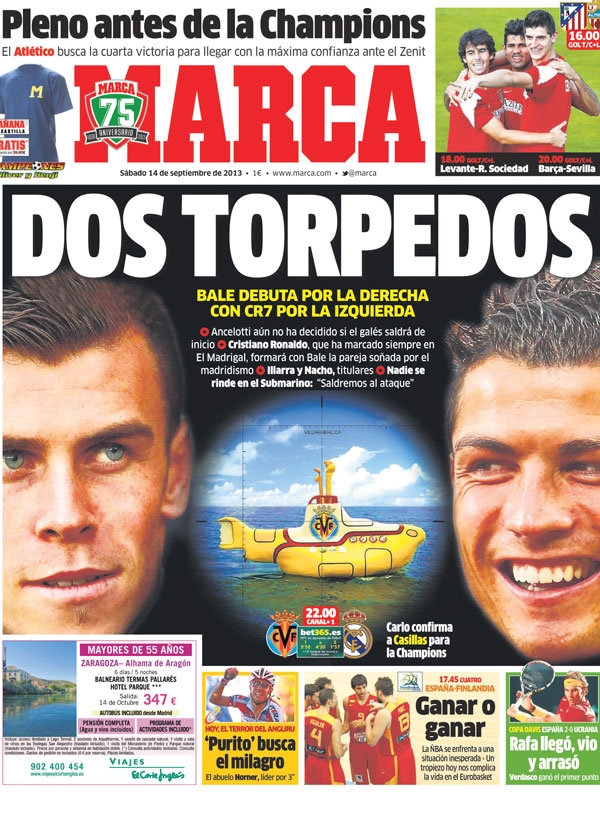 Two Torpedoes
Bale to debut on the right side of the attack, CR7 will play on the left
Ancelotti has not even decided yet whether the Welshman will debut
Cristiano Ronaldo who has always scored at El Madrigal, will form a dream pair with Bale
Illarra and Nacho will start
Nobody giving up for submarines: "We will attack"
Carlo confirms that Casillas will only play in the Champions League
On song ahead of the Champions
Atletico search for their fourth win in order to head into their tie with Zenit with complete confidence
Win or win: Spain v Finland in basketball
The NBA find themselves in a desperate situation
A setback today could complicate life
Davis Cup: Rafa came, saw and conquered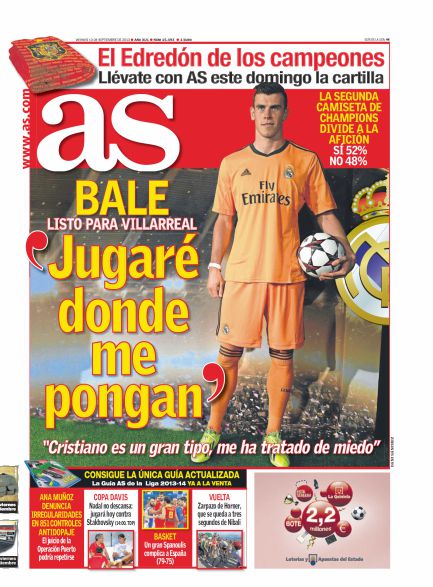 Bale plays
Ancelotti: "Casillas will be the goalkeeper for
Tuesday
in Istanbul, like this he is more content"
Illarramendi to start at the Madrigal
Costa and Villa to continue the streak
Simeone will not make changes and is confident in another win
Martino will not call up Pedro for Sevilla
Puyol trains with the team after seven months out injured
Davis Cup: Nadal and Verdasco put us 2-0 against Ukraine. Today the doubles
Vuelta: A win for Purito and Horner recovers the lead
GP Italia, Lorenzo: "I do not have another remedy for courage"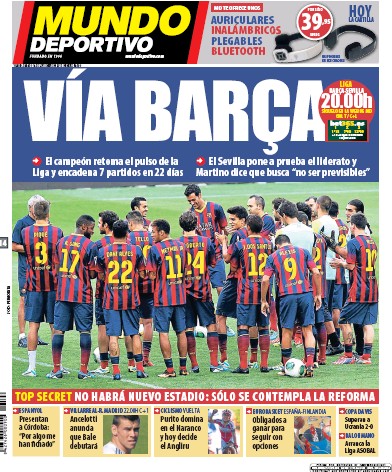 The Barca way
The champions return to La Liga and will play the first of 7 matches over 22 days
Sevilla to test out the leaders while Martino says that "we will not be predictable"
Top secret: There will no new stadium, only perhaps a reconstruction
Villarreal v Real Madrid: Ancelotti says Bale will debut
Cycling: Purito dominates in Naranco
Davis Cup: Verdasco and Nadal put Spain 2-0 v Ukraine
Basketball: Spain have to win to keep hopes alive