Today's front-page headlines from Marca, AS and Mundo Deportivo.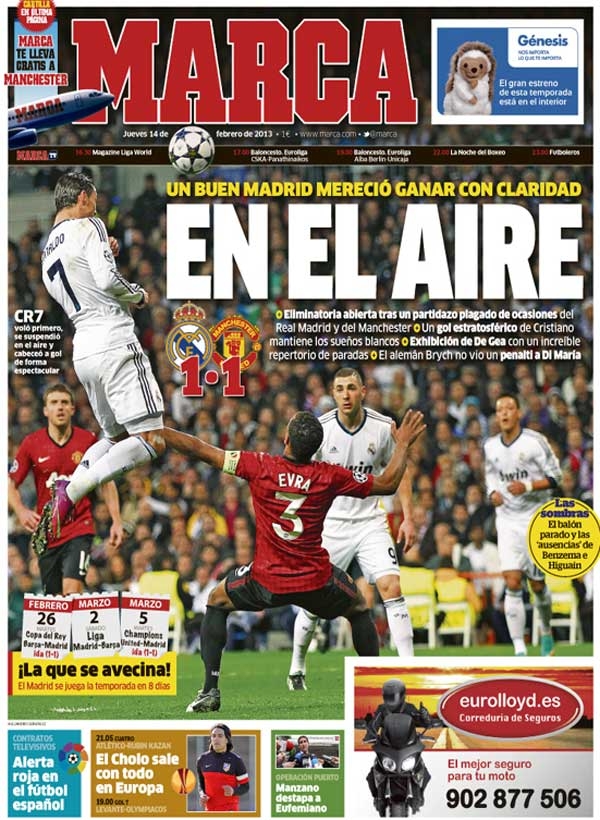 In the air
A good Madrid worthy of a clear win
The knockout tie is still open after a great match with many chances on goal between Real Madrid and Manchester United
Cristiano's stratospheric goal keeps hopes alive for Los Blancos
De Gea puts on an incredible exhibition, making a repertoire of saves.
CR7 flew first into the air and seemed to hang there as he headed the ball home in spectacular fashion
The ball stopped and the 'absences' of Higuain and Benzema
What is approaching: Madrid playing for their season in eight days; February 26 Copa del Rey v Barcelona, March 2 La Liga v Barca, March 5 Champions League v Manchester
Television contracts: Red alert in Spanish football
El Cholo going all out in the Europa
Operation Puerto: Manzano to reveal Eufemiano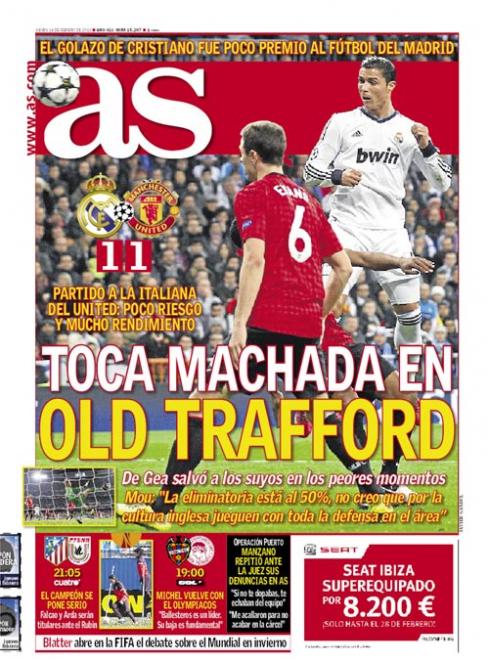 A touch of bravery needed for Old Trafford
United play an Italian game; clinical and took few risks
Cristiano's great goal was a little reward for Madrid
De Gea saves his team during their poorer moments
Mou: "The tie is 50/50, I do not think that given the culture of English football they will not play all out defensively"A
Atletico: The champions gets serious as Arda and Falcao are included in the starting team for the game against Ruben
Michel returns to Olympiakos, "Ballesteros is a leader, his loss is crucial"
Operation Puerto: Manzano repeats before the judge the revelations exposed to AS, "If they did not dope you, they kicked you out of the team", "They silenced me so I did not go to jail"
Blatter opens the FIFA debate across the world in winter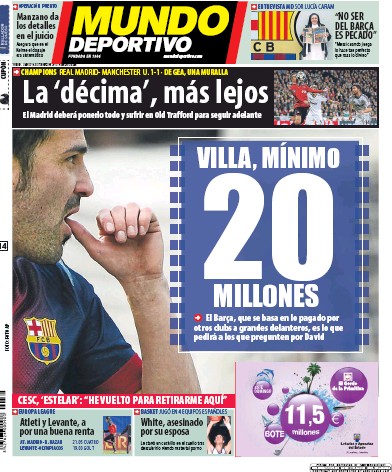 Minimum 20 million for Villa
Barca base the fee on what other clubs pay for top strikers and this is what they will ask clubs for David
La Decima gets further away
Madrid will have to go all out and suffer at Old Trafford to keep going
Interview with Sor Lucia Caram: To not be Barca is a sin, "Messi when he plays he is so perfect he nears on divine
Atleti and Levante looking to increase their income
Cesc: "I have returned to retire here"
Basketball: White assassinated his spouse