Today's front-page headlines from Marca, AS and Mundo Deportivo.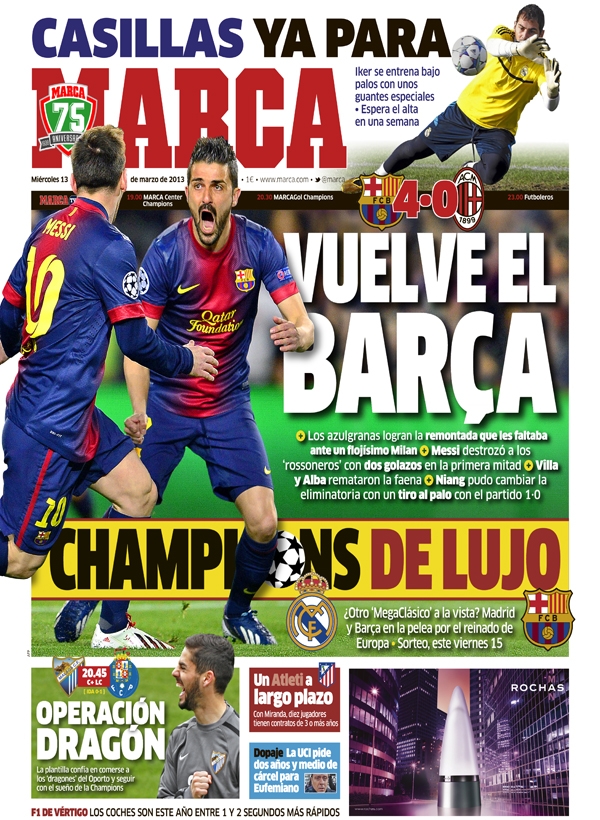 The return of Barca
The Azulgranas make a comeback against a weak Milan
Messi destroys the Rossoneri with two stunning goals in the first period
Villa and Alba play with heart
Niang could have changed the game with his strike that hit the post when the score was 1-0
Champions of luxury
Another MegaClasico in site?
Madrid and Barca will battle in their bid to reign in Europe
The draw is 15 Friday
Malaga v Porto: Operation Dragon
The team are confident that they can eat up the dragons of Porto and continue their Champions dream
Casillas already
Iker is training with special gloves
He hopes to return in one week
Atleti of large contracts
With Miranda, ten players have contracts of three or more years
Doping: UCI ask for two and a half years in prison for Eufemiano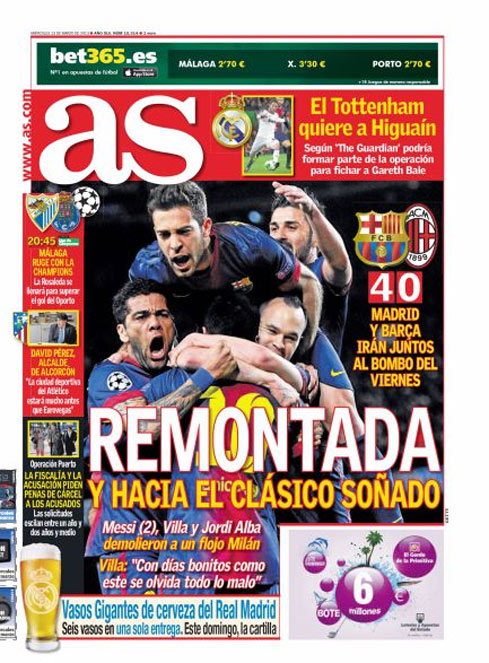 Comeback and another clasico dream
Madrid and Barca could be drawn together this Friday
Messi (2), Villa and Jordi Alba demolish a weak Milan
Villa: "With great days like this we forget everything that is wrong"
Malaga Porto: Malaga to roar in the UCL
La Rosaleda will be full to help Malaga overcome Porto
David Perez, mayor of Alcorcon: "the sports city of Atletico will be for Eurovegas"
Tottenham want Higuain
Following the Guardian, he could form part of the operation to sign Gareth Bale
I did not feel afraid. I played the same way I do in Serie A, but I lost sharpness because you have to run so hard against Barcelona," explained the 18-year-old striker.