Today's front-page headlines from Marca, AS and Mundo Deportivo.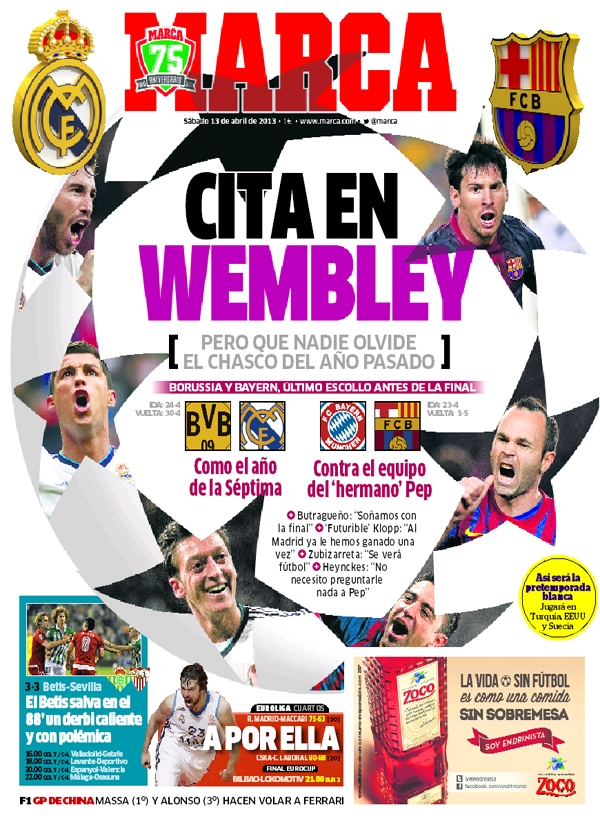 Wembley date
But nobody wants to forget the disappointment of last year
Borussia and Bayern, the last hurdles before the final
Dortmund v Madrid: Against the team of the seventh
Bayern v Barcelona: Against the Pep's new team
Butragueno: "We dream of the final"
Klopp: "With Madrid we have already beaten them once"
Zubizarreta: "It will be good football"
Heynckes: "I do not need to ask Pep nothing"
Preseason for Madrid to take place in Turkey, US and Switzerland
Betis 3-3 Sevilla: Betis salvage a point in the final minutes in a heated and controversial derby
F1 China: Massa first, Alonso third as they make to fly in the Ferrari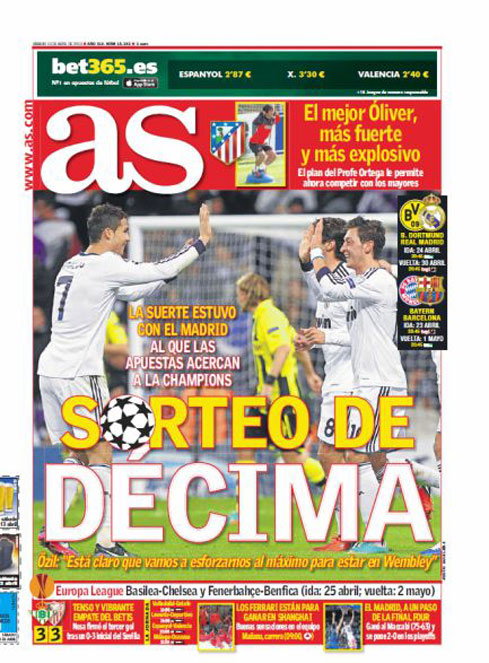 The draw for La Decima
The luck goes with Madrid as their odds of winning increase
Ozil: "It is clear that we will put in a maximim effort to make it to Wembley"
Dortmund v Real Madrid 24 April and 30 April
Bayern v Barcelona: 23 April and 1 May
Europa League: Basil v Chelsea and Fenerbahce v Benfica
Betis 3-3 Sevilla: A tense and vibrant draw in Betis
Nosa seals the third goal after his side were losing 0-3
Ferrari are ready to win Shanghai
A great feeling exists amongst the team
Basketball: Madrid progress to the final four
The best Oliver, stronger and more explosive
The plan of Profe Ortega is to make him more competitive with the senior players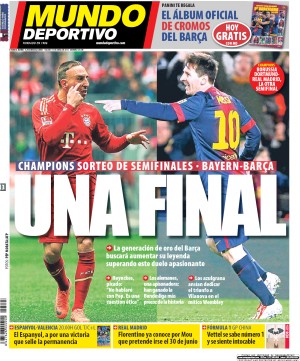 A final
Champions League draw: Bayern v Barca
The golden generation of Barca will look to add to their legend by overcoming a fierce duel
Heynckes: "I will not speak to Pep. It is a question of ethics"
The Germans have steamrolled the Bundesliga this seasons, winning earlier than any other team in history
Los Azulgranas anxious to dedicate a victory in Wembley to Vilanoa
Real Madrid: Florentino already knows the plans of Mourinho
The coach has already told the President that he plans to leave on June 30
Formula 1: Vettel already knows the number 1 and he feels untouchable