Today's front-page headlines from Marca, AS and Mundo Deportivo.
League or death
Barcelona v Atletico: The two sides meet each other to decide a most incredible La Liga season
Cholo's men miss a golden chance to win the title
Tata's men do just enough to keep their hopes alive
Ancelotti's team complete a disastrous week
Madrid insist on keeping Barca in the race
Mistakes cost Madrid as they lose any chance in the league while giving Barcelona a boost to their chances
Nadal wins: "It was unfair, the Japanese was playing better"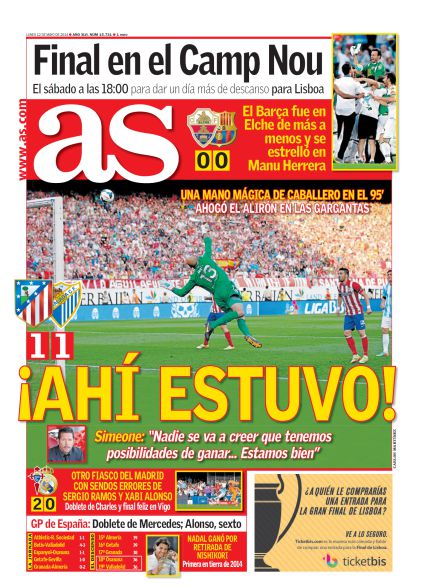 He was there
A magical save by Willy Caballero in the 95th minute keeps Atletico's title celebrations at bay
Simeone: "Nobody will believe we have a real chance of winning... We are fine"
A final at Camp Nou
Saturday
evening at 1800 to give an extra day of rest ahead of Lisbon
Barca were okay in Elche, but, the star was Manu Herrera
Another fiasco from Madrid with mistakes coming from Sergio Ramos and Xabi Alonso
A double for Charles and a nice last home match for Vigo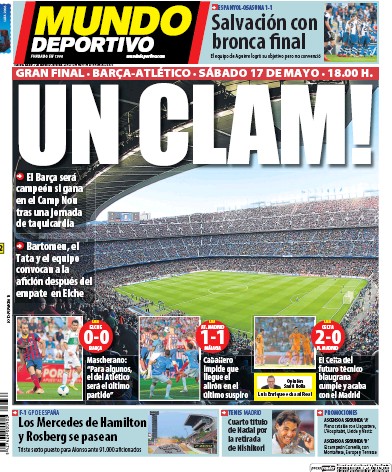 If they can!
Barca will be champions if they win at the Camp Nou after a heart-stopping match day
Bartomeu, Tata and the team call upon the fans after the draw in Elche
Mascherano: "For some, the game against Atletico will be their last"
Caballero holds back Atleti's title celebrations
Celta, directed by Barca's future coach, finish Madrid's chances
A fourth title for Nadal after Nishikori retires