Today's front-page headlines from Marca, AS and Mundo Deportivo.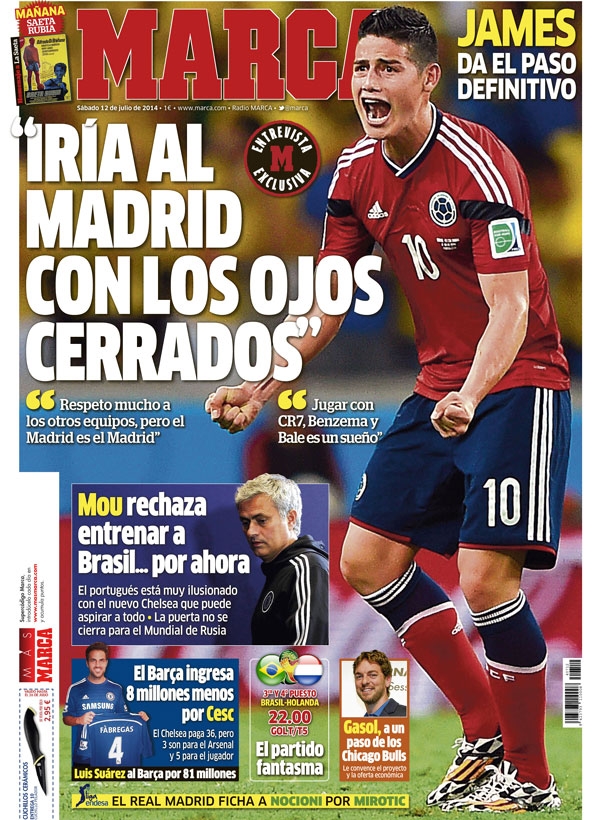 'I would go to Madrid with my eyes shut. I respect other teams a lot, but Madrid is Madrid. To play with CR7, Benzema and Bale is a dream.'
James gives the definitive step.
Mou rejects the chance to manage Brazil... for now. The Portuguese is very excited with his new Chelsea side and can aspire to everything. The door is not shut for the World Cup in Russia.
Barca get 8 million less for Cesc. Chelsea pay 36 but 3 are for Arsenal and 5 for the player.
Luis Suarez to Barca for 81 million.
The phantom game. Brazil v Holland.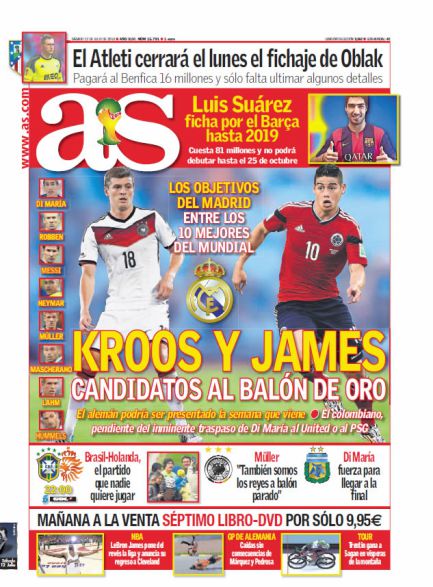 Kroos and James candidates for the Golden Ball. The Madrid targets amongst the ten best at the World Cup.
The German could be presented next week. The Colombian, waiting on the imminent transfer of Di Maria to United or PSG.
Atleti will seal the signing of Oblak on Monday. They will pay Benfica 16 million and only a few last details need agreeing.
Luis Suarez signs for Barca until 2019. He costs 81 million and will not be able to play until 25th October.
Brazil Holland, the game that nobody wants to play.
Muller: 'We are also the kings of the dead ball'
Di Maria trying to make the final.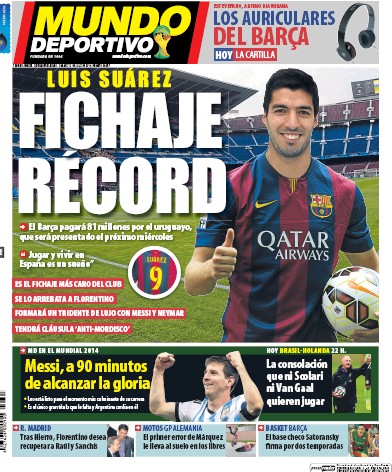 Luis Suarez record signing.
Barca will pay 81 million for the Uruguayan, who will be presented next Wednesday
'To live and play in Spain is a dream'
It's the most expensive signing for the club
Snatched away from Florentino.
He will form a wonderful front three with Messi and Neymar.
He will have an 'Anti-bite' clause.
Following Hierro, Florentino wants to bring back Raul and Sanchis.
Messi, 90 minutes from reaching glory. Leo is ready for the culminating moment of his career.
It's the only big title that he lacks and Argentina trust in him.
The consolation that neither Scolari or Van Gaal want to play.