Today's front-page headlines from Marca, AS and Mundo Deportivo.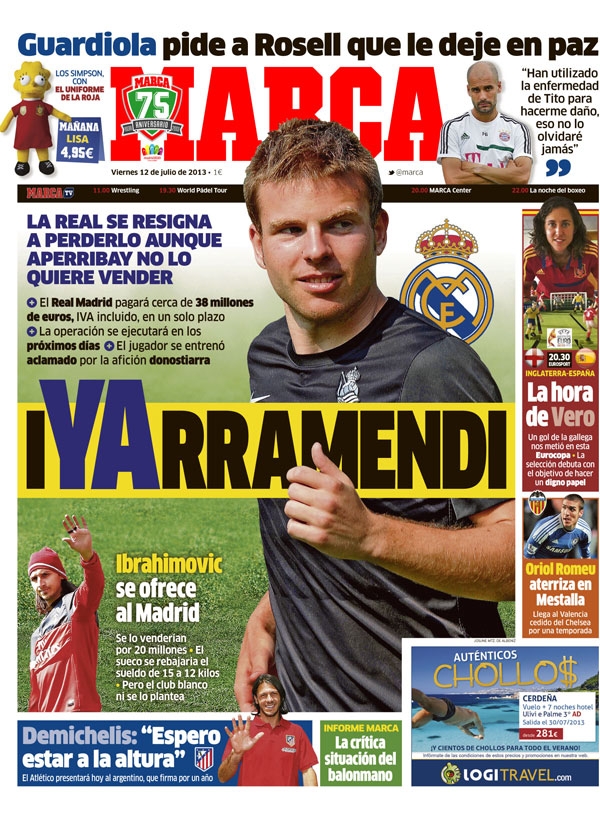 IYaRRAMENDI
La Real are resigned to losing him even though Apperibay does not want to sell him
Real Madrid will pay around 38€ million in one lump sum
The operation will be done in the next few days
The player trains in front of his Donostiarra fans
Ibrahimovic is offered to Real Madrid
They would sell him for 20€ million
The Swede could be picked up for 15 or 12 gran
But the club have not made any plans to purchase him
Demichelis: "I hope to get back to the best"
Atletico present the Argentine today and he signs for a year
Latest on the critical situation of handball
Oriol Romeu lands at the Mestalla
He arrives in Valencia after leaving Chelsea for one year
England v Spain: The hour of truth
A goal from Gallega puts us in the Eurocopa
The national team debuts with the objective to do what they are capable of
Guardiola asks Rosell to leave him in peace
"They have used the sickness of Tito to do me damage, and that I will never forget"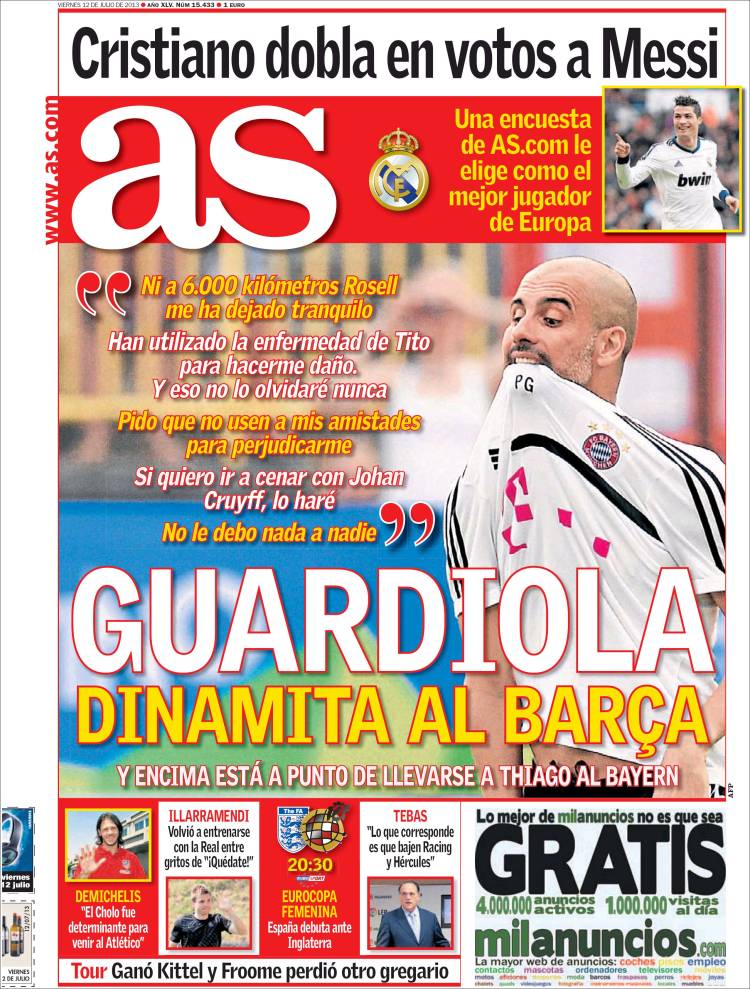 Guardiola has a go at Barca
...and makes a point that he wants Thiago at Bayern
"6000 kms away and still Rosell has not left me in peace
"They have used the sickness of Tito to do me damage and that I will never forget
"He asks that they do not use the friendlies matches coming up to prejudice me
"If I want to have dinner with Cruyff, I will
"I owe nothing to no one"
Cristiano gets twice as many votes than Messi
A survey from AS picks Cristiano as the best player in Europe
Demichelis: "El Cholo was determined to come to Madrid"
Illarramendi: He returns to training with La Real amid cheers of 'Stay'
Female European Cup: Spain debut against England
Tebas: "What is required is that Hercules and Racing go down"
Tour: Kittel wins and Froome loses again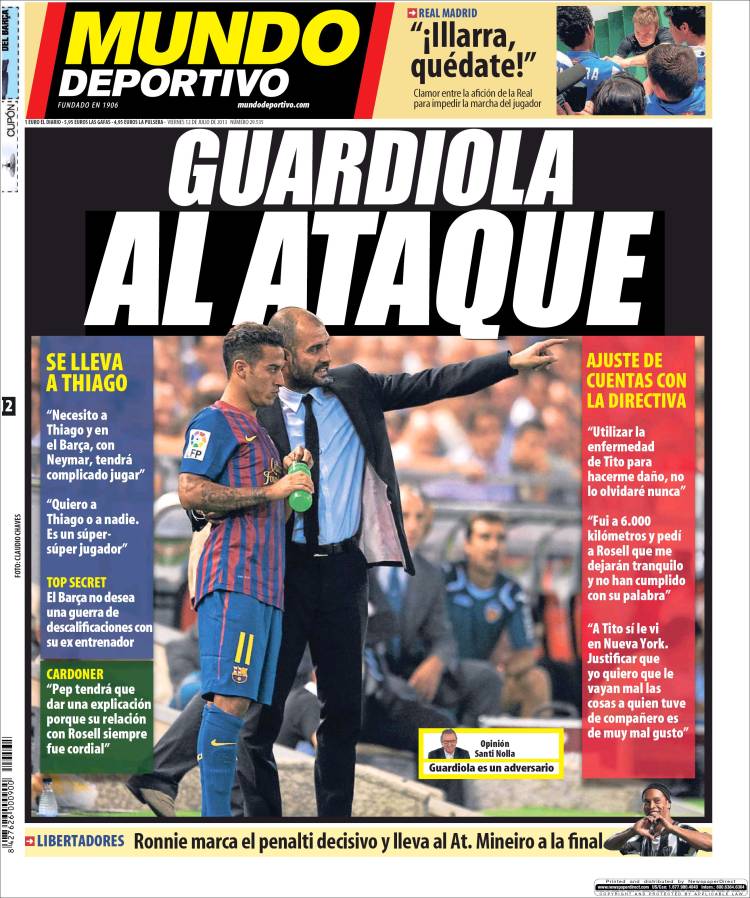 Guardiola on the attack
Thiago to go to Bayern
"I need Thiago and at Barca, with Neymar, he will not play much"
"I want Thiago and no one else...he is a super super player"
Top Secret: Barca do not want a war with their ex-trainer
Cardoner: "Pep will have to give an explanation because his relation with Rosell has always been cordial"
Pep directs his criticism to the directives
"To use the sickness of Tito to do me damage is something I will never forget"
"I went 6000 kms away and asked Rosell to leave me in peace and they did not keep to their word"
"I saw Tito in New York. To say that I did not see him, a man who was my friend and workmate for years, is very bad taste"
Real Madrid: "Illarra stay"
Clamour amongst the fans of La Real who plead with their young star to stay
Libertadores: Ronnie scores a decisive penalty to take Atletico Mineiro to the final