Today's front-page headlines from Marca, AS and Mundo Deportivo.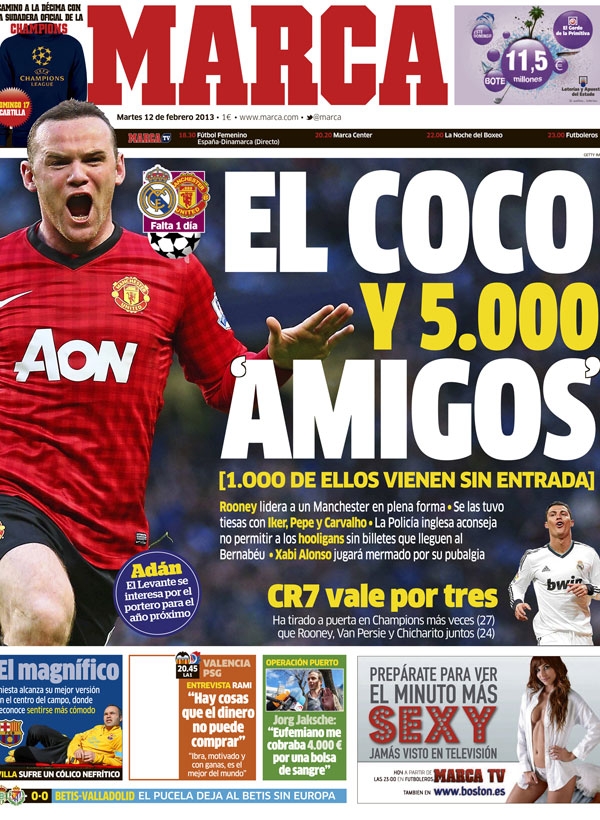 'El Coco' and 5000 friends (1000 of them coming without tickets)
Rooney will lead Manchester
English police advises not to allow the hooligans without tickets into the Bernabeu
Xabi Alonso will play not fully fit
CR7 good value for three
He has scored more times in the Champions League (27) than Rooney, Van Persie and Chicharito put together (24)
The magnificent
Iniesta is at his best playing in the position he 'feels most comfortable'
Rami: "There are things that money cannot buy", "Ibra, when motivated to win, is the best in the world"
Jaksche: "Eufemiano charged me 4000€ for his blood bag"
El Pucela leaves Betis out of Europa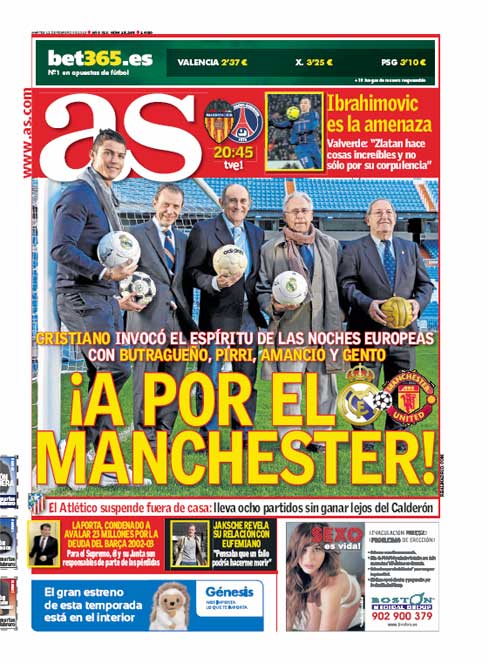 All for Manchester
Cristiano invokes the spirit of the great European nights with Butragueno, Pirri, Amancio and Gento.
Ibrahimovic is the threat
Valverde: "Zlatan does incredible things and not only because of his strength"
Atletico failings away from home: now eight games they have gone without winning away from the Calderon
Laporta sentenced to pay 23 million for the debt of Barca 2002-03
Jaksche reveals his relationship with Eufemiano: "I thought that a mistake could make me die"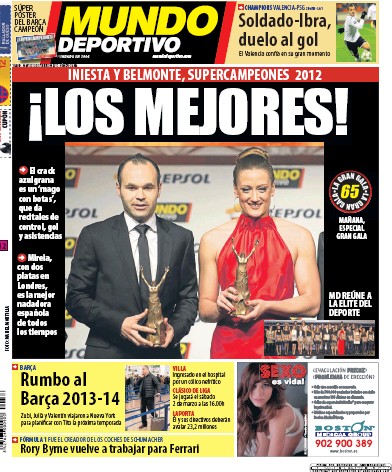 The best
Iniesta, 'the magician with boots', that gives exhibitions in ball control, goals and assists
Mireira, with two silvers in London, is the best Spanish swimmer of all time
A meeting of sports' elite
Barca's direction in 2013-14
Zubi, Julia and Valentin travelled to New York to plan with Tito the next season
Villa: checked into to hospital with a kidney stone
Clasico de Liga: To be played on Saturday March 2 at 1600
Laporta: He and his directors have to pay 23.2 million
Formula 1: He was the creator Schumacher's cars
Rory Byrne returns to work with Ferrari
Soldado-Ibra, duel of the goal
Valencia confident of having a great moment