Today's front-page headlines from Marca, AS and Mundo Deportivo.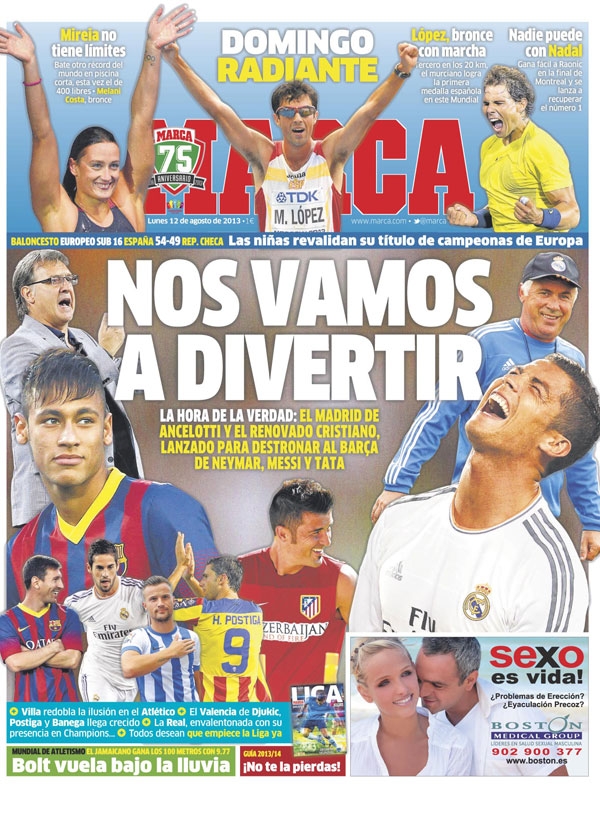 We will have some fun
The hour of truth: Ancelotti's Madrid and the renovation of Cristiano, on course to dethrone Tata's Barcelona of Neymar and Messi
Villa brings back excitement to Atletico
Djukic's Valencia looking well with Banega and Postiga
La Real on the brink of the Champions League
The stage is set for an exciting La Liga already
Mireia has not limits
A brilliant
Sunday
She beats another world record in the short course, this time them 400m,
Melani Costa gets bronze
Lopez gets bronze, he comes third in the 20km marathon winning Spain's first medal
Nobody can overcome Nadal
He wins easily against Raonic in the final in Montreal and is on his way to regaining number one
Under 16 Basketball Championships, Spain 54-49 Czech Rep. The boys reclaim their title
World Athletics: The Jamaican wins the 100m with a time of 9.77
Bolt flies under the rain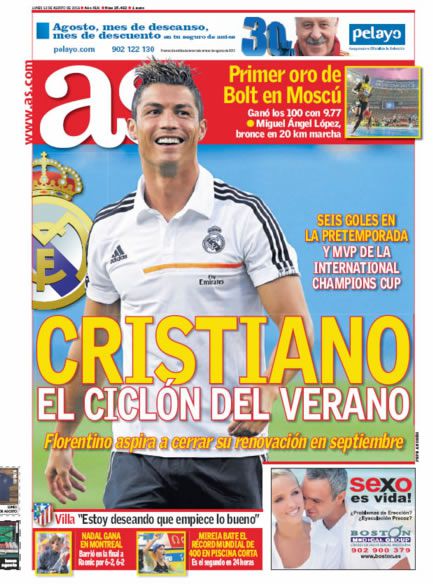 Cristiano, the cyclone of the summer
Florentino hopes to close out his renewal in September
Six goals in the preseason and MVP in the International Champions Cup
Villa: "I am enjoying a great start to life"
Nadal wins in Montreal: He beats Raonic in the final, 6-2 6-2
Mireia beats the world record in the 400m short course, its her second record in 24 hours
The first gold for Bolt in Moscow
He wins the 100m with 9.77 seconds
Migual Angel Lopez wins third in the 20km marathon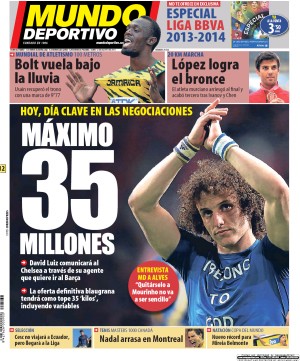 Key talks in the negotiation for Luiz
The maximum the club wants to spend is €35 million
David Luiz will communicate with Chelsea through his agent that he wants to go to Barcelona
The offer from the Blaugrana could reach €35 milloon, including bonuses
Interview with Alves: "To move on from Mou will not be easy"
World Athletics: Bolt flies under the rain
Usain recovers his title with a time of 9.77 seconds
20km marathon
Lopez wins bronze, the Murciano took risks until the end but finally finished third behind Ivanov and Chen
Spain national team: Cesc will not travel to Ecuador, but will play in La Liga
Tennis: Nadal destroys his rival in the final in Montreal
Swimming world cup: A new record for Mireia Belmonte