Today's front-page headlines from Marca, AS and Mundo Deportivo.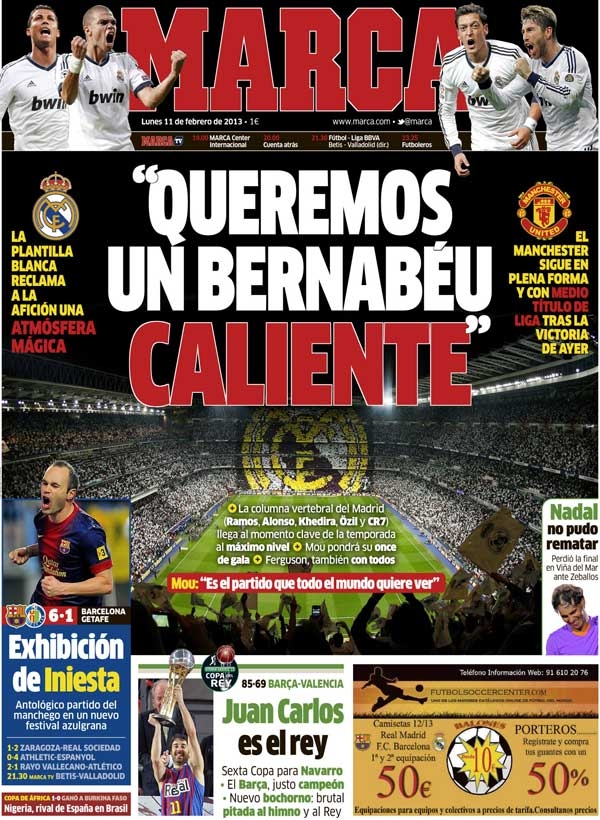 "We want an intense Bernabeu", Real Madrid team demand from their fans a magical atmosphere
Manchester continue their good form and are half-way to the league title after victory yesterday
The soul of Madrid (Ramos, Alonso, Khedira, Ozil and CR7) arrive at the key moment in the season in great form
Mou to put out his best eleven and Ferguson too
Mou: "This game is one the whole world will want to see"
Barcelona 6-1 Getafe: Iniesta's exhibition
Memorable game from the man from La Mancha in what was a carnival sunday for the azulgrana
African Nations Cup: Nigeria beat Burkina Faso in the final and wil lplay Spain and Brazil in the Confederations Cup
Barca 85-69 Valencia: Juan Carlos is the king
The sixth Cup for Navarro, Barca the new champions
Nadal cannot come back:Loses in the final in Vina del Mar against Zebarlos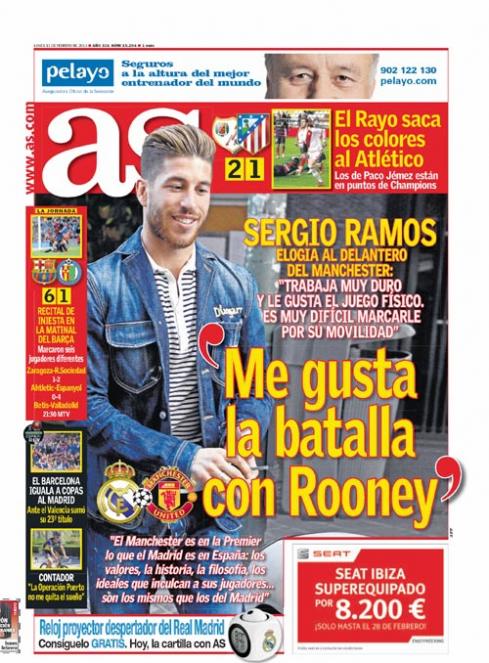 'I like the battle with Rooney'- Sergio Ramos talks about the front of Manchester: 'He works very hard and he likes physical game. It's very difficult to score him because of his mobility.'
'Manchester is to Premier league same as Real Madrid is to Spain: values, history, philosophy, the values of the football players are the same than Real Madrid football players'.
Rayo 2-Atleti 1: Rayo ashamed Atleti: Paco Jemez's team is close to the Champions League
Barça 6- Getafe 1: thrashing of Iniesta. Six different players scored
Zaragoza 1- Real Sociedad 2
Athletic 0- Espanyol 4
Betis- Valladolid 21:30 MTV
Basketball: Barcelona has the same number of cups than Real Madrid
Cycling: Contador: I'm not worried about the Port Operation.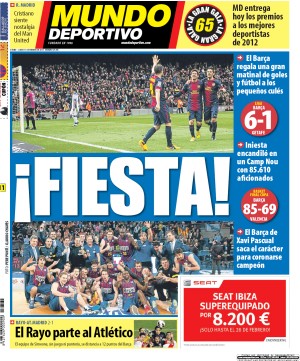 Fiesta!
Barca give a great morning of goals and football to the young Cules
Iniesta dazzles in the Camp Nou in front of 85610 fans
Basketball, Barca 85-69 Valencia: The Barca of Xavi Pascual show character to be crowned champions
Real Madrid: Cristiano feels nostalgia for Man United
Today the best sport players of 2012
Rayo dispatch Atletico Madrid
Simeone's side, without game nor purpose, see the distance between them and Barca extend to 12 points