Today's front-page headlines from Marca, AS and Mundo Deportivo.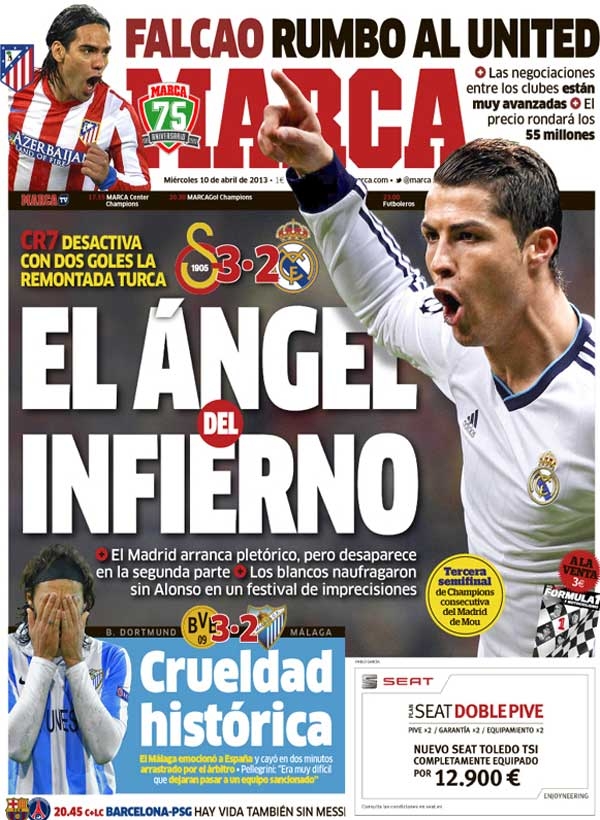 The Angel of hell
CR7 kills the Turkish comeback
Madrid are quick off the blocks but disappear in the second half
Los Blancos go under without Xabi in a festival of imprecision
Third consecutive Champions League semi-final for Madrid under Mou
Cruel: Malaga excite Spain and fall in the final minutes added on by the referee
Pellegrini:"It was made very diffcult for us"
Barcelona: Today there is life without Messi
Falcao looking to United
The negotiations between the clubs are at an advanced stage
The price is around 55 million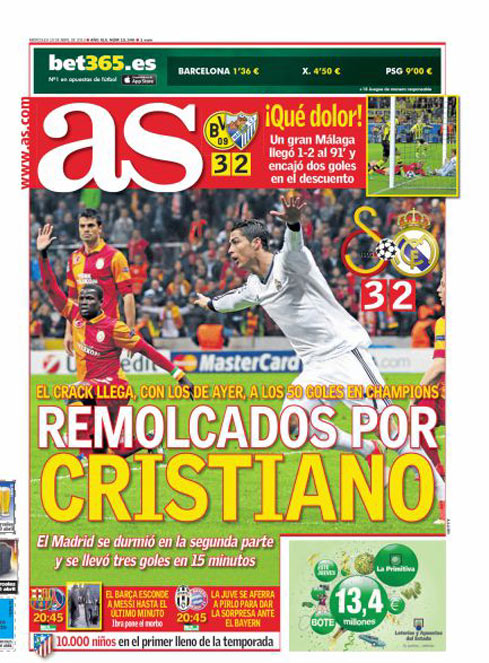 The 'crack' arrives, with his two goals yesterday he now has 50 goals in the Champions League
Cristiano carries Madrid
Madrid sleep in the second half conceding three goals in 15 minutes
What pain!
A great Malaga were up 1-2 in the 91st minute and concede two goals in the final minutes
Barca keeping quiet about Messi until the last minute
Ibra stokes tension
Juve to look to Pirlo to give a surprise against Bayern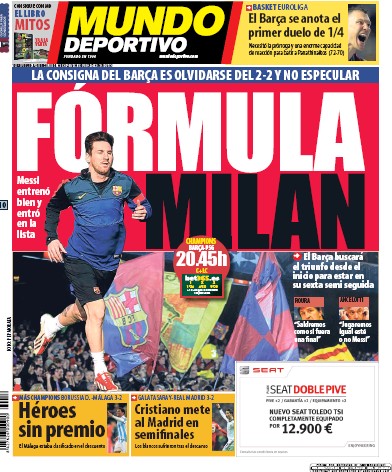 Milan formula
Messi trains well and is in the squad
Barca to look for a win from the start to make their sixth semfinal appearance in a row
Roura: "We will go out as if it is a final"
Ancelotti: "We will play the same with or without Messi"
The order for Barca is to forget the 2-2 draw
Dortmund 3-2 Malaga: Heroes without reward
Malaga looked like they had qualified until the final minutes
Galatasaray 2-3 Real Madrid: Cristiano puts Madrid in the semifinals
Los Blancos suffer after the break