Today's front-page headlines from Marca, AS and Mundo Deportivo.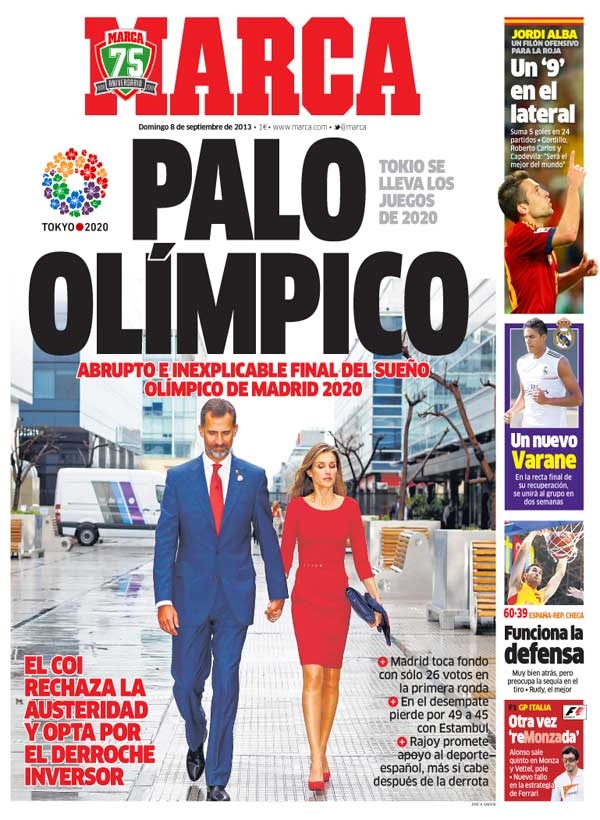 Olympic defeat
Abrupt and inexplicable final to the Madrid 2020 dream
Tokyo wins the 2020 games
The Olympic Committee reject austerity and opt for wasteful spending
Madrid only got 26 votes
In the draw with Istanbul, Madrid lost 49-45
Rajoy promises support for Spanish sport, more after this loss
Jordi Alba, the offensive link for La Roja
The '9' in the wing has scored 5 goals in 24 games
Roberto Carlos, Capdevila "He will be the best in the world"
A new Varane
He is in the final stages of his recovery, he will join up with the team in two weeks
60-39 Spain v Czech Rep.
The defense worked well
Very good at the back, worries going forward
Rudy was the best
GP Italia: Another comeback
Alonso starts in fifth in Monze and Vettel in pole
New problem with the Ferrari strategy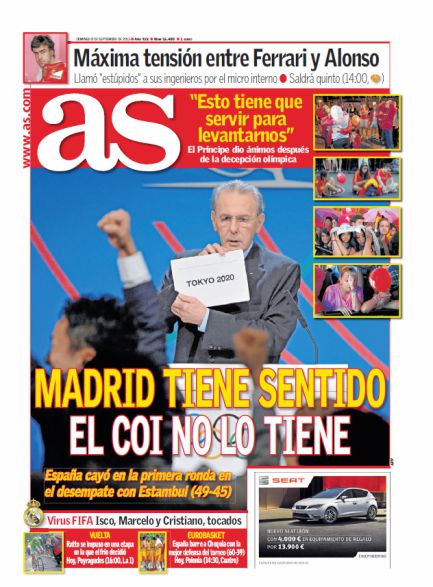 Madrid had the taste for it, the COI did not
Spain fall in the first round in a draw with Istanbul 49-45
"This has to serve to make us better"
The Prince gives encouragement after the Olympic defeat
FIFA Virus: Isco, Marcelo and CR7 with knocks
GP Monza: Maximum tension between Ferrari and Alonso
He calls them 'stupid' the engineers for the team
He will start in fifth
Basketball: Spain stop Czech Rep wiht the best defensive show of the tournament 60-39. Today Poland
Nadal to play Djokovic in the final of the US Open
6-4, 7-6 and 6-2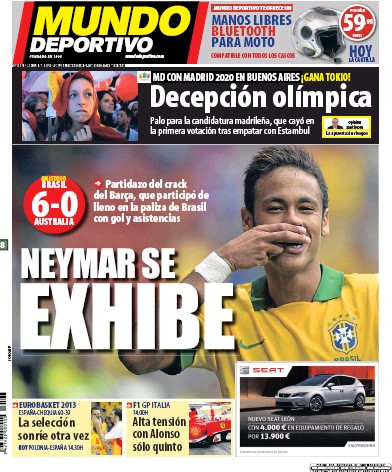 Neymar exhibition
A great game from the Brazilian crack who plays a role in destroying Australia with a goal and assists
Olympic disappointment
Madrid 2020 in Buenos Aires, Tokyo wins
A big defeat for the Madrid candidature, falling in the first round after a draw with Istanbul
Basketball: The team smiles again
GP Italia: High tension with Alonso in fifth