Today's front-page headlines from Marca, AS and Mundo Deportivo.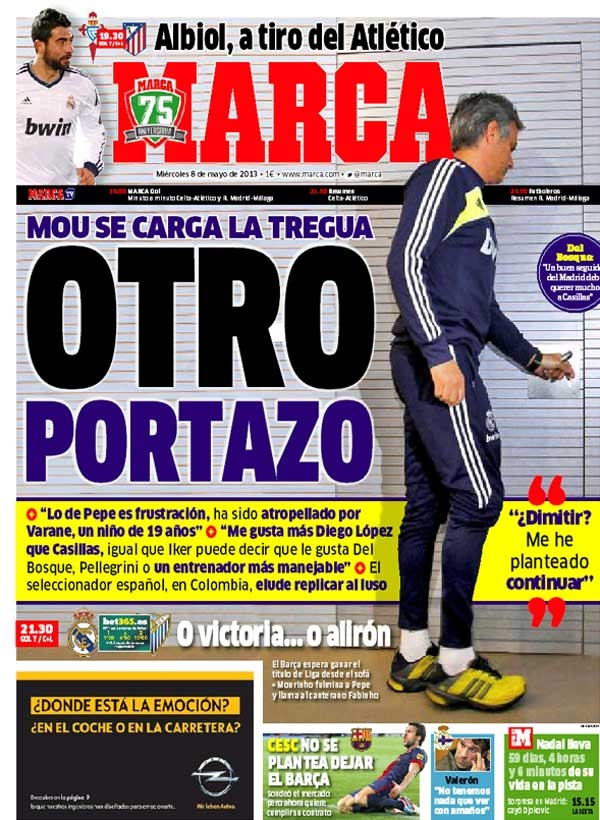 Mou breaks the truce with another jab
"Pep´s frustration has been a result of losing his place to Varane, a 19-year-old"
"I like Diego Lopez more than Iker Casillas and this is just the same as Iker saying that he likes Bosque, Pellegrini or another more manageable coach"
Del Bosque, in Columbia, avoids discussing the Portuguese
"To resign" No I plan to continue"
Del Bosque: "A follower of Real Madrid must want Casillas"
Albiol off to Atletico
Real Madrid v Malaga: Victory or celebrations
Barca hope to win La Liga from the couch
Mourinho excludes Pepe and brings in Fabinho
Cescc does not plan to leave Barca
Does not want to go on the market and wants to complete his contract
Valeron: "We have nothing to do with such things"
Nadal has spent 59 days, 4 hours and 6 minutes on the court
Suprise in Madrid, Djokovic falls in the first round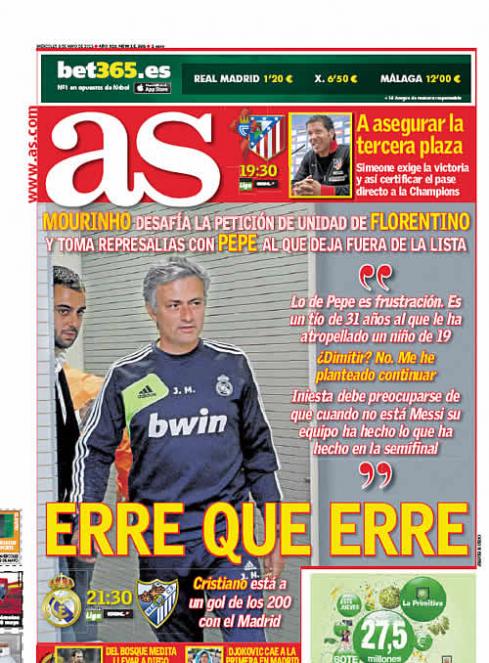 Stubbornly
Mourinho challenges the peticion from Florentino and takes aim at Pepe and leaves him out of the squad
"Pep´s frustration is Varane. He is 31-years-old and he has been superseded by a 19-year-old"
"Will I resign? No, I plan to continue"
"Iniesta should worry about when his team do not have Messi because when they dont have him, well, we have seen what happened in the semifinal"
Cristiano is one goal away from his 200th goal for Madrid
Del Bosque considers picking Diego Lopez, if Valdes does not recover in time
Djokoviv falls in the first round of Madrid
He loses to Dimitrov. Nadal debut today.
Atletico Madrid: To ensure third place
Simeone demands victory so as to ensure a direct passage to the Champions League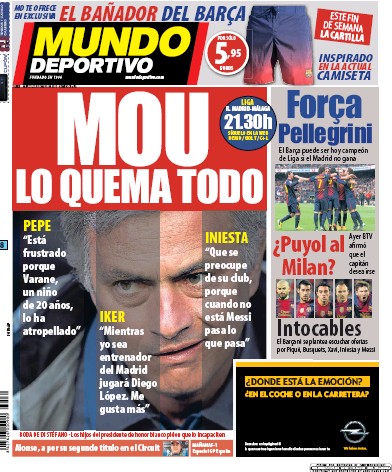 Mou burns everything
"Pepe is frustrated because Varane, a 20-year-old, has superseded him.
"While I am manager, I will play Diego Lopez, I like him more"
"Iniesta should worry about his own club because when they do not have Messi we have seen what happens"
Celebrations today?
Come on Pellegrini
Barca can become the champions today if Madrid do not win
Untouchables: Barca do not plan to listen to offers for Pique, Busquets, Xavi and Messi
Alonso, going for his second title on the circuit
Tomorrow: Spain Formula 1