Today's front-page headlines from Marca, AS and Mundo Deportivo.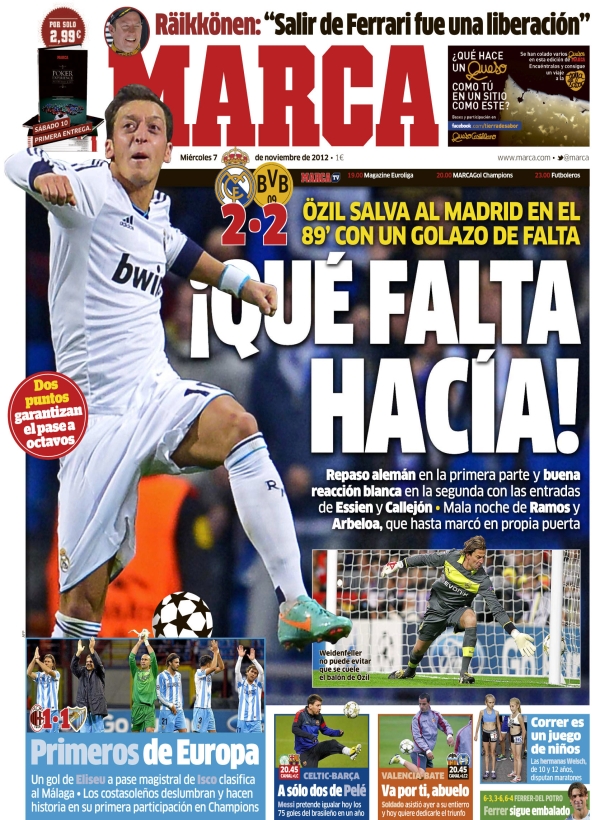 What a free kick!
Ozil saves Real Madrid with a free kick in the 89th minute
A dominant German display in the first half with a great second half from Los Blancos with the entrance of Essien and Callejon
Bad night for Ramos and Arbeola, who even scored an own goal
First in Europe: Malaga are inspired and make history in their first outing in the Champions League: A goal for Eliseu from a great pass from Isco seals Malaga's place in the next round.
Just two off Pele: Messi tries to equal tonight the 75 goals the Brazilian scored in one year
This is for you granddad: Soldado was at his grandfather's funeral yesterday and today wants to dedicate a victory to him.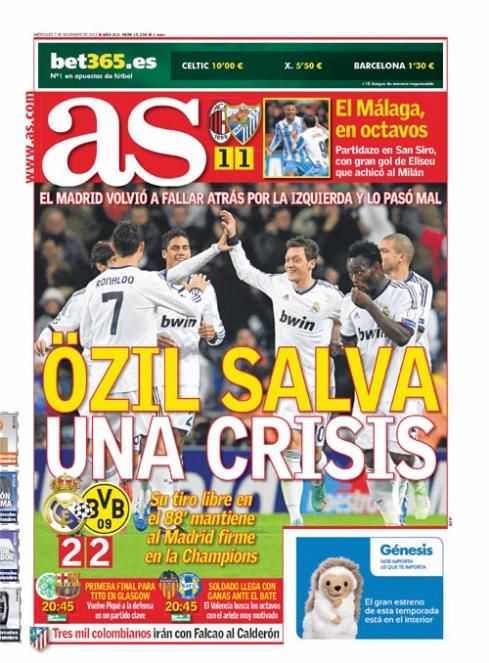 Ozil prevents a crisis: A direct free kick in the 88th minute keeps Real Madrid in the Champions League
Madrid return to making mistakes on the left side of defence and had a bad night
The first final for Tito in Glasgow: Pique returns tonight
Soldado with desire: Valencia can go through tonight with a victory over Bate
Three thousand Colombians to go to the Calderon to see Falcao
Malaga are through: Fantastic game in the San Siro with a great goal from Eliseu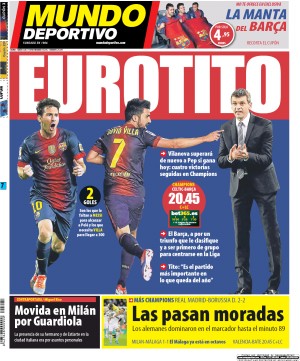 Euro Tito: Vilanova will once again out do Pep if he manages to get his fourth victory in a row.
2 Goals: It is what Messi is missing to pass Pele and what Villa needs to get his 300th
Barca with a victory will finish first in the group and can concentrate on the league
Tito: It the most important game left in the year
Rumbo in Milan: Pep Guardiola's brother in Milan but claims it was for personal reasons.
Madrid are bruised: The Germans dominate and until the 90th minute
Malaga are through