Today's front-page headlines from Marca, AS and Mundo Deportivo.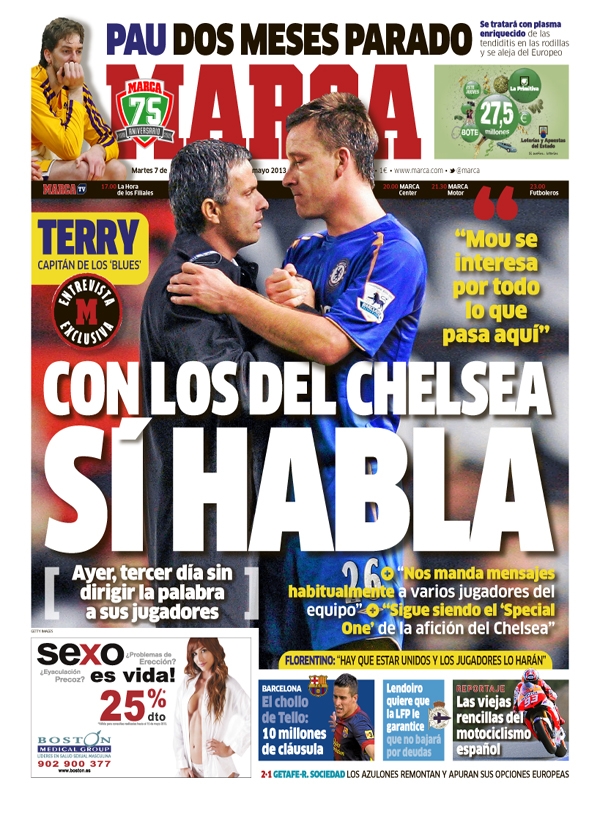 Interview with Terry, captain of the Blues
"Mou is interested in everything that happens here," Terry
With speaks with us here at Chelsea
Yesterday was the third day where he has not said a word to his players
"He often sends message to various players in the team," Terry
"He remains the Special One to the Chelsea fans." Terry
Florentino: "The players have to go on united"
Barcelona: Tello at a bargain price
€10 million is his clause
Lendoiro wants the LFP to guarantee that it will not go down because of debt
Report: A quarrel of the old ladies of Spanish motorcycling
Getafe 2-1 Real Sociedad: Los Azulones come back and increase their European hopes
Pau, two months out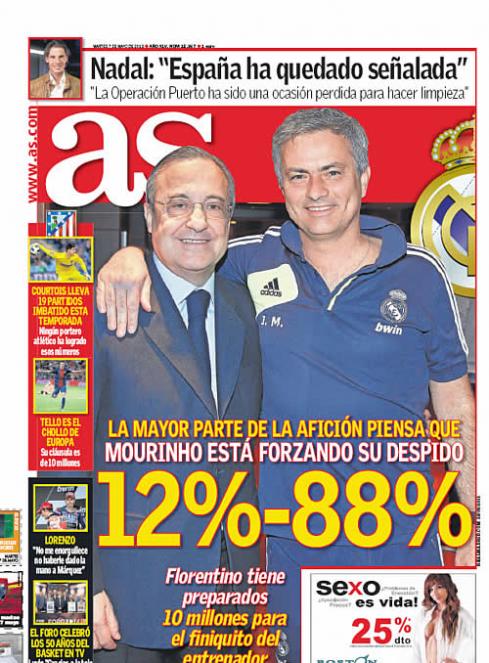 The majority of fans think that Mourinho is forcing his exit
12-88 per cent
Florentino has prepared €10 million settlement for the coach
Courtois goes 19 games unbeaten this season
Not one goalkeeper from Atletico has achieved these numbers
Tello is the bargain of the Europe
His clause is just €10 million
Lorenzo: "It does not fill me with pride to not have given a handshake to Marquez"
The forum celebrates 50 years of basketball in Television
Luyk: "Thanks to televisions I met my wife"
Nadal: "Spain has remained a symbol"
"Operation Puerto has been one opportunity lost to clean up sport"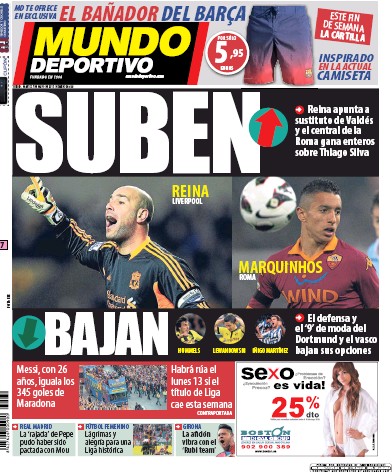 Going up
Reina the replacement for Valdes and Marquinhos over Thiago Silva
Out
Hummels, Lewandowski, Inigo Martinez
The defender. the fashionable number 9 from Dortmund and the Basque no longer options
Messi, at 26 years, equals Maradona's record of 345 goals
There will be a parade on Monday 13 if Barca win the league
Real Madrid: Mou has devised a plan to force his exit
Women's football: Tears of happiness as they record an historic title
Moto GP: Marquez studies how to pass his great rivals