Today's front-page headlines from Marca, AS and Mundo Deportivo.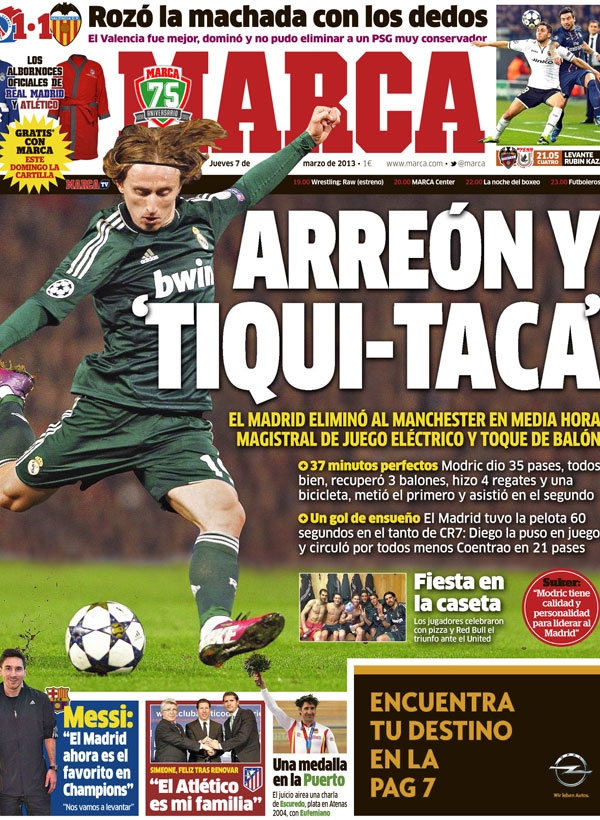 Push forward and tiqui-taca
Madrid eliminate Manchester in half an hour of magisterial and electric play and keep the ball
37 perfect minutes: Madrid gives 35 passes, all perfect, recovered the ball three times, executed three dummies, a bicycle,scored the first goal and played a part in the second
A goal of dreams: Madrid had the ball for 60 seconds before CR7 scored: Diego put the ball into play and everyone touched the ball except Coentrao with 21 passes
Fiesta in the dressing room
The players celebrate with pizza and red bull after the triumph over United
Valencia 1-1 PSG: A stubborn act of bravery
Valencia were better, dominated the game but could not eliminate a very conservative PSG
Messi: "Madrid are favourites to win the CL", "We will wake up"
Simeone, happy after renewal: "Atletico is my family"
Suker: "Modric has quality and personality to lead Madrid"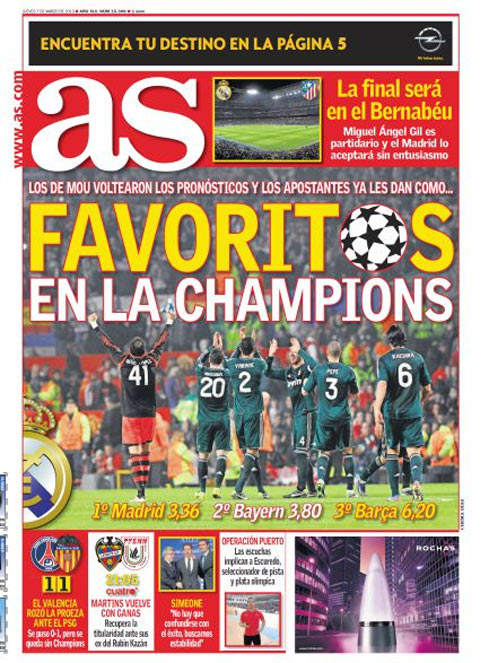 Mou´s men have turned the odds around and now the punters are giving them the title of....Favourites for the Champions
Madrid 3-36, Bayern 3-80. Barca 6-20
The final will be at the Bernabeu
Miguel Angel Gil supports the decision and Madrid will accept it
Valencia put up a great fight against PSG
They went one nil up but they still leave the Champions
Simeone: "There cannot be confusion with success, we need stability"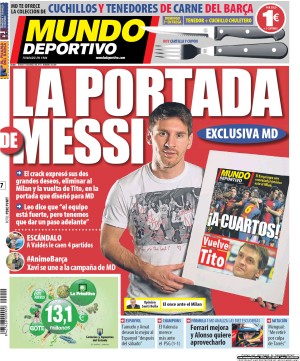 The front page of Messi
(Picture of Messi holding a copy of Mundo that reads, 'Barca achieve an historical comeback against Milan, to the quarter finals, Tito returns')
The 'crack' expresses his great desires, to eliminate Milan and see Tito return
Leo says that "the team is strong, but, we have to move forward"
Scandal: Valdes suspended for four games
Come on Barca: Xavi joins the campaign
Espanyol: Tamudo and Amat wish the best to Espanyol after Saturday
Champions: Valencia merit more against PSG (1-1)
Formula 7: Ferrari has improved and Alonso wants to take advantage of it
Swimming, Mengual: "I retired because of Tarres"